While I know that Olive Garden is known for pasta instead of pizza, I can't help but think of Pizza Express as the Olive Garden of the UK.
Why?
Because they seem to be everywhere, they are always packed with people, and the prices are super affordable.
Plus the food is pretty good.
In fact, eating at Pizza Express is something that I look forward to on our trips to the UK… just like I used to look forward to visits to Olive Garden when I was a kid.
Anyways, if you've never tried Pizza Express, it just might surprise you.
Or it might not. It's pretty good pizza, but it's still just pizza. Or is it? We're comin' for you, Giuseppe. – Riley
What To Know
In case you're uncertain here, this is a sit-down restaurant (like Olive Garden).
They have a reasonably extensive menu – it's more than just pizza.
And some of the pizzas on here are pretty unique, at least by my American standards.
Some of the more interesting pizza options are found in the Leggera section of the menu.
Here you'll find pizzas with no middle because the middle is a salad-filled hole.
This was interesting, but I can't say I enjoyed it.
Me neither. Here's why –
As you can see, this was just a sparse pizza with a pile of mostly baby spinach. Nothing else. And, for me, a pile of greens does not a salad make.
Also, I don't remember what type of dressing that was, it if was a *type* of Italian, but if it was, it was the wrong type. If you're gonna be dumping a salad in the middle of a pizza, you should know it has to be topped with a true, greasy Italian. A little oil here would have done great service to this dry crust. – Riley
But I do recommend venturing outside your typical pepperoni pizza comfort zone.
I can tell you that I was pleasantly surprised by the Sloppy Giuseppe pizza.
Lightly spiced ground beef, red onion, green pepper, tomato and mozzarella, finished with parsley.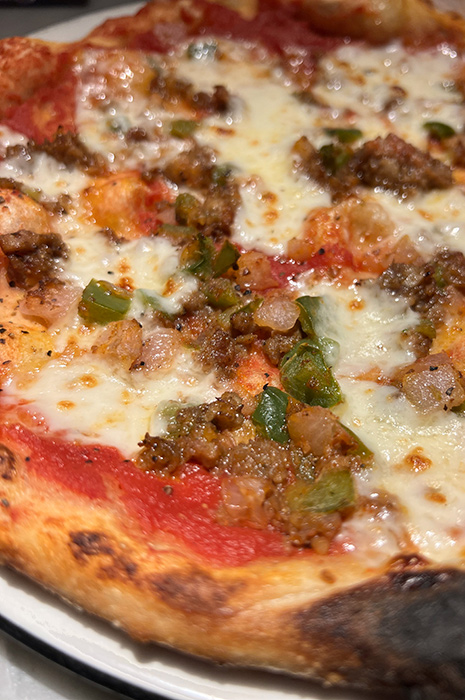 Lots of yum right there.
I think we had the La Reine pizza once, too.
Ham, black olives, mushrooms, mozzarella and tomato.
I think we did too. – Riley
There's also a pretty good wine menu – and heck yeah! to those wine prices compared to the States.
I was a big fan of the Montepulciano d'Abruzzo they serve.
And I think Riley was doing the Primitivo. (I don't know. Probably. – Riley)
What Else To Know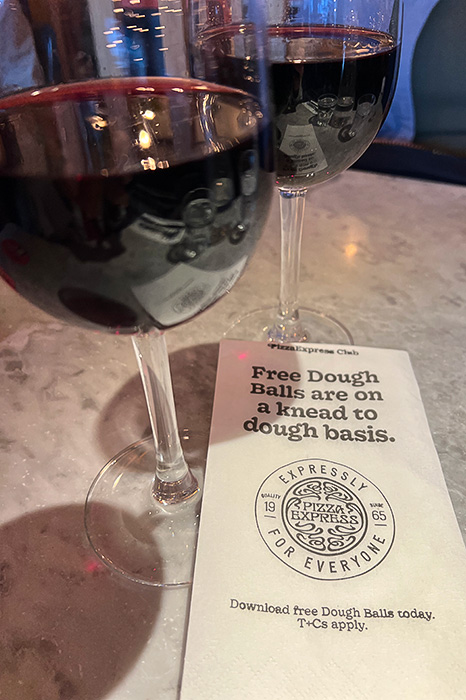 Pizza Express seems to be pretty well-known for one of their appetizers – the dough balls.
The very first time we visited Pizza Express (it was the Victoria St. location in Edinburgh), I just had to try the dough balls 'cause I'd heard about them online.
It's literally just dough balls served with garlic butter, but they are super tasty.
It's hard to be mad at white flour vessels dipped in butter. – Riley
One thing that I have noticed in our travels throughout the UK is that the Starters menu seems to vary by location.
For instance, in London last year we were able to get these awesome garlic chilli king prawns but when we got to Edinburgh they were not on the menu.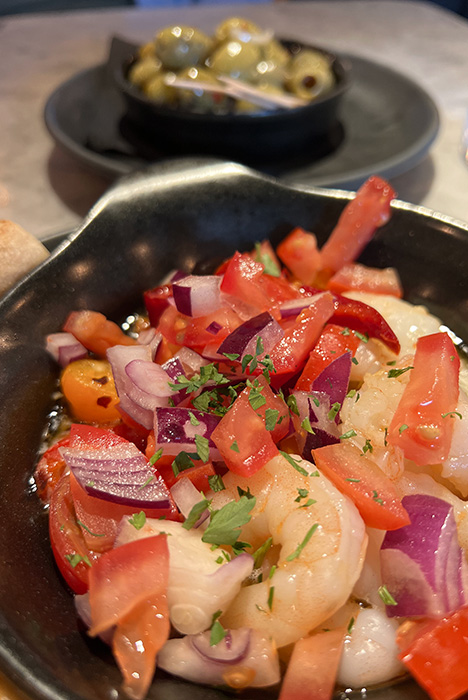 So, if you find something on the menu at another location that you just love, it might not be on the menu at the next location you visit.
Which can be a bit of a bummer really. – Riley
Overall Review
I have to admit that the food at Pizza Express isn't amazing (kinda like Olive Garden).
But it's a great value and it is tasty.
And the restaurants are always nice – that's one thing you'll notice about Europe is that there aren't a lot of restaurants with nice seating and stuff like American restaurants.
It's true. European restaurants really do tend to favor an uncomfortable seat. So, when you see plush (or even just padded) seating in Europe, sometimes you just want to put your butt down on it.
Thankfully, in this case, there's some decent enough food to nosh while you do your butt-pampering. – Riley