If you've ever been to Edinburgh for Fringe, then you already know that lots of shows take place at the Radisson Blu Hotel Edinburgh City Centre.
And it's one of the few spaces in the city where the shows are actually air conditioned. (A big F'in plus. – Riley)
Seeing Fringe shows is actually how we first visited this hotel, but it wasn't until Fringe 2022 that we ended up staying there.
It was not intentional.
When We Stayed
For one night only in August 2022.
It wasn't even a full night as we didn't arrive until around 11pm.
Our Experience With Radisson Blu Hotel Edinburgh City Centre
Having never stayed at a Radisson Blu hotel, I didn't really know what to expect before we arrived.
(Really? That wasn't a Radisson Blu where the fire alarms went off at like midnight and then the construction started at like 7 a.m. that time in Cardiff? I would swear it was. Absolutely swear it. But you keep telling me no. – Riley)
I'd only booked this room after a horrid experience at the Motel One Edinburgh Royal that resulted in my looking for any hotel in the city that had both air conditioning and availability. (And a working toilet! – Riley)
When we arrived at the check-in desk, the guy behind the counter mentioned how lucky we were as we'd booked the very last available room for the night. (Lucky? Heh! – Riley)
Both the lobby and the room were blissfully air-conditioned upon arrival.
It's a shame we didn't get to enjoy this hotel more than our short time allowed.
The Radisson Blu Hotel Edinburgh City Centre Space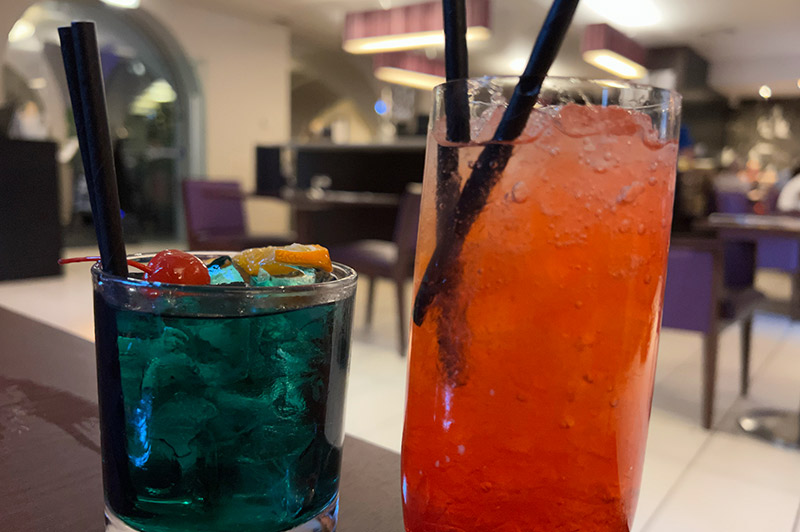 This is a relatively large hotel situated on the Royal Mile.
It's got a good amount of event space for Fringe shows, a nice lobby, and decent bar and restaurant area.
I think we'd eaten at the restaurant on previous trips to see Fringe shows, and we ate at it once during this trip.
Overall, I'd say that the restaurant here is just okay.
Though, as a Bob's Burgers fan, I did immensely enjoy the names of the burgers on the menu.
All things considered, I'd say that the public areas of this hotel are what you'd expect for a fancy-ish hotel.
Our Radisson Blu Hotel Edinburgh City Centre Room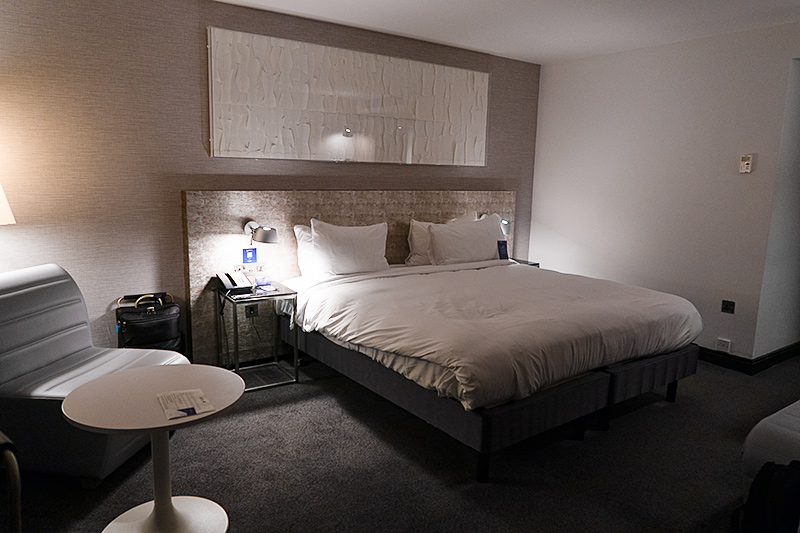 Our hotel room here was surprisingly large by European standards – it felt a lot like a nice hotel in the U.S.
And it was just a standard King room, so nothing fancy.
Since we'd booked last minute (literally an hour prior) and it was during Fringe, the cost of this room was steep.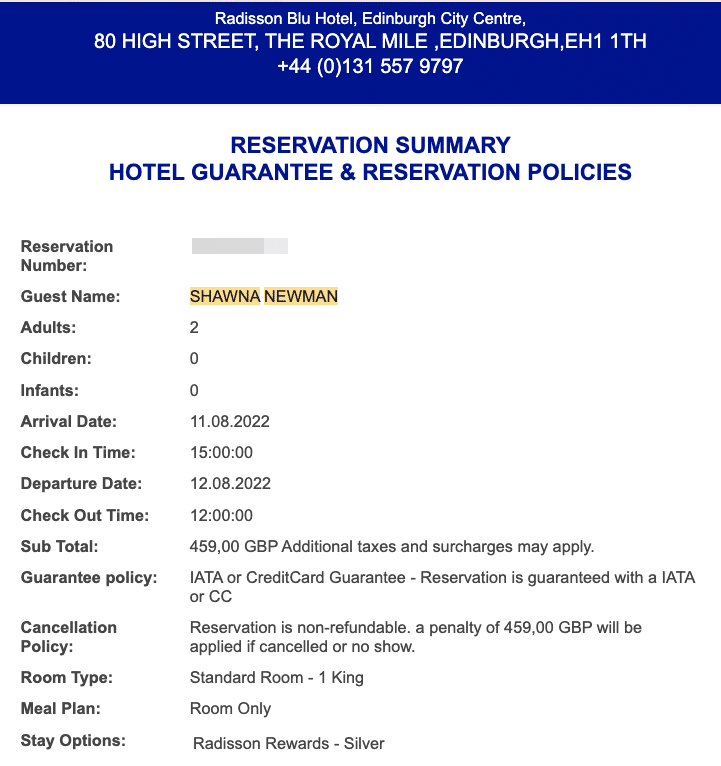 (Seeing this kind of makes me wanna throw up, to be honest. – Riley)
At least it was a really nice room.
Plenty of space, a mini-fridge with a nice coffee and tea area, and the bathroom was both large and nice.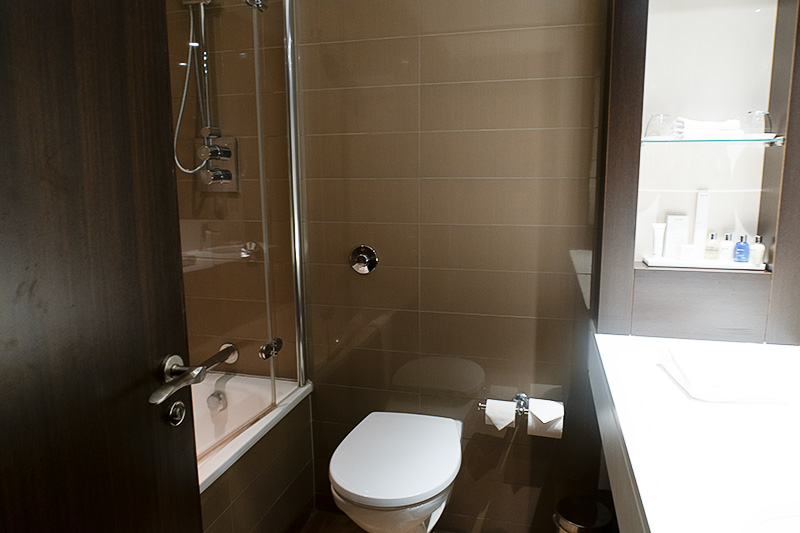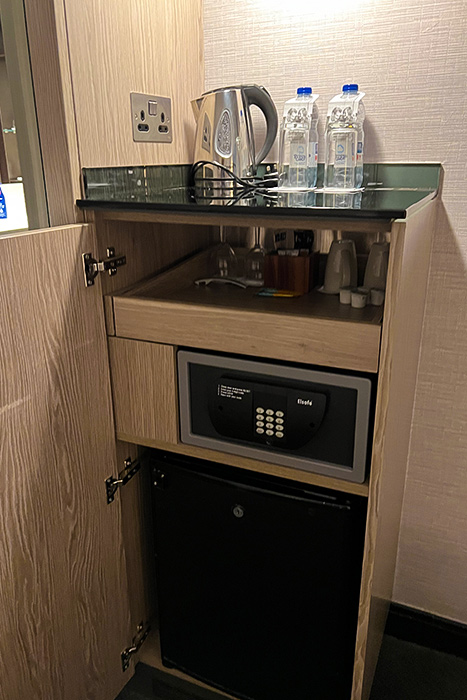 The bed was comfortable and it was surprisingly quiet considering the location of the hotel.
And it was clean.
Did I mention it had properly working air conditioning in the room? (I don't think you did. You should. – Riley)
What You Should Know
This hotel is located what is probably one of the busiest, if not THE busiest, street in Edinburgh.
That's the bad news.
The good news is that you're super close to most things that the city has to offer.
During Fringe, part of the surrounding streets are closed off and become pedestrian, so keep that in mind if you're driving a rental car (why would you?) or taking an Uber.
It's also worth noting that if you're coming to Edinburgh for Fringe, then this hotel is an excellent place to stay since plenty of shows happen in the hotel.
(That also means it's plenty busy for most of the day, so if you're a people-avoider, you should know that. – Riley)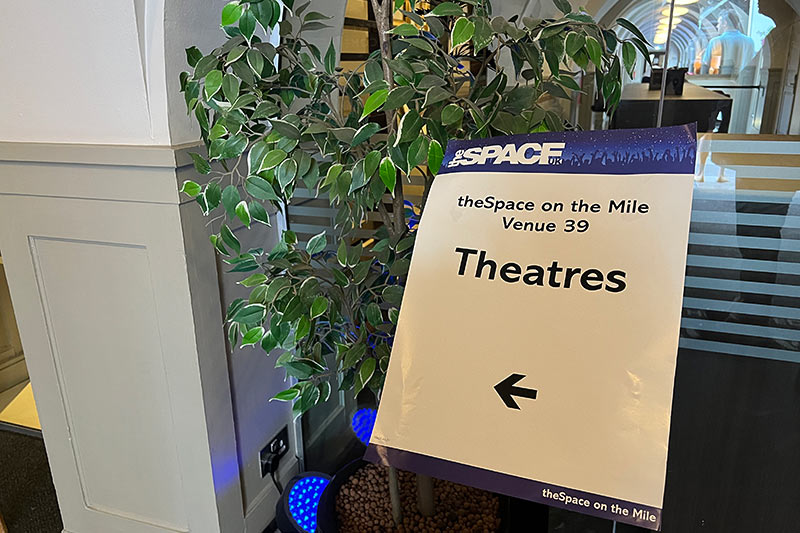 What We Loved
This is a really easy one –
the in-room air conditioning
the size of the room
the staff were pleasant
the room was comfy and clean
it was surprisingly quiet
restaurant in the hotel
Fringe shows in the hotel
great location in the city
What We Didn't Love
Since we weren't actually there all that long, this is a short list –
the cost – it's pretty expensive
Would We Recommend It?
Yes, I definitely recommend the Radisson Blu Hotel Edinburgh City Centre.
It's got a great location and the rooms are large and comfy.
And if you're coming for Fringe, then the location is perfection.
Of course, it is a bit on the expensive side, so keep that in mind.