Calton Hill is one of Edinburgh's top lookout spots (there are several of them in the city), a place you can climb up to to get a sweeping view of the cityscape and its surroundings.
And that's its main appeal. The view really is beautiful from up there.
You'll find it on tons of postcards in souvenir shops (and on plenty of travel blogs, just like this one).
But there is more to Calton Hill than just a hike-and-see.
It's also a UNESCO World Heritage site and home to a number of Edinburgh's historic monuments, as well as to Collective, a contemporary art gallery with changing exhibits.
It has been called "Edinburgh's Acropolis," which, let's be honest, is a pretty bold nickname, but pretty well-suited actually.
And since the whole place is a fairly easy walk from the City Center/Waverley Station, and everything up there is free (unless you want to eat or climb Nelson Monument), you can get a lot of bang for your non-buck there in an afternoon.
Calton Hill Monuments
The monuments and historic buildings of Calton Hill are:
The National Monument
The one that gives Calton Hill its most Acropolis-like feel.
For good reason. It was inspired by the Parthenon, but never finished.
Still, what there is of it looks cool as hell in the right light and commemorates Scottish servicemen who died in the Napoleonic Wars.
The Nelson Monument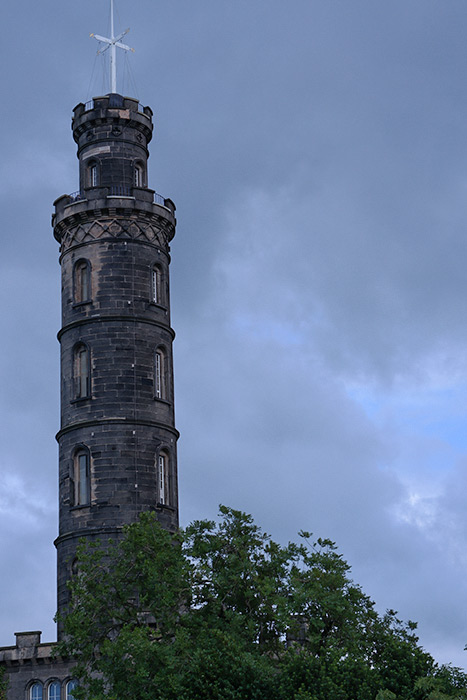 The one designed to look like a telescope pointing up to the sky, but that I had no idea was supposed to look like a telescope pointing up to the sky until I researched it.
(Let's be real, an up-turned telescope out of context kind of just looks like a tower.)
Anyway, it commemorates Horatio Nelson, who led the British Royal Navy to victory at the Battle of Trafalgar and died in the battle.
The Dugald Stewart Monument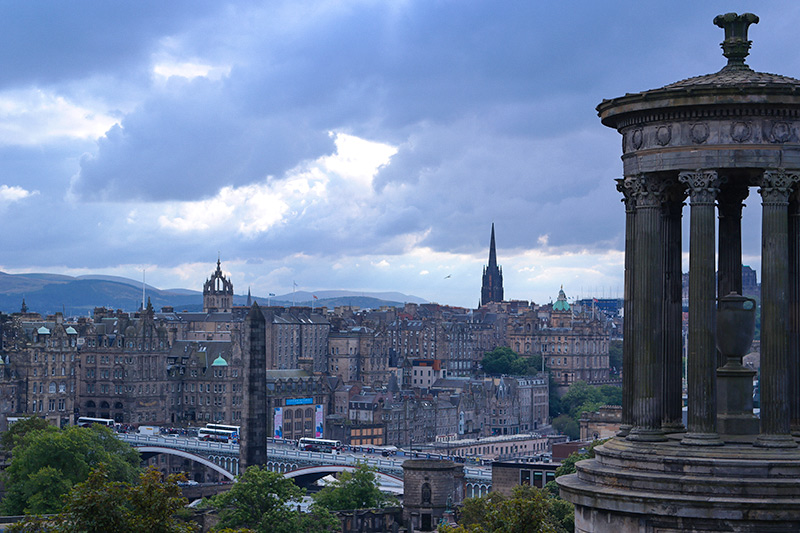 The one with the best positioning for a view of Edinburgh's City Center, and that you'll see in all of those lovely photos from the top of Calton Hill (including some of ours).
It commemorates Dugald Stewart, a philosopher and professor at the University of Edinburgh, and his role in the Scottish Enlightenment.
The City Observatory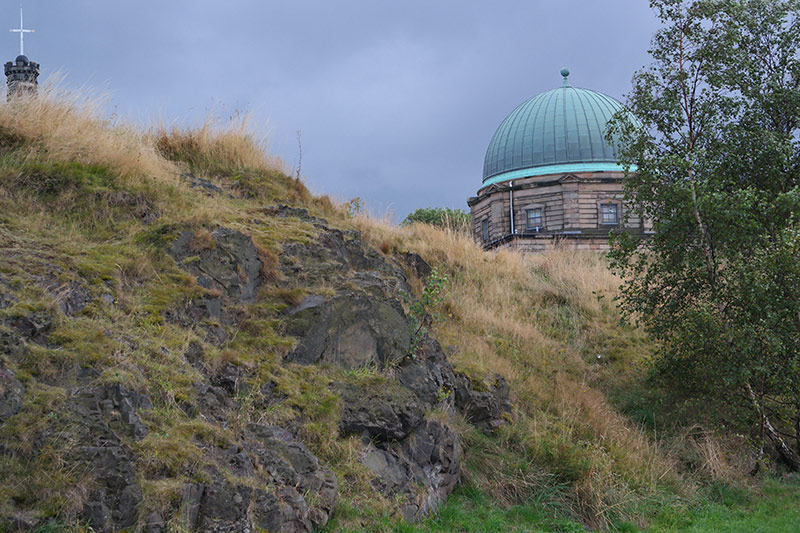 The big one with the domes that used to be a working observatory, but now houses the Collective gallery and its restaurant The Lookout (which is a restaurant with one of the best views of Edinburgh, if you're looking).
Calton Hill View
So, yeah, there are some things to see up on Calton Hill for absolute free, and I do recommend popping into Collective, but the view really is king here.
I'd go all poetic about it, but a picture is worth a thousand painstakingly-chosen, carefully-placed words only a handful of people will read anyway.
So, here it is looking toward the city –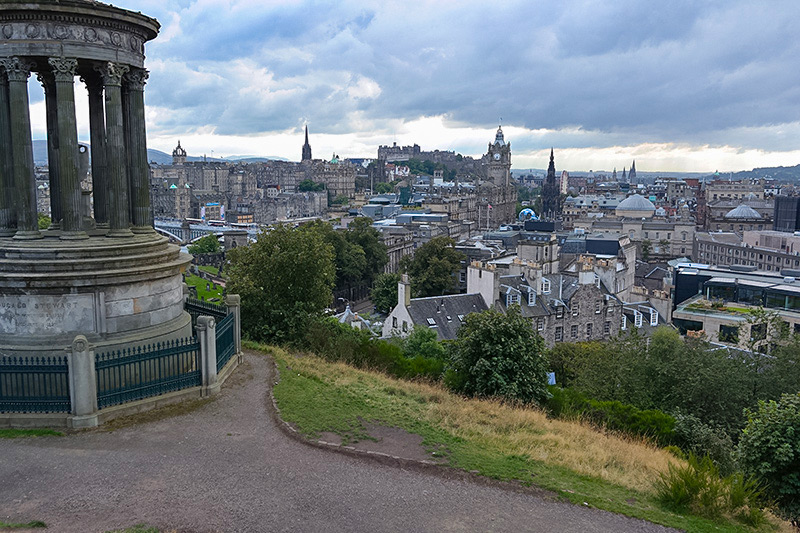 Here's one looking at Salisbury Crags –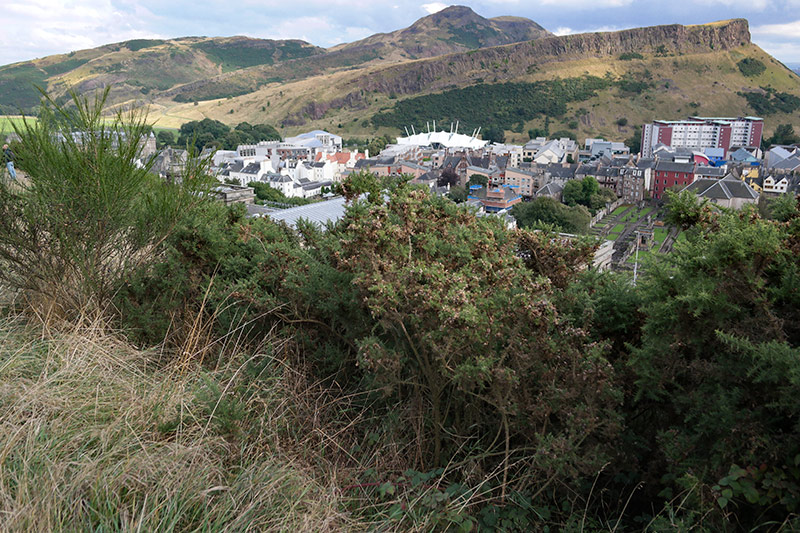 And here's one looking towards the sea –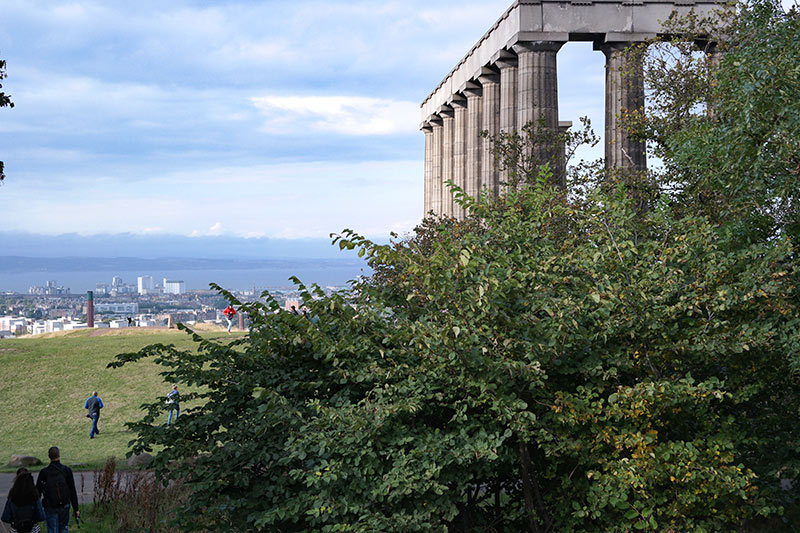 We did not, but a lot of people time their Calton Hill climbs to coincide with sunset, so they can get that perfect sunset-over-the-city view.
Our journey took took us up on a particularly blustery day when the bitter cold blasted through our coats and it felt like the wind might blow us right back down the hill.
It was awesome. I recommend it.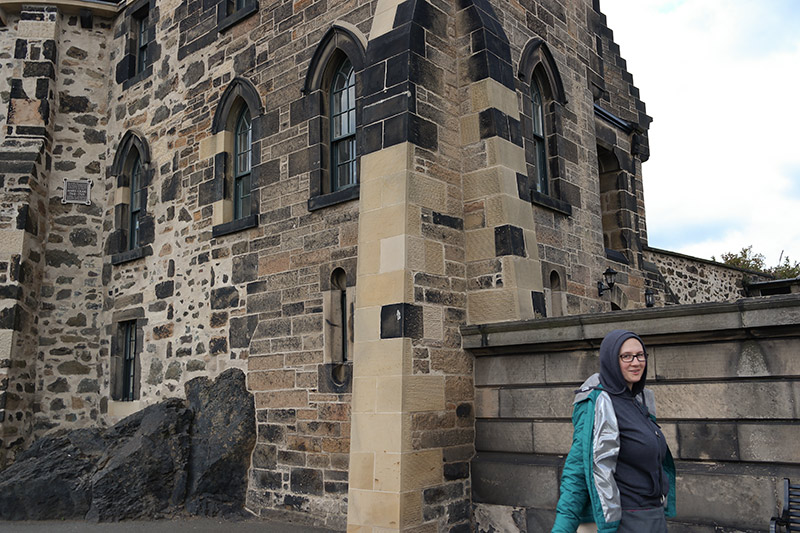 Collective
So, I'm gonna be straight-up honest. We've only been in Collective (and on Calton Hill) a single time.
(What can I say? If you go to Edinburgh during Fringe, only then will you understand the way it commands your time.)
But I know how much I loved the place by the fact I have thought about it every time I've been in Edinburgh since.
I don't go, but I do think about it.
I think I just really dig that they took this gorgeous old building and filled it with art and food, thereby bringing three of my favorite things together in a single place.
And the one time we were up there, the installation in Collective was cool AF.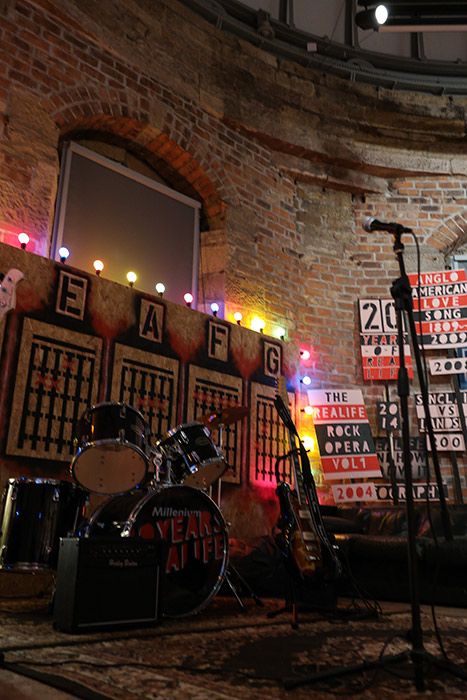 What You Should Know
Calton Hill is a bit of a climb.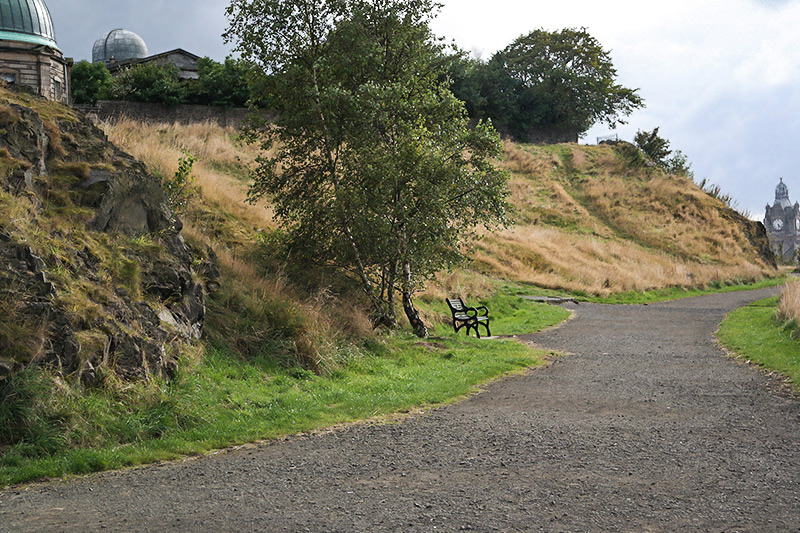 But only a bit.
You can either leisurely wind your way up its gently sloping path or take a batch of stairs up to the top.
Either way, it's quite a reasonable incline for the views.
You'll get a lot more of a climb going up to Holyroood Park/Arthur's Seat, Blackford Hill, or even to Edinburgh Castle.
So, as far as payoff for work rate goes, Calton Hill is hard to top, even if there are higher places in the city. (Heh. Pun.)
It also has, arguably, the best views.
Calton Hill is open 24 hours a day.
Yes, many people go at sunset, but, well… many people go at sunset.
That means sunset is when Calton Hill is at its busiest.
If you want some space, consider going at any other time.
Or, you know, go twice, once to watch the sunset and once to explore.
Some things, like Collective, close well before sunset during much of the year. (They're only open until 5 p.m.)
The fact that Calton Hill is open 24 hrs/day also gives you more of a window if you happen to catch Edinburgh during a hot flash the way we did last time. (Seriously, 6 a.m. was the only time to be tromping up anything.)
The Best View In Edinburgh?
I think it is.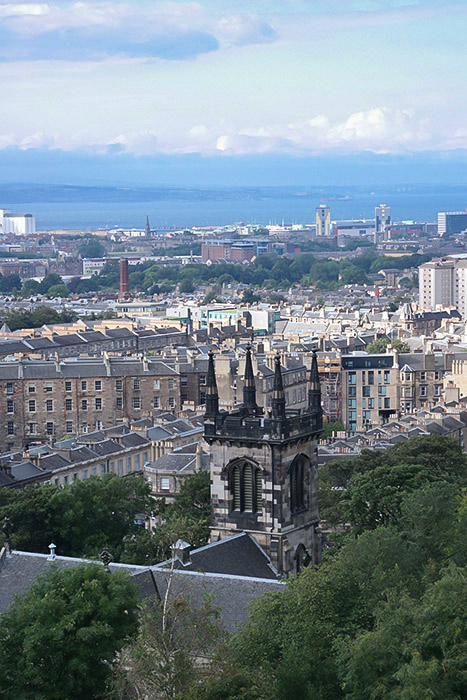 Sure, there are several lookout points in Edinburgh that are higher than Calton Hill, but it's all about positioning, see.
Calton Hill has the advantage of being on the proper side of Old Town to give you that ideal view of the old city rising over the new.
So, while you can get a sweeping panoramic of Edinburgh, its surrounding countryside and sea from any of its large hills, Calton Hill provides the best vantage point of Old Town Edinburgh itself.
And it may also be home to faeries or witches, if you're looking to commune in the moonlight.