Way back in 2013, we stayed at our first ever Motel One when visiting Munich and I loved it's modern simplicity.
And the toasties.
Since that first experience, I've been all about staying at Motel One hotels whenever we're traveling where we might find one as an option.
That is, until the experience at the Motel One Edinburgh Royal (there are currently two in the city, and this is the one that's closest to Waverley Station).
It was a shit show…literally.
Heh! – Riley
When We Stayed
August 2022.
Our Experience With Motel One Edinburgh Royal
This was our first time staying at this particular hotel, and it was really nice that it was a short walk to Waverley Station.
Upon entering, the lobby/bar area was pretty big with lots of seating, and the air conditioning was pumping in icy cold air.
This was as expected because before booking this hotel, I had double and triple checked that it has air con.
If you've never been to Edinburgh, or to Scotland in general, then you may not know that it can be a challenge to find a hotel with air conditioning simply because it doesn't tend to get too warm in the summers… except for the first two weeks of August 2022 when we were there.
Anyways, after a terrible oversight in Dusseldorf in 2013 when I booked a room at an Ibis Styles with no air conditioning – (Oh my god. It was awful. Riley) – this is something that I ALWAYS check before booking a hotel. (Double and triple. – Riley)
Imagine my surprise after getting to our room and discovering that the ONLY air conditioning in this hotel is in the lobby/bar area.
(We have no proof of this. One of the photos does show a vaguely air-conditioning-looking type contraption. But, if the room did have air conditioning, it was either off or set a temperature that was completely useless. – Riley)
Sure, they kept it icy cold for the front desk staff and people in the bar, but nowhere else.
Did I mention there was a heatwave in Edinburgh while we were there?
So, here's the thing – I booked the room with the view as a surprise for Riley since this stay was going to be right after her birthday.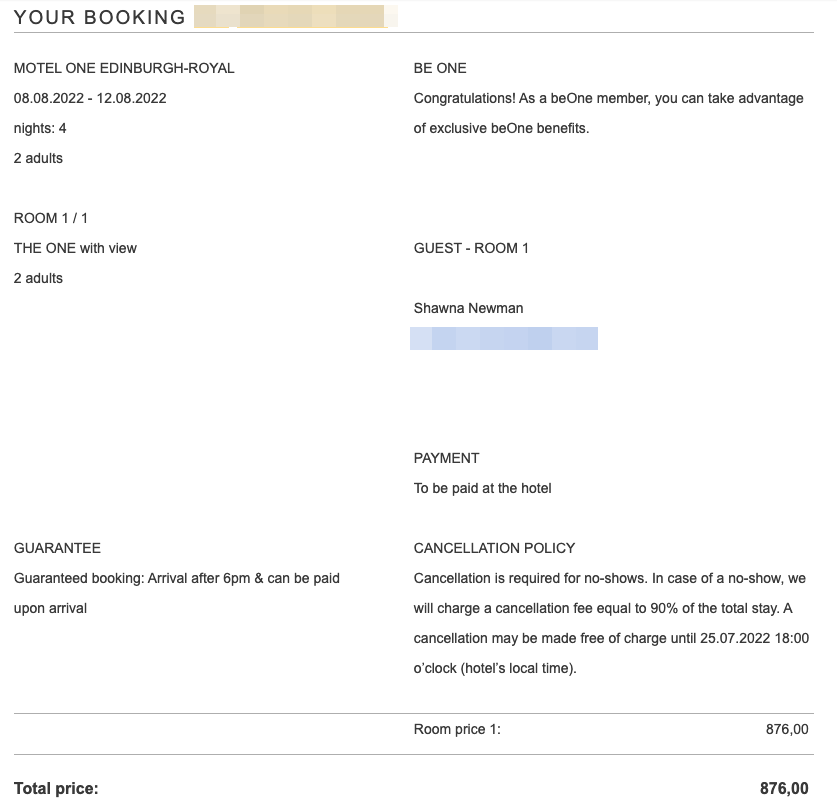 This is the most expensive room they offer.
It's on the top floor and it really does give you a pretty nice view.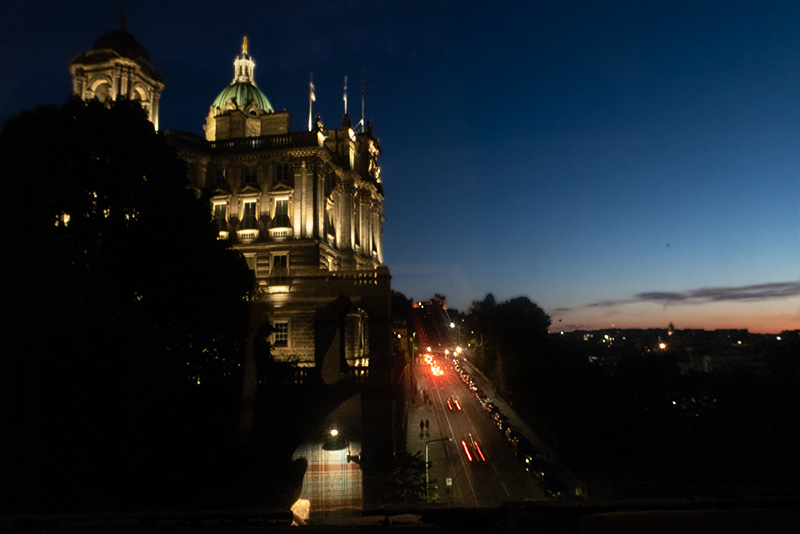 But that top floor location also means the room is a fucking furnace when it's hot outside.
The windows don't open so you can let in outside air (except for the tiny window in the bathroom)… and they don't tell you that in advance.
(Well, they did open, just very little, and not in a way that allowed actual air in. – Riley)
This means, if there is a heat wave, like when we were there, you get ZERO outside air.
You might think that you'll be able to let in cold night air to cool off the room, but you'd be wrong.
(The reality of what this meant is that it was in the high-50s/low 60s at night in Edinburgh, but it remained 80+ degrees in our room. All. The. Time. – Riley)
But hey, they'll give you a fan to circulate all that hot air in the room! (To be fair, they also told you it was "too bad" you booked the top floor (i.e. the most expensive) room, because it was hotter up there. Empathy! – Riley)
When I booked this room, the website clearly stated that the hotel had air conditioning in the rooms.
While I cannot see a historical snapshot of the room booking details, the WayBack machine does show this in the FAQs.
Look at that same page today and you'll see this –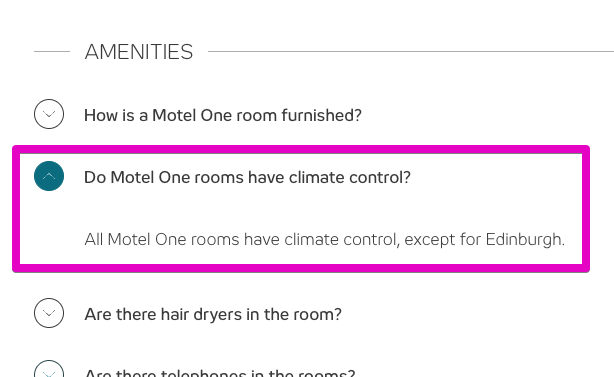 (Are you f'ing kidding me? You told me they had updated the page, but I guess I missed the part that they updated the page specifically to mention Edinburgh. What… the… mother… mmm. I can't even. – Riley)
Looks like they removed all mentions of having air con in the rooms… maybe because of the bad reviews I left everywhere?
(Trust, if they specified Edinburgh only after Shawna left her scathing reviews, it ain't just Edinburgh. Beware. – Riley)
I mean, this hotel opened its doors in 2012 and didn't update that there was no air con in the rooms until recently.

You might think this is the only issue we had at this hotel and you may be thinking this is a very first world problem. (It is. But, also, we pick a hotel based on its amenities , so… – Riley)
But alas, this was not the worst of our stay at this Motel One.
On our last day at the hotel, the toilet backed up in the evening.
The front desk told us that they wouldn't be able to send someone to fix it until the next day. And I'm certain there were on-call plumbers in the city.
Upon asking what we were supposed to do about going to the toilet the rest of the evening/night/morning, I was told that we could use the public toilet.
Reader, our room was on the top floor and the public toilets were located in the basement.
They really expected us to stay in a shitty room (literally) and then get dressed to trek down seven flights (or wait on the elevator) to pee in the dungeon toilets if we were to wake in the middle of the night.
So unacceptable. (Word. – Riley)
Never mind the fact that it was boiling in our room, it smelled of poo (ah, the pleasures of travel. – Riley), and we needed a good night's sleep for our morning flight back to the United States.
So, here we were in Edinburgh during Fringe (when hotel prices are crazy high and most of them sell out) and I needed to find a room with a working toilet for the night.
459 GBP later and I had booked the very last room at the Radisson Blu Hotel, Edinburgh City Centre.
Getting there from the Motel One with all our stuff was a nightmare that really doesn't need told here.
(It was a thing with taxis/rideshares and how many drivers didn't want to be driving them at 10:30-11 p.m… apparently. – Riley)
Anyways, Motel One was not apologetic about the situation, they never offered to walk us to another hotel for the night (which is what happens in the US), and they refused to refund that last night's stay.
They never even responded to my email that I sent afterwards.
Needless to say, this has soured me on ever staying at a Motel One property again in the future.
(A bit of a sadness really. They've got good vibes and many excellent locations. But a working toilet is pretty much a necessity. – Riley)
The Motel One Edinburgh Royal Space
This is really just your typical Motel One.
It's got the lobby with the bowl of those little blue heart-shaped candies. (I think Shawna loves these almost as much as a DoubleTree cookie. – Riley)
It's got a nice bar area where you can get food and drinks.
And it's the only place with air conditioning in the entire building.
(I was gonna say "again unfounded," but maybe that change to the Amenities page founds it? Oy. What a horrible experience this was.
Also, I'd like to point out that even with the air conditioning on full blast in the lobby/bar they still had the front door hanging wide open. You know, just to add insult to sleep deprivation. – Riley)
The public toilets are located on a floor below the lobby and bar area.
And there are two elevators, which are larger than most elevators you encounter in Europe.
Note that because of the location of this hotel, the bar area can get crowded with people who aren't actually staying in the hotel.
Our Motel One Edinburgh Royal Room
As mentioned above, we did stay in the room with a view, labeled THE ONE with view when booking it.
It's got several tall windows that give you views of the historic center and the train station.
(Yes. Many of the details were lovely.
There was one thing about the room design itself, however, that was a bit weird.
Notice in the photo below how the ceiling looks like it's sloping a little high on the left, but the bottom of the window looks like it's sloping a little high on the right? Then, on the right, the wall seems to be coming in all catawampus?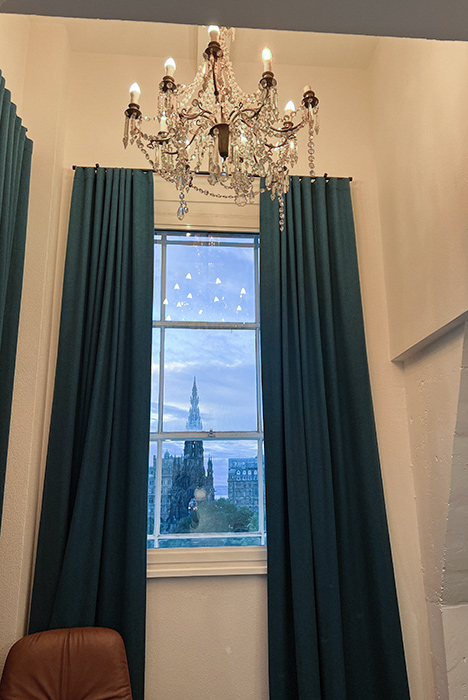 Well, this isn't just an illusion in this photo. It was also an illusion in the room.
I don't know if everything really was this crooked, or if all the weirdly-angled slopes just made it seem that way, but, while it wasn't a big deal for us – mostly , I just kept thinking the TV sat crooked – if you're a person who goes batty when your feng shui is off, you might want to pack some lavender or something. – Riley.)
I can't deny that it was a nice view, but it's a shame that the windows didn't open (fully – Riley).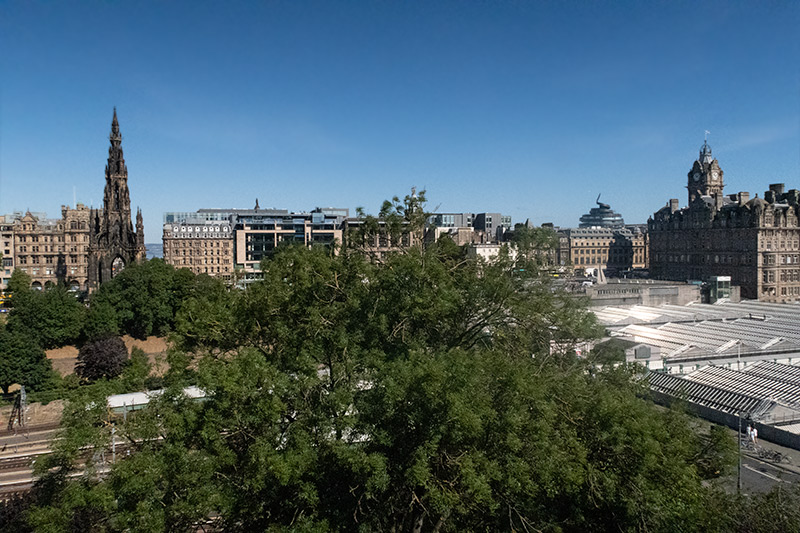 And since this is a top floor/attic room, the ceiling does slant in some areas – just something to keep in mind if you're tall and still wanna book this room after reading this review (why would you though?).
Other than that, this is your basic Motel One room. If you've seen one, you've seen them all.
It's a bit cramped, the bathroom is tiny, but it's clean (minus the stopped-up toilet) and the bed is comfy.
And it's Edinburgh by the train station, so there can be some outside noise.
What You Should Know
Though they've since updated the website to remove all mentions of air con, you definitely should know that there's no air con in the rooms.
And that top floor room doesn't have windows that open (fully).
I think it's also important to know that if something goes wrong, like an overflowing toilet, they won't take care of you if it happens outside of normal workday hours… despite emergency plumbers being available in the city.
(But, really, what constitutes an emergency? I mean, we had a whole toilet and sink we could fill before things got real. – Riley)
And they won't refund you for the uninhabitable room if you leave when they fail to fix that stopped-up toilet.
Oh, and there's literally zero need to pay for their breakfast because Waverley Station is super close and you've got several options in there for a better brekkie.
(There are also multiple local coffee shops along the street that winds up to The Royal Mile. – Riley)
What We Loved
It's a bit difficult to fill this section, but I'd have to say for me it was the air conditioned lobby and that the bed was comfy.
That's where the comfort ended though.
The location was good if you don't want to be right on the main street.
And I won't lie, the view wasn't bad either.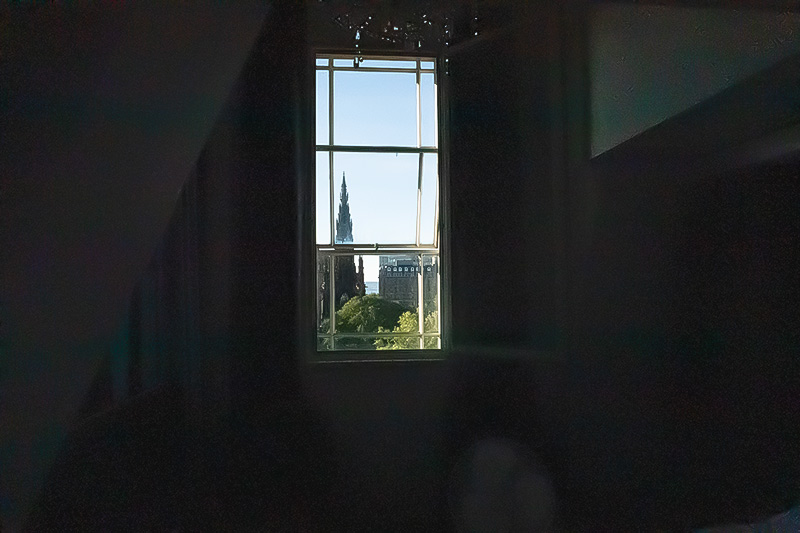 (Yeah. It's hard to hate that view.
And some of the design was pretty clever.
I'm always down for discovering new ways Europe puts their nooks and crannies to use.– Riley)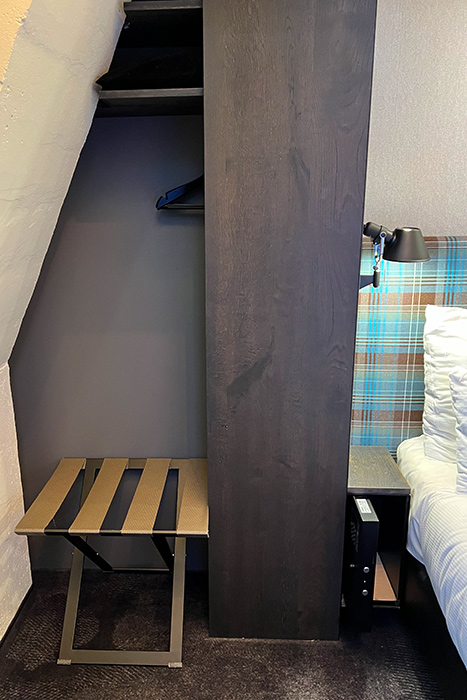 What We Didn't Love
Here's a summary for ya –
no air con in the room + the fact I was lied to about its existence
the way they handled (or didn't handle!) our problem with a non-working toilet on our last night
that the windows in the room didn't open to let in outside air
Don't forget, you also didn't love the sloped ceilings. They were pretty darn low, and you were convinced I was going to concuss myself in the middle of the night. Which was fair. I mean, it's not like I haven't walked headfirst into hotel wall before. – Riley
Would We Recommend It?
No, I definitely do not recommend this hotel for anything other than popping into the lobby bar area to cool off if it's hot outside.
This was one of the worst experiences that I can ever recall having in a hotel. And we've had some doozies! – Riley
I don't care how much of a budget you're on, this hotel is not the answer.