Edinburgh. It's always Edinburgh.
Every time we end up there, we think it again – this is our favorite place in the entire world.
The cobbled closes. The castle above the city.
So much about this place is like stepping out of time.
Yet, nothing of this city's fabled past lies dead and buried.
Its history is alive and bustling, pulsing with a sort of hospitable energy, like everyone you meet might run into you at the pub later.
(Seriously. In our experience, Scottish people are just very, very nice.)
Maybe it has to do with the August invasion when Fringe and the Military Tattoo and the International Festival and the Book Festival all converge on the city that gives this place a "We're all in this together" sort of vibe.
Whatever it is, Edinburgh, Scotland is our happy place, our comfort place, the place we go to where everything is familiar and nothing is ever quite the same. (It helps, of course, that we tend to go during the festival season.)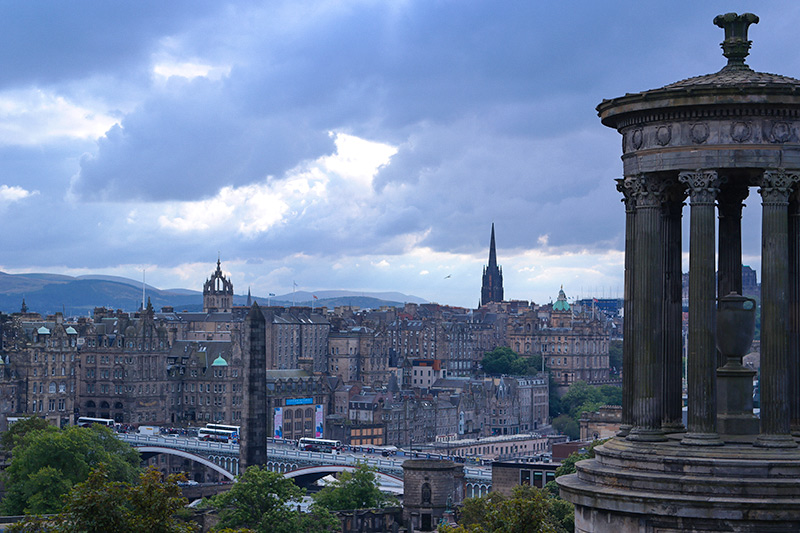 We have done Edinburgh in its coldest of rains – the aftermath of which is well depicted in the photo above – and (now) in the wickedest heat of summer.
But no matter when we're there and no matter what happens (and stuff HAS HAPPENED in Edinburgh, let me tell you), this is absolutely THE PLACE.
We love it here, and, even with the haunting memories of pubs patrons yelling in the street at 2 a.m. or an overflowing toilet, we can never wait to get back.
When We Were In Edinburgh
August 2014
December 2014
August 2019
August 2022
Or, basically:
Fringe
Christmas Market
Fringe
Fringe
Planned or Not Planned
Planned.
I had long wanted to go to Fringe, so when we took our round-the-world trip in 2014-2015 it was a top priority.
How We Ended Up In Edinburgh
Drawn by Fringe… as so many are… and as they should be.
First Impressions
It's hard to recall what I thought the first time we stepped out of the train station in Edinburgh. (The first time we were there, we stayed outside the city in Dunfermline, one of our Hidden Gems.)
But I don't really need the recall.
Every time we emerge from Waverley station and glance up at those medieval buildings casting their shadows against the sky, the feeling is the same.
This place is freaking spectacular. It's old and it's moody and it's just freaking glorious.
It's also a bit strenuous and intimidating, especially throughout its old town. Those streets and closes are STEEP.
You'll notice it pretty quickly when you start lugging your suitcases around on them.
Where We've Stayed
Until this last time, every time we've been in Edinburg it's been for an extended period (two weeks to a month at a time), so we've always stayed in vacation rentals.
This last time, we stayed in one of our favorite no-frills European chains – Motel One – which we have stayed in in several countries and are typically quite lovely. (Clean rooms, great locations, cozy lobbies, comfy beds).
But, this time, we had some serious issues.
Due to those issues, we ended up staying in a second hotel in Edinburgh – the Radisson Blu – not by choice.
So, our Edinburgh hotels are:
Motel One Edinburgh-Royal
Where we paid extra for the attic room with the view and the hotel's air conditioner was capped far too low for the temperatures outside.
(real talk – the stated promise of air conditioning was really only in the lobby of this hotel. – Shawna)
Then… the toilet stopped working. (and no one cared. literally no one but us. – Shawna)
Radisson Blu

Where we had to move to at 10:30 at night and leave by 10 a.m., but was quite lovely in the short time we were there.
Our Favorite Things
There is a lot, A LOT, we love about Edinburgh. A lot. It is a jewel amongst cities.
So, this was hard.
But we do have a few things we worship above all the rest.
These are our favorites:
Edinburgh Fringe
Festival season in Edinburgh is hectic and bustling, and nowhere is more hectic and bustling than High Street where hopeful Fringe artists hold out their handbills hoping to tempt you into their shows.
You can't escape it and you won't get anywhere fast, and that's sort of the whole point.
Fringe, along with the International Festival to a lesser extent, takes over Edinburgh's Old Town (and most of its surrounding buildings), and a city that gives this much SPACE to theater and the arts is somewhere I want to be.
Edinburgh Christmas Market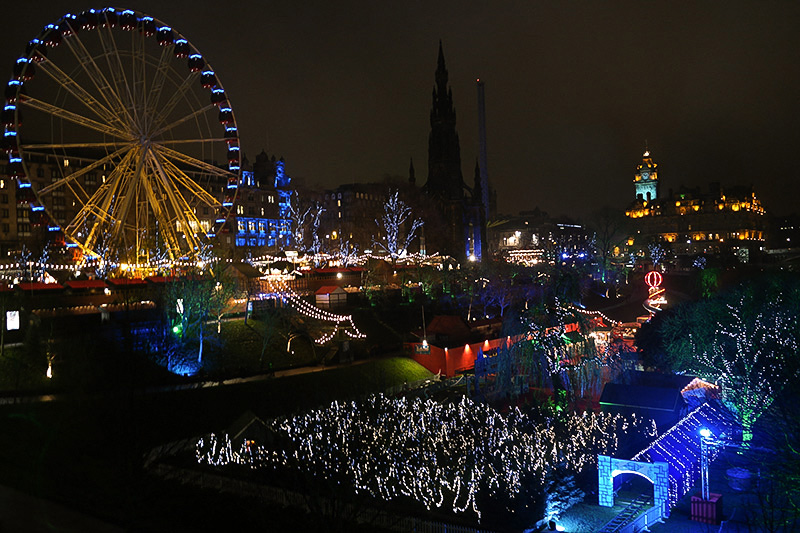 Another festival? What can we say? Edinburgh simply does festivals so very right. (And so very big.)
Not only is the visual of Edinburgh's Christmas market a particularly stunning one – all of those lights and tents lining Princes Street Gardens with the castle looming above – it's also just a really good Christmas market.
Calton Hill & Collective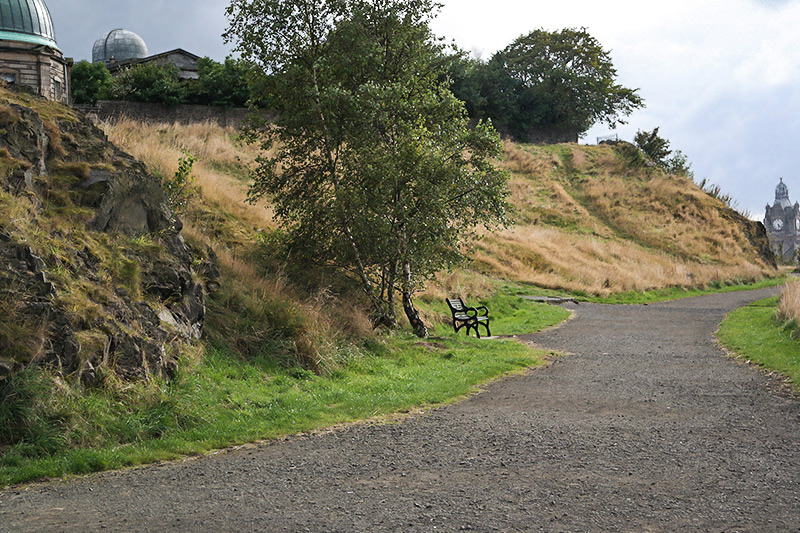 While we've only been up on Calton Hill once (it can be quite a trek to and up, depending on where you're staying in the city), we stayed for quite some time, despite the fact it was such a blustery day, it threatened to turn us into human kites.
The view from up top is unreal.
One way, you get a sprawling panorama of this gorgeous city, the other, views that go all the way to the North Sea.
Then, there's the Collective, a free art gallery that, when we were there, had a very, very cool exhibit on.
The View From Royal Mile
Speaking of views, Holy Heaven on Earth.
When you're up on High Street (as you are certainly bound to be at some point) anywhere East of St. Giles' Cathedral, make sure you pause in the middle (it's easiest in August when much of High Street is closed) and look to the northeast.
On a reasonably clear day, you will get a view of the Firth of Forth with the buildings of Edinburgh's Royal Mile rising on either side.
On a perfect day, you can see forever, to the Firth of Forth and beyond it to the North Sea.
It really is a picture postcard of the city. (Literally, you will find this view on postcards sold in tourist shops.)
The point is, if this isn't your "Wow" moment in Edinburgh, we don't know what will be.
(And now, on a completely awkward note, we somehow have no photo of this.
I have no idea how.
I am 1,010% certain we have taken several.
So, where are they?
At this point, I can only assume that every time we have paused to take a photo of this view, we were so taken with the beauty, we simply forgot to take it.
I have no idea.
The universe it really straight-up messing with my head right now.)
Scottish National Gallery
A beautiful (and free) museum right near everything, this gallery has a surprising number of gems amongst its collections.
If you like art… any kind of art… you will not be disappointed.
(Somehow, same deal as above with the picture. I have exactly one photo from inside the gallery. It's of the painting that gave me the most willies.
I don't know what we're thinking when we're in Edinburgh. Apparently it's 'Why take pictures when we know we'll be back?')
Hoofing the Closes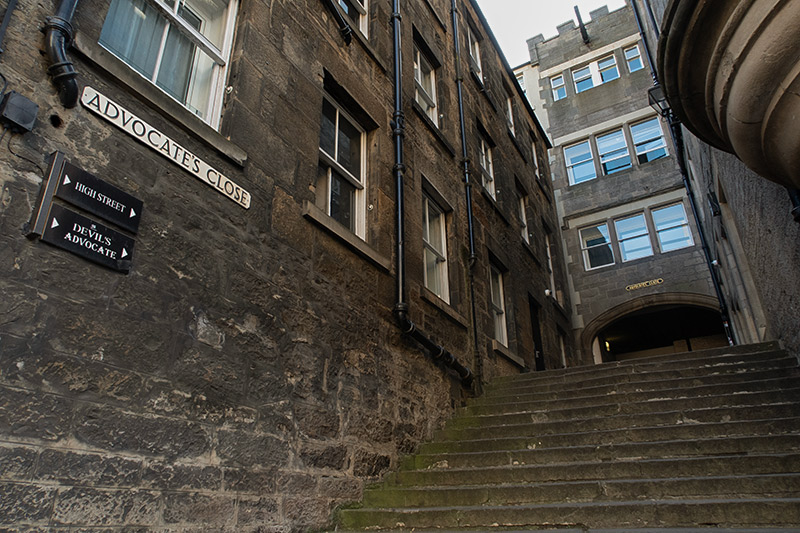 (OMG! A picture!)
Enjoy a good hike? Great! So do we!
Enjoy hiking cobblestones and stairs? Is that really even a hike? It sure as hell feels like it is.
In Edinburgh, we have cut away from the beaten path, taking cobbled streets and closes where we have been entirely alone for minutes at a time (even during Fringe, which is a helluva feat).
Walking those closes, you really feel the history of this city. Or is it its ghosts?
You may also encounter fellow travelers hoofing it uphill with their suitcases toward their hotels or vacation rentals and share a commiserating moment.
If you pass them on your way down, it never hurts to offer an encouraging word.
The Culinary Scene
(I want to jump into this picture and swim in this soup. What kind was it? No idea. It doesn't matter. It's from Le Bistrot, and it could have been poop soup and it still would have been delicious.)
There are plenty of pubs in Edinburgh, of course, so don't worry, you'll be well-stocked in steak & ale pie and fish & chips.
So, definitely get you some of that. (Well… maybe not the fish & chips. Scotland tends to be of the bone-in variety.)
But these are the Edinburgh restaurants we can't get enough of.
Le Bistrot
Attached to the French Consulate and French Institute of Scotland, it's no surprise the food at Le Bistrot is authentically good.
And the two- or three-course lunch prix fixe is a great deal for the amount and quality of the food you get.
We know it's not local fare, but we can't help it.
This is our favorite place to eat in Edinburgh, hands down.
Pizza Express
Shawna calls this place "the Olive Garden of the UK" and she isn't wrong.
It IS a lot like an Olive Garden, just with more pizza.
But the pizza here is good, the appetizers are better, and the wines are good enough.
Plus, it's pretty cheap. So, basically, a good meal for a really good price.
Commons Club
We only just found this place on our last visit to Edinburgh, and unfortunately didn't have a lot of time to enjoy its super chill atmosphere and plush seats. (If you let it, Fringe can have you in a constant state of frenzy, and, too often, we let it.)
But the food was nice (if a bit sparse for the money), and we're looking forward to going back under more laidback circumstances.
Caffè Nero
A go-to coffee break spot for us in the UK, Caffè Nero would just be a chain coffee shop with good coffee (much better than Costa) and decent enough pastry options if not for one thing – their scones.
You wouldn't think a chain with an Italian name would be the provider of such excellent scones, but Caffè Nero was actually started in London.
It borrows its name and coffee quality from Italy, but its scones are straight UK.
(and their coffee is pretty smooth. – Shawna)
Uh, Where's The Pubs?
Where are the local foodstuffs on this list, you might ask? And it's a fair question.
I don't know why we never seem to go into a pub in Edinburgh. (I think we did once? – Shawna)
Or any local food spot for that matter, aside from coffee shops.
Maybe it's because they're all so busy during the festival season?
Or because we're usually traveling elsewhere in the UK around our visit and get our fills of steak and ale pie and mushy peas before we get there?
I don't think we've even tasted a steak and ale pie in Edinburgh. (We did taste their barbecue once. That was upsetting…)
(no, I think did get get a steak and ale pie there once? maybe – Shawna)
Anyway, apologies for the lack of local food suggestions. I have theories, but no solid explanation.
What Else To See
For our favorite city in the world, we still have a lot of Edinburgh left to see.
There are honestly tons of attractions we've never even been near.
I think it's partly the knowledge we'll always be back, partly Fringe, which is consuming, and partly us, because we're really more "vibe of a place" than "attractions of a place" people.
Anyway, along with our own personal favorites, here are the things we have seen in Edinburgh that we consider must-sees.
The Real Mary King's Close
This close that lies beneath Edinburgh City Chambers is a snapshot out of time.
Unhokey… for the most part… and the storytelling is excellent.
I wouldn't have minded a little more time to soak in some of the spaces on my own, but it was definitely worth the visit.
(not for the mobility impaired or claustrophobic though! – Shawna)
West Bow/Victoria Street
You probably already know about this street, but just in case you don't…
If you are trouncing about Edinburgh's Old Town, you will almost certainly end up on West Bow by chance.
Even if not, it's a short jaunt from many popular attractions. (Just one street down from The Royal Mile.)
As far as the world's most charming streets go, this one is way, way up there.
I don't know if it's one of my favorite spots in the city – I'll let Shawna speak for herself on that – because it' i's often too busy and has many touristy shops that muddle its charm.
But it's definitely nice if you can catch it in a quiet moment.
Princes Street to Queen Street
High on the hill as it sits, Edinburgh's medieval Old Town dominates its skyline.
But most of the city is newer.
The city's New Town was built in the Georgian era and is quite sprawling.
But a ramble between Princes and Queen Streets will give you a pretty good taste without having to journey too far from the Old Town.
What You Should Know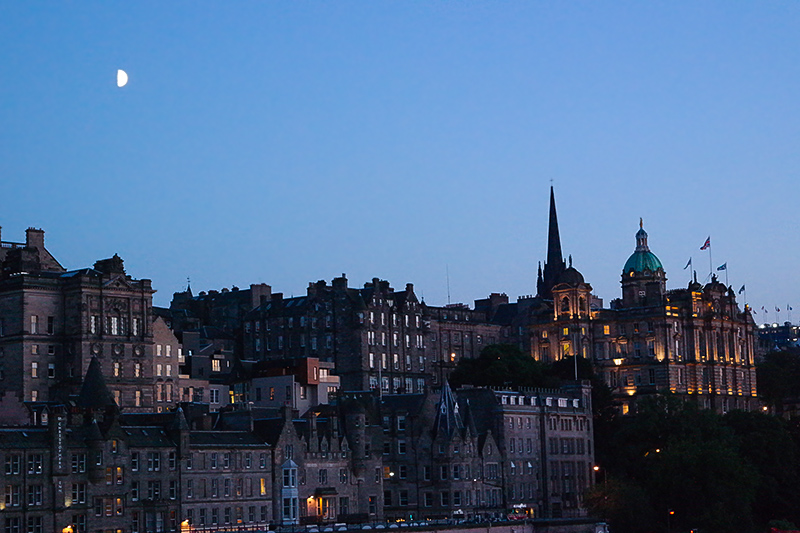 Edinburgh is heavily cobbled and unforgivingly steep.
That means this beautiful city demands a sensible pair of shoes.
Wherever you go, especially in Old Town, you are bound to encounter uneven surfaces, steepish inclines, or long flights of stairs.
Enjoy navigating those things in heels or sandals? By all means.
But, on our last visit, we saw someone tip over in a wheelchair due to the unevenness of the streets – it was fucking awful – so bear that in mind when pitting safety against fashion.
It rains a lot in Edinburgh and that rain can be cold.
Emphasis on the COLD.
The first time we were in Edinburgh (2014), we stayed just outside the city (Dunfermline) for the month of August and it was cold and rainy the entire time.
Like every single day at some point.
If it wasn't cold and rainy when we left the apartment, it turned cold and rainy while we were out.
Later that same year (in December) it was less rainy, but definitely cold.
In 2019, same deal. We were there in August and were wearing heavy raincoats and had the radiator going at night.
I guess what I'm saying is summer isn't summer in Edinburgh.
Rain is one thing, but if you're from anywhere with more clear-cut seasons, the dreary chill of an Edinburgh summer can come as quite the shock.
Except, of course, for when the heat is shocking instead… which leads to our next point.
Many Edinburgh hotels/vacation rentals (not to mention restaurants and other public spaces) don't have air conditioning or keep it locked down (at least in the guest rooms).
This last time we were in Edinburgh (Summer 2022), we wore shorts the entire time. Even at night.
I might have put on a light jacket once.
It was over 90 degrees during the days.
But did the hotel adjust their settings so the temperature inside was reasonable?
No, of course not! They horded that air conditioner like it was treasure. (Don't worry. It was plenty cool in the lobby.)
Combined with the child-proof windows we couldn't open properly even when it did cool off at night, it stayed over 80 degrees in our room.
The entire time. (it was miserable. The only time I recall ever being miserable in this city. – Shawna)
So, as climate change brings more and more heatwaves to the least expected places in Europe, be wary of even the hotels that boast air conditioning.
You know, if you like to sleep and stuff.
Many trains and buses stop early. Too early during Fringe.
The trains and buses don't run out of Edinburgh all night. Which for the most part is fine.
The public transport does run late enough that it's generally pretty useful if you prefer to stay on the outskirts of the city or in a cute little village like Dunfermline.
But if you're visiting during Fringe, it can become a bit of a nuisance.
Fringe does have some late-night shows you might have to skip if you're relying on the train. (We did on our first trip, and barely made the last bus one night.)
So, if you want full access to the festival's offerings, you should consider staying one or two nights in the city center.
How Long Do You Need in Edinburgh?
This is a very tough question for us. Mainly, because we could quite happily spend the rest of our lives in Edinburgh, despite its weathery mood swings.
And there aren't a lot of cities in the world we can say that about.
That said, this last trip (our shortest at 4 nights) was also very satisfying. (Of course, we had already seen a lot of the things we wanted to see.)
We'll go with 5-7 days as our baseline, depending on how good you are at power-walking.
This will give you time to see most major attractions, along with a few choice ones you pick for yourself, with time for tea and ale between stops.
This same time frame is probably sufficient during the Christmas Market as well, or if you're going to see the Military Tattoo, either of which will likely only take up a single night.
However, if this is all one big hurrah – if you're going to visit Edinburgh for the first time during Fringe and want to take in both Fringe AND the city's sites, you should tack on another two to three days minimum.
Seriously, if you like theater at all, you're going to want some real time to indulge .
So, for a normal (non-Fringe) first-time visit to Edinburgh, we recommend at least 5 days. At least.
If you're visiting during Fringe, you'll need at least a week. (but some shows only run the first half or second half of the month! The FOMO is real! – Shawna)
Though, honestly, if you find you enjoy the chaotic creativity of Fringe, it probably won't be enough.
What To Watch Out For
Those cobbles and stairs.
While a workout at the best of times, rain can turn these characteristic features of Edinburgh into literal slippery slopes.
Again, sensible footwear is highly recommended.
We've always found a grippy (water-resistant) sneaker, or, even better, a hiking shoe/boot quite beneficial in Edinburgh rain. (Me thinks trail running shoes are the best option. – Shawna)
Shawna's only busted her ass once, and that was in Dunfermline (*snigger*). (but I didn't drop the ice cream cone! – Shawna)
Cars.
They drive on the left side of the road in Scotland.
That can be hard to get used to if you're from most other places in the world.
Keep it in mind when crossing streets.
They're not as well-marked as they are in London.
Edinburgh in Summation
Edinburgh, simply put, is our favorite city in the world.
We've always visited during the August festivals or Christmas market, so there's more than enough to see and do.
But, even in the down season, this place enchants.
From its storied (possibly haunted) closes to its connection with the sea, this is a city ripe for exploration, with more than one historical period to journey through.
It's one of our top five recommended cities of Europe and we would encourage anyone to put it on their travel lists.