I'm going to go ahead and make an appeal to you right up top to go to Edinburgh's Fringe Festival.
I'll make one later too, but I want to put this highline, so you know exactly where my heart's at.
Edinburgh Fringe is, simply put, one of my very favorite things in the entire world. And I like a lot of things.
It was something I was super stoked about the first time we went to it, and it did not disappoint.
Seriously, if you love live entertainment, in literally any of its forms – plays, musicals, stand-up, sketch comedy, concerts, puppetry, circus, dance, whatever – and Fringe is not on your list of travel must-dos, stop right now and go write it on there.
You will experience nothing else like it in the world. I can hand-to-God promise you that.
What is Edinburgh's Fringe Festival?
Edinburgh Fringe is nothing less than the biggest arts festival in the world.
Which would be enough.
But that honestly doesn't do it justice.
Of all the things in the world that defy accurate description, Fringe is pretty high up there.
I mean, I could try to describe it with words like:
Raw
Frenetic
Avant-garde
Intense
Invasive
Visionary
Freakshow
Organic
Sacred
But do you see what ends up happening?
I end up sounding like a freakin' douchebag.
So, please pretend I didn't use any of those words, throw them in your brain blender anyway, and see what whirls to mind.
Now, you might be close to envisioning the kind of pulsing creativity that takes over Edinburgh throughout the month of August each year.
Basically, at its most base, Fringe is the world's biggest arts festival, but at its heart, it's a guttural, base-level playground where artists come with nothing but hope and belief in their projects.
Sometimes these projects are well-received.
Fleabag made its full-length stage debut as a Fringe show, and several subsequent returns, eventually leading the world to take noticee of Phoebe Waller-Bridge.
Stomp started out as a Fringe show.
So did SIX: The Musical.
Sometimes these projects are poorly-received.
Our first year, we saw a comedian from Jerusalem whose jokes about war and women's rights in the Middle East were stone-faced by 90% of the audience.
But we laughed.
We thought she was hysterical.
And Joan Rivers would have fucking loved her.
And that's pretty much the essence of Fringe.
Artists and theater troupes descending on the city like a swarm of locusts, taking over practically everything, and then just DOING art.
In the city's theaters. In its churches.
In the spaces between buildings.
In temporary structures. In its hotels. Along the Royal Mile.
Essentially, it's art, art everywhere throughout Edinburgh's Old Town, and that is not even remotely an exaggeration.
The Shows At Fringe
Since Fringe is almost impossible to describe, I was going to give you a brief rundown of some of the shows we've seen there.
I really thought about it for, like, a long minute. But I'm not sure it would be beneficial.
I mean, we have our tastes and you have yours, and I fear that telling you what we saw might be more limiting than anything.
After all, there are thousands of performances at Fringe each year – literally, thousands – and we have seen only dozens of them.
Dozens.
So, I'll explain it this way:
I once planned an entire day at Fringe around seeing only shows with lesbians in them.
I went through the big list, narrowed it down, and carefully scheduled our day. (Though, perhaps, not carefully enough. Pretty sure this was one of the days we had to make a mad dash between two shows. But I did my best.)
This was not all the shows with lesbians at Fringe. I was being selective.
Then, at the end of our sapphically-scheduled program, when we weren't completely wiped, and it was still pretty early in the night, I decided to tack on a play I wanted to see, but that didn't fit in with the day's lesbian agenda.
And you know what happened? There were surprise lesbians in it.
SURPRISE LESBIANS!
That, my friends, is the magic of Fringe.
(Also, here is a brief picture montage of some of the things we have done and seen at Fringe, so you have an idea of what's on offer and can judge our tastes accordingly.)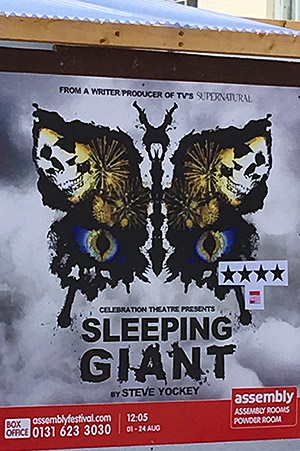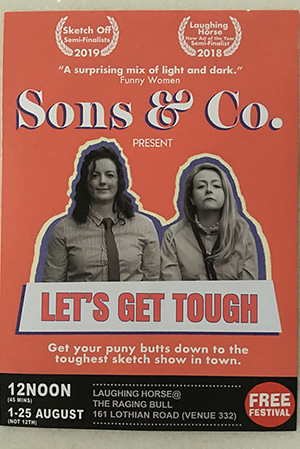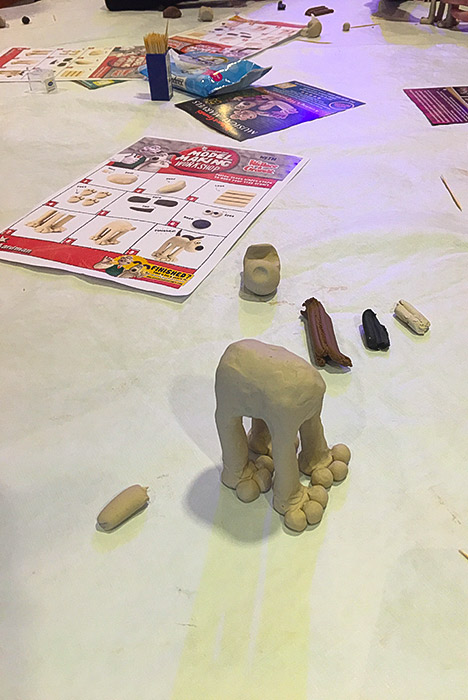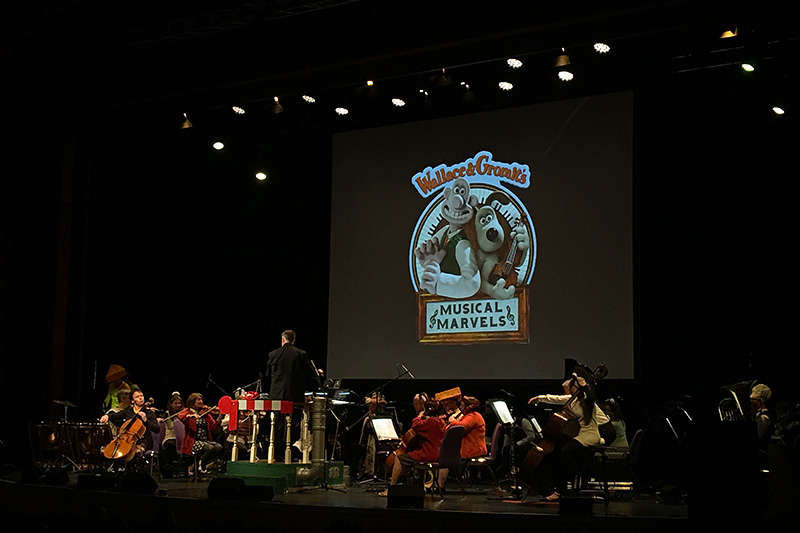 Sometimes big-time properties like Aardman Animations and Wallace & Gromit join in on Fringe.
We also saw Whose Live Anyway? our first year.
The Aardman Model Making Workshop was AMAZING.
And, yes, we were the only adults without children. (aka the coolest people at Fringe – Shawna)
What You Should Know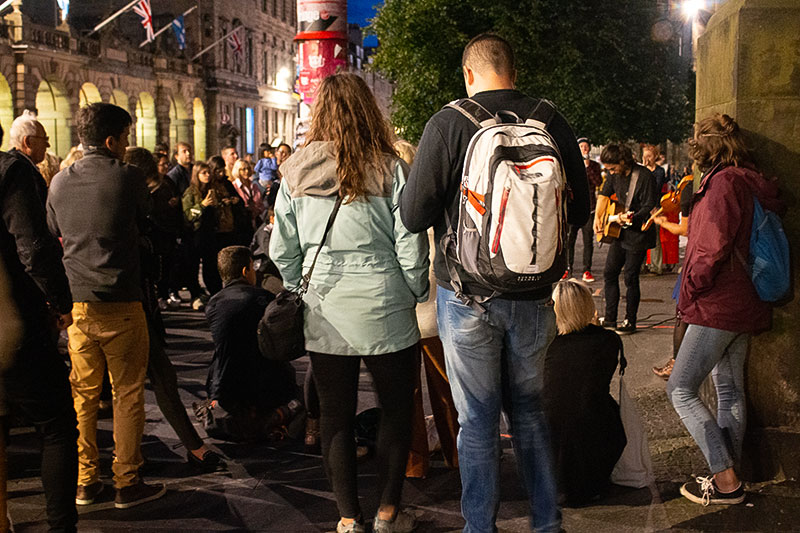 Fringe is MAD BUSY.
And, by that, I mean the streets of Edinburgh are mad busy during Fringe.
So any estimated time Google Maps tells you it's going to take for you to walk somewhere, double it.
The crowds WILL slow you down.
We had to hold our pee through an entire play once because we made it there just in time to get in the door.
And it was the only full-length play we saw, so we had to hold it for a while.
Speaking of which…
Fringe shows are typically short.
Think one-act plays or mini-concerts.
And there's a good reason for that.
There are many more shows at Fringe each year than spaces in which to perform them, so venues are hired out by the time slot, not by the day.
Performers at Fringe also produce their own shows, including paying for their own spaces, so the less time they need, the cheaper their overhead.
Due to this, most shows at Fringe are 50 minutes or less, which gives performers time to set up, break down, and generally make the change over within the hour.
(Ticket prices do reflect these shorter lengths, if that's a concern. In fact, shows at Fringe are some of the best deals you're ever going to get for live entertainment.)
Which leads to two more important points…
There are plenty of free (and pay-what-you-can) shows at Fringe.
And not just the ones outdoors.
Though, there are plenty of those too.
Outside, you will find buskers, magicians, dance troupes, acrobats, and, yes, the occasional dedicated bagpiper, at designated spots around the city. (These spots, like the ones inside, are shared by multiple performers.)
Inside, you'll find stand-up, sketch comedy, dance, music and more.
The Free Shows
The free shows at Fringe work on a pass-the-hat scenario.
Basically, if you enjoyed the show (and, let's be honest, even if you didn't), you're expected to pay a little something on your way out the door.
It doesn't have to be much, and no one's going to eagle-eye what you're putting in, but it's good karma to be fair.
As a rule of thumb, we try to put £1-2 in the hat of every busker we enjoy (and buy the albums of the musicians we really like) and at least £5 each in the money jar of every indoor performer we see for free.
(Buskers usually have bigger audiences and only have to pay nominal fees to play at Fringe, while indoor performers typically still have to pay a little something to the venues.)
Pay-What-You-Can Shows
The "Pay What You Can" shows at Fringe offer multiple levels of ticket prices, which you can secure right thought Fringe's online ticketing system.
If the tickets for a show are £15 full-price, for instance, the performers may also offer £10 and £7 options.
It's all done on the honor system, so, you know… good karma.
Anyway, if you're on a budget, browsing the free and pay-what-you-can shows at Fringe is a great place to start.
The performers aren't being rude, they're just in a hurry.
Remember when I mentioned performers sharing spaces at Fringe and how they have to set up, break down, and make change overs?
Well, they usually only have 5-10 minutes to do that.
I have seen many a Fringe performer look utterly stressed out when an audience member comes up to them immediately after a show while they're trying to strike their sets.
Now, that doesn't mean you can't chat with a performer you enjoy at Fringe. If you have kind words to say to them, do.
Live performance is hard, and I'm sure they'd love to hear it.
But read the room. If the performers seem like they're in a rush (it's usually pretty obvious and they usually are), just step outside the room to wait.
This isn't Broadway. No one's going to disappear out a stage door.
And, lastly…
Skip the first few days and last few days of the festival.
I hate to say that, because there are shows that run in those early and late days, and only in those early and late days, but, as a visitor, you'll have more choice mid-month.
That's because, while some Fringe shows run the entirety of Fringe, most of them don't, and, in our experience, the most overlap happens somewhere in the middle.
(I could be wrong. It could just seem that way, but it does always feel like there's a bit of a winding-up and winding-down period to Fringe when there are just fewer offerings.)
Of course, there is one surefire way to figure out the best time for you, personally, to go to Fringe, and that's to go through the Fringe What's On, get totally overwhelmed by the number of offerings, crawl into the fetal position for a few minutes, and then bravely pick out the shows you want to see, finding the days of overlap.
(If there are any. Sorry, but that's the tough reality of Fringe. Unless you're there for the entire month of August, you will inevitably miss something you want to see.)
The point is, in our experience, if you want the best selection, stick to the meat of the month.
Not every Fringe venue is wheelchair accessible.
It's a problem, and they know it.
You can find information about venue accessibility on each shows' page on the Fringe website under the "Accessibility" tab.
There's an air-conditioning situation.
There's not a lot of air-conditioning in Scotland. Which normally isn't a problem.
But it sure as hell was in August of 2022.
I yield the rest of this section to Shawna, whom I suspect has things to say about it.
Shawna taking over now – and yes, if it's as hot as the devil's balls while you're at Fringe (aka early August 2022), the best venue for that sweet caress of air con is the Radisson Blu Hotel Edinburgh City Centre.
(Honestly, if there's a heatwave I think I'd never venture from that venue.)
Otherwise, expect to stew in your own sweat at most venues. It sucks.
It sucks the most for the performers, but it's not pleasant for anyone.
Climate change is not getting any better and Scotland needs to get with the damn program.
Edinburgh Fringe Photos
And now a quick photo blast that I hope somewhat captures the essence of Fringe.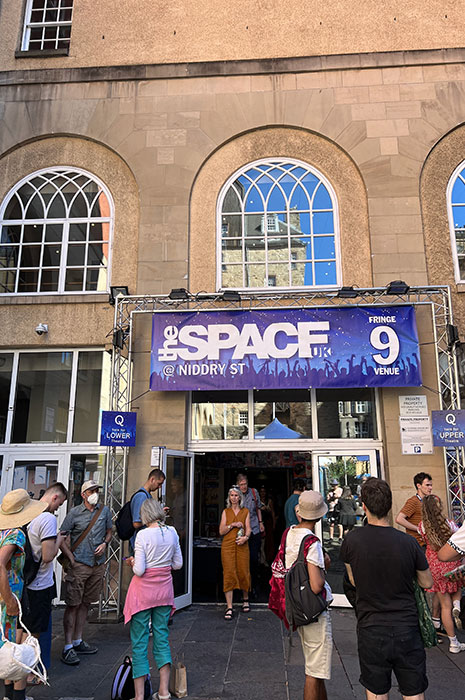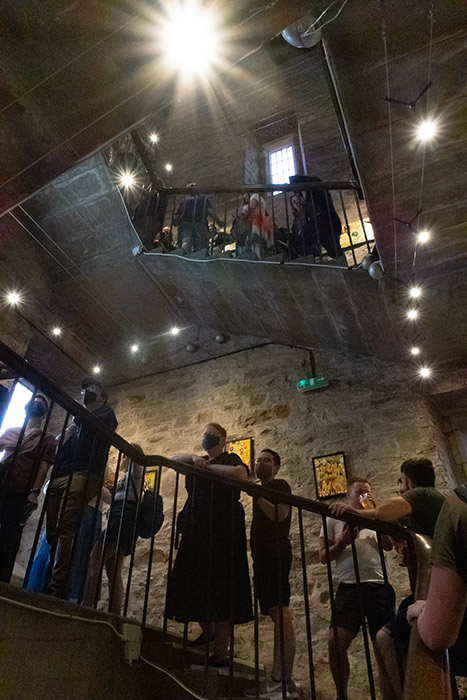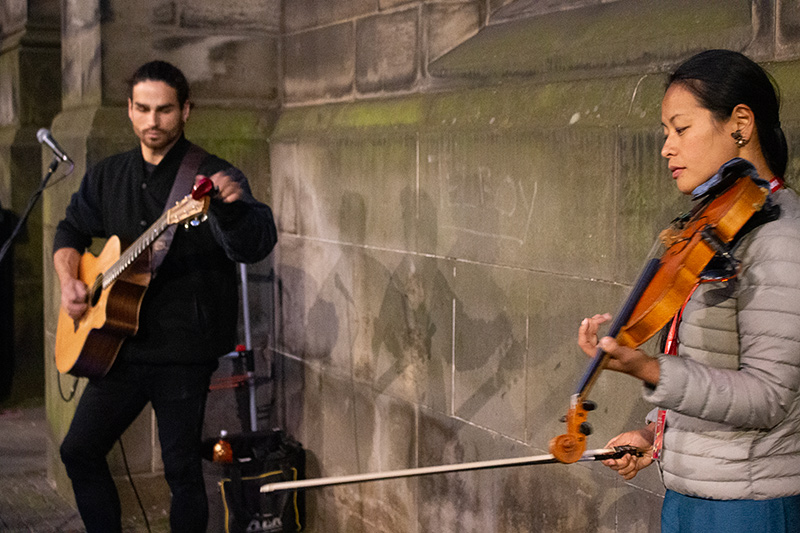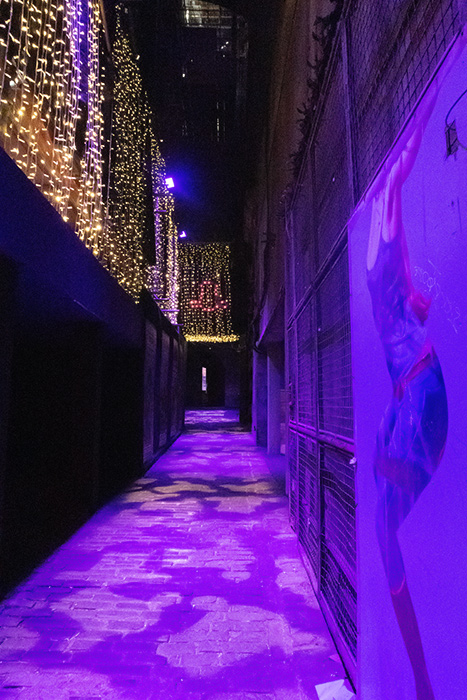 When is Edinburgh Fringe?
Fringe runs almost the entire month of August, starting a few days into the month and cutting out a few days early.
Where is Edinburgh Fringe?
In Edinburgh, Scotland.
Everywhere in Edinburgh, Scotland.
It's centered around the Royal Mile and Old Town, but it really does take over the entire city center.
How much are Fringe tickets?
Generally, £15 or less per show. (Many are less.)
If you're going to be there for several days and plan on seeing lots of shows, you can save money by becoming a Fringe Friend.
This gives you access to 2-for-1 tickets to participating shows, and loads of shows participate.
Go To Fringe, Fellow Theater Lovers
All right, here it is, just like I warned you, my final plea.
I can't be direct enough.
If you love live performance, I mean really love it, if it's your jam, if you live to see the curtain rise, if you're the type of person who gets chills or weepy sitting in a darkened theater, you MUST go to Fringe.
I love live performance – I am definitely the chills and weepy type – and every Fringe I see something that is absolutely worth traversing an ocean for.
(One time we saw a horror play written by one of the people who did the 'Supernatural' TV show – which we've never watched – and it was one of the most interesting things I've ever seen there – Shawna)
To me, Fringe is like a rainbow wrapped in a script wrapped in a flute (yes, we bought a flute busker's CD once) wrapped in clogs wrapped in a perfect punchline stuffed up a fire-breathing puppet's butt on stilts… or something.
And that is about as accurate a description as I can give.