True story. We were once walking through the Venetian in Vegas and overheard a woman say it was better than the real Venice.
It isn't (it might be a bit cleaner and smell a bit better), and it has to be one of the dumbest hot takes we've ever heard, but there's one random woman's opinion if you're looking for it.
In truth, the Venetian Resort IS pretty damn impressive, one of the most beautiful – if not THE most beautiful – of all the Strip's casinos/resorts.
It's not better than the real Venice, not by any very wide stretch of the imagination, but its detailed homage to the architecture and canals of the city is admirable enough.
When We Stayed
August 2019
Our Experience With The Venetian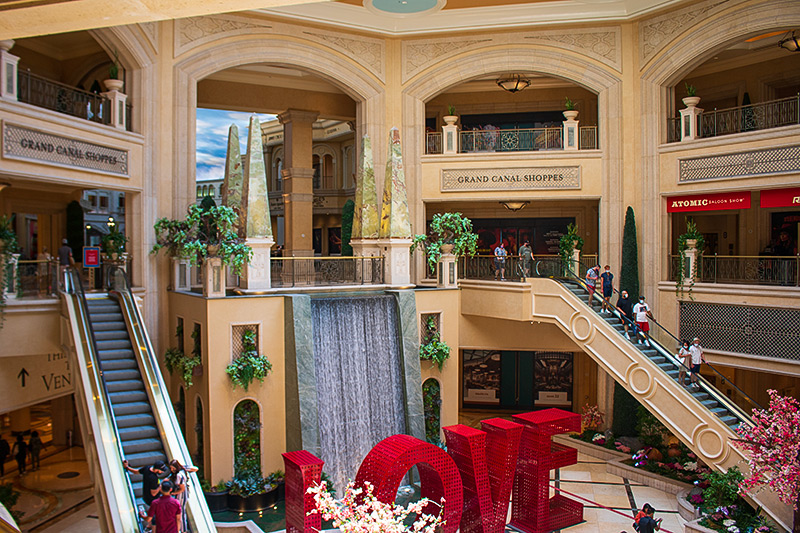 Our trips to the Venetian have been two-fold.
We've spent most of our time there as non-overnight guests in the Grand Canal Shoppes, grabbing food before an event or buying gifts (Honolulu Cookie Company, anyone?).
But as it was our favorite of the Strip resorts, when we came back to Vegas for a couple nights in September 2019, we thought why the hell not?
We like the Venetian and we'll get points.
(The Venetian is part of the IHG hotel family, so collect them rewards!)
We chose a room on the Palazzo side, the quieter side according to our research, and I do recall it being fairly quiet.
I wish I could tell you just how quiet, but it was a while ago and I didn't take the best of notes.
(or maybe she did cause she ended up losing a whole ass notebook during that stay. – Shawna)
Let's assume it was quiet enough (a top priority for us) and backtrack from there.
The Venetian Space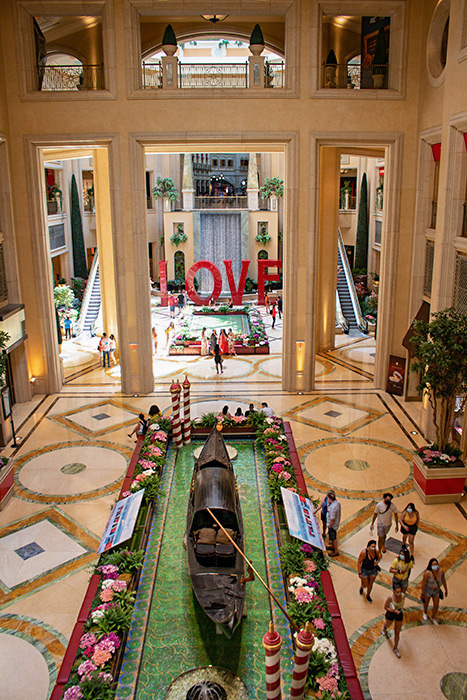 First off, arriving at the Venetian makes quite an impression, whether you are walking through a door off the Strip or riding up from the parking garage.
Both the Venetian's and Palazzo's lobbies are exhibition pieces, with all the frescoes and architectural touches you would expect of a hotel aiming to imitate Venice.
The Palazzo has a columned fountain.
The Venetian has a golden sphere.
Yeah, it's ridiculous.
(still not better than the real Venice tho… – Shawna)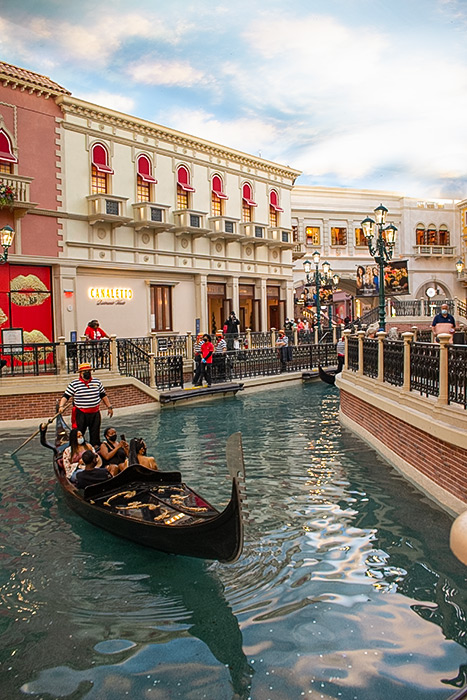 From the moment you step into this place, you won't be wanting for luxury.
Even the public toilets are lovely.
And the rest of the property does its absolute most.
From the replicated Rialto Bridge walkway to the Grand Canal with its gondola rides to the indoor waterfall, this place is spectacle incarnate.
It is also BIG, very big, and, in its truest homage to Venice, surprisingly easy to get lost in.
Our Venetian Room
Our room at the Palazzo was the standard luxury king, but what a standard king it was.
Sunken living room off the classic bedroom, cushy bed, a lovely tub that made it impossible not to pop to the store for some Epsom salts and take a long bath.
Truly, it was a very nice room.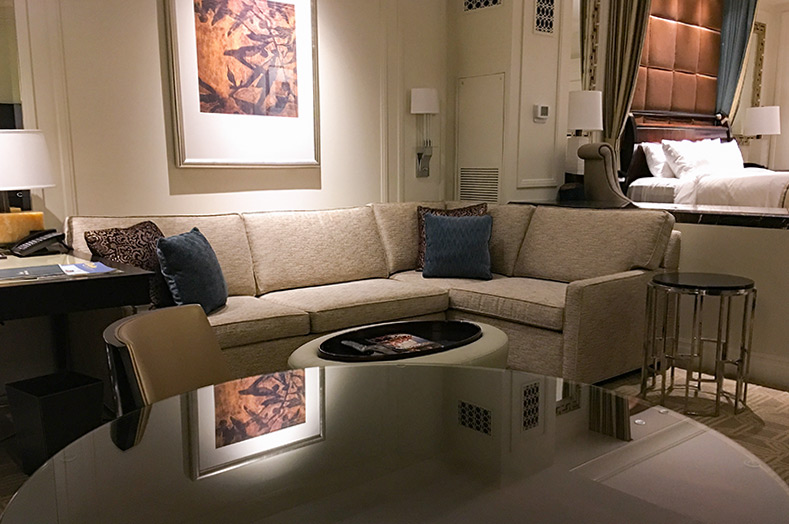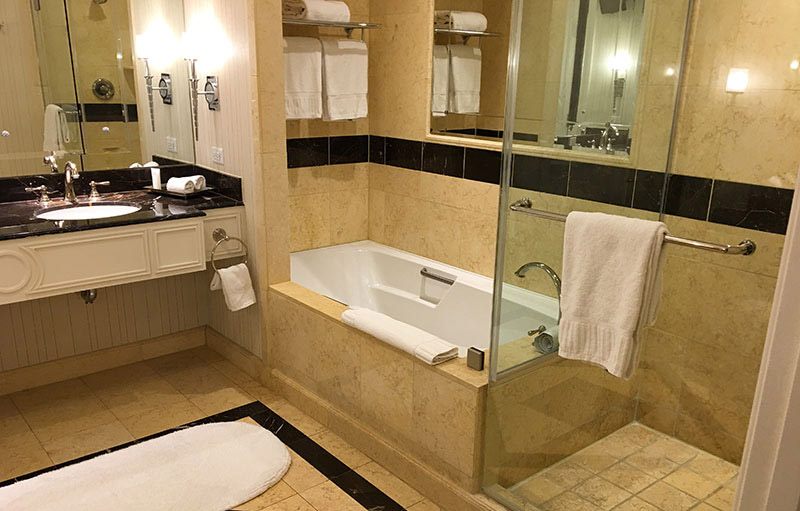 It was also, however, dusty.
And not like in hidden out of the way places, but just straight up dust lying on the lamps and headboard. Which was shocking, to be honest.
Now, we live in Vegas, so we know how hard it is to keep those tiniest of sand particles from invading everywhere and everything.
Stuff gets real dusty real quick here.
(that desert is literally fucking everywhere. – Shawna)
But we don't expect a hotel of this level to have visible dust just lying around on the furniture.
And this was pre-COVID, so there's no COVID-protocol excuse to be had.
It didn't affect our stay in any meaningful way (I mean, I'm sure it affected our sinuses some), but it was disappointing.
Staying on the Palazzo side, we also had to cross the casino floor to get from the lobby to the elevators.
This meant walking through cigarette smoke with our bags, which was far from ideal.
(With lighter luggage you could go straight up the escalator to the Palazzo shoppes and cross that way, but this particular trip we were hauling a monster, so we had very little choice.)
While You're There
Be sure to pop into the Honolulu Cookie Company for some free samples.
And Carlo's Bake Shop serves up a mean chocolate cake… among other things.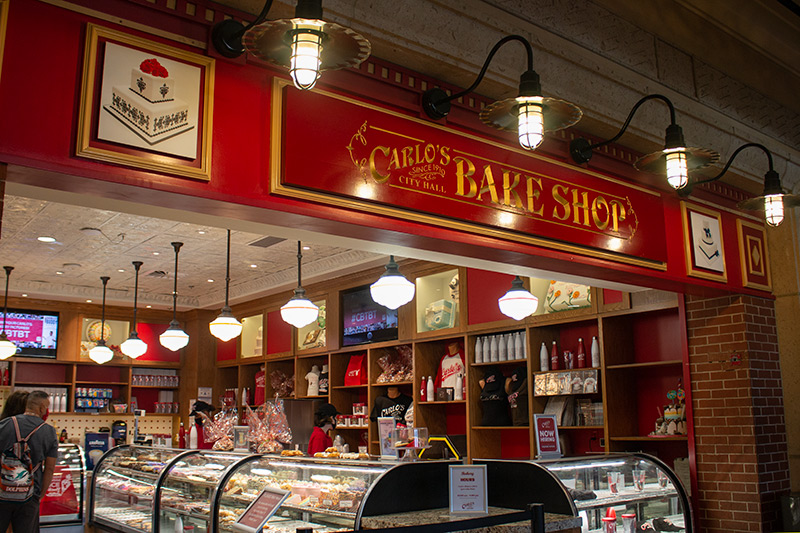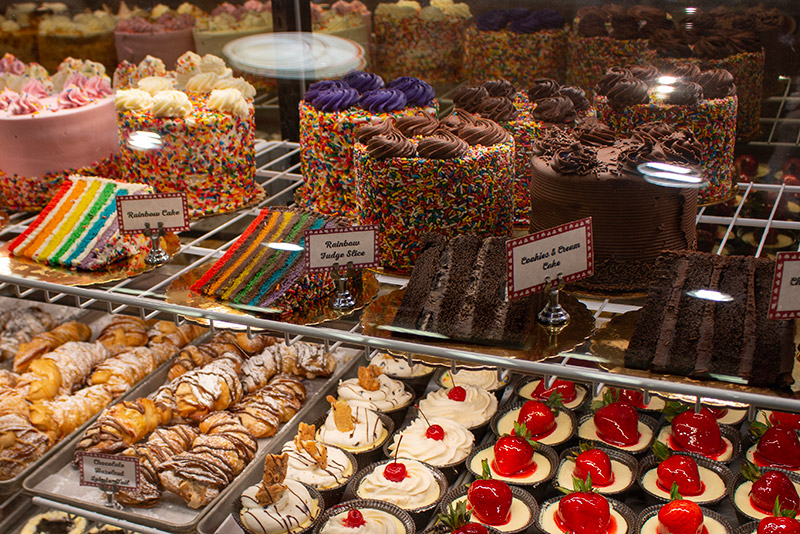 What You Should Know
Like most hotels on the Strip, the Venetian has a nightly resort fee, so whatever price you're quoted for your room, you're gonna be paying more. (As of 2022, the resort fee is $45.)
However –
The Venetian also has free parking, which offsets its resort fee quite substantially when you compare it to paying for parking at other Strip hotels.
What We Loved
The sunken living area that made the room feel even bigger than its generous square footage.
The bathtub.
The view.
What We Didn't Love
The dust.
Walking across the casino to get to our room.
Would We Recommend It?
Yeah, I think we still would.
(or maybe not? As of early 2023 this casino has really leveled up it's stinky stale cigarette smell. – Shawna)