Most people who come to Vegas for vacation never seem to venture far from The Strip.
They get a car from the airport to their casino hotel and split their time between casino floors and other attractions on The Strip, which mostly means drinking and gambling and gluttony.
Maybe a show or two, if they're feeling adventurous.
(And plenty of cool architecture, but still…)
Sure, some people make the trek up to Fremont Street to get a glimpse of old Vegas. (It really is just a glimpse these days.)
And a few might book a tour to the Hoover Dam or Grand Canyon.
But the sad reality is that most visitors to Las Vegas miss the best part – the natural scenery.
A real shame.
So, here are our top three plugs to get you to haul your drunk ass out of your Strip hotel one morning and get thee to the mountains.
Reason 1: Red Rock Canyon is stunning.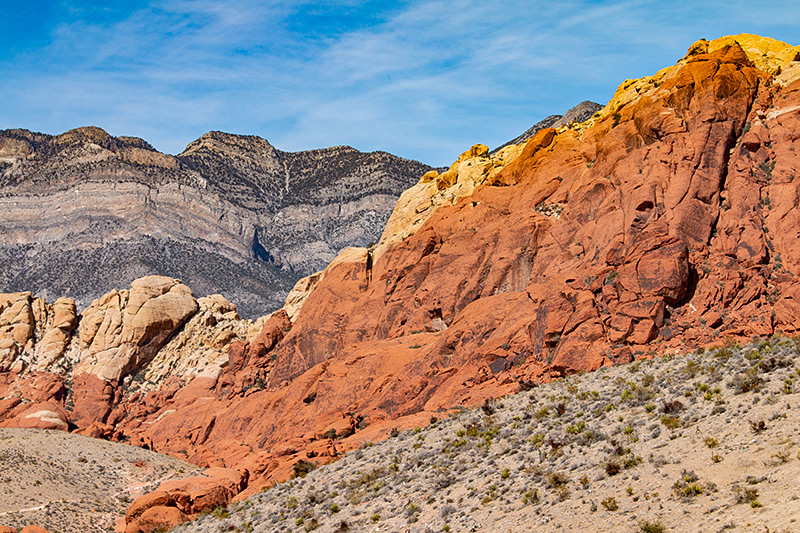 Boom. There it is.
This isn't just, like, a nice mountain range that's good for a morning hike, but that you can see the likes of anywhere.
These are true, blast-of-color, rocky majesty Southwest mountains right here.
You can see a little bit of that from The Strip. (Or when flying in from the right direction.)
On a good day. At a distance. And often through a haze of sand.
But you can't see all of it.
We're telling you, it is worth getting up close with Red Rock.
It is a truly beautiful place.
And you don't have to be a hiker to enjoy it.
The scenic loop is quite satisfying.
Reason 2: Red Rock Canyon is close to Vegas.
For something so outside of Vegas's reputational realm, Red Rock is really not that far from The Strip.
Only about 30 minutes by car.
So unless transportation is seriously an issue, why wouldn't you go see this glorious natural wonder?
Reason 3: Red Rock is another side of Vegas.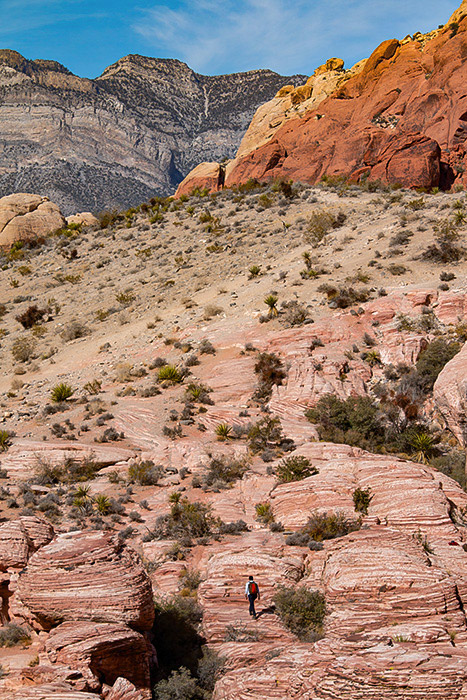 We've talked about it before, but Vegas is more than just The Strip and debauchery.
You wouldn't know that, though, from most of the ad campaigns over the last few decades.
But it's true. So very true.
You can literally live in Vegas for 6 years and not debauch even a single time.
(I mean, there was that one night at Lost Spirits… and we DID see Peepshow back before we lived here, which billed itself as classy burlesque, but applied the word "classy" liberally.)
Anyway, the point is, Vegas has many more miles of natural wonder than it does miles of Strip.
Go see it. Please. We beg of you.
It is worth a half-day of your vacation.
If you can't marvel at this kind of natural scenery, I am truly sorry for whatever's been done to you.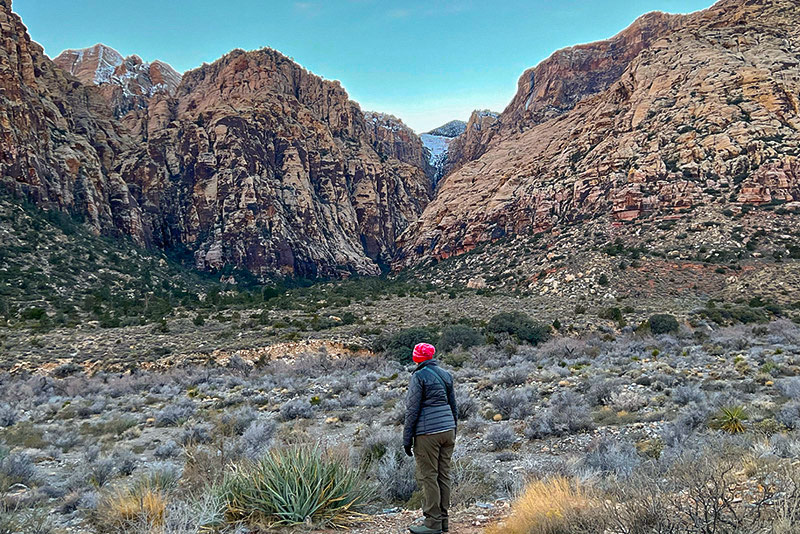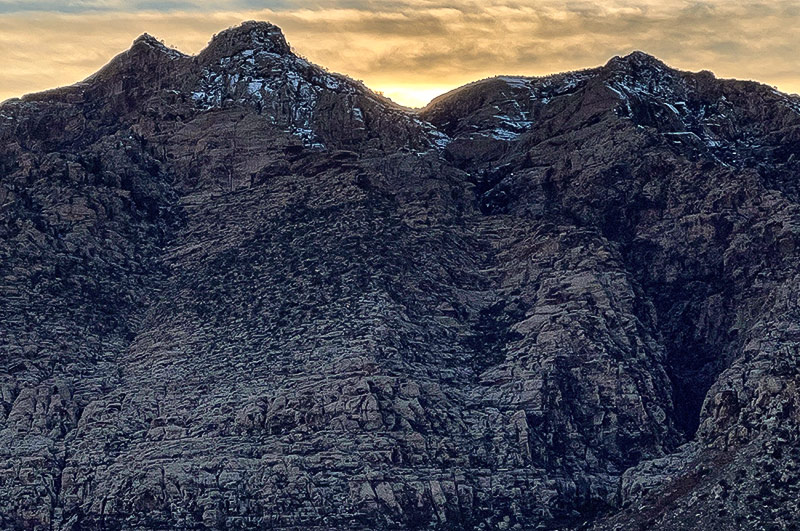 How To Get There
To get to Red Rock Canyon, on the west side of the Vegas Valley, you're going to need a car.
Red Rock is around a half an hour's drive (on a good day).
You can rent a car to get there, or use something like Uber.
Just make sure you negotiate a full trip around the loop with the driver if you go the Uber/Lyft route.
If they drop you off at the entrance, you'll either see only part of Red Rock or have a hell of hike ahead of you.
(The Grand Circle Loop hike that takes you along the scenic drive is over 11 miles!)
Either way, we highly recommend you approach Red Rock via Charleston Blvd, because as it starts to reveal itself on the drive you get a "speechless" sort of view.
Your other option for visiting Red Rock from The Strip is a tour with hotel pick-up.
Here are three well-reviewed tours that get you TO Red Rock as well as through it:
(You can also take a helicopter tour of Red Rock Canyon if you prefer the aerial view, but we don't recommend that.)
You'll get a lot more time to marvel, and a lot more freedom to explore, if you're on the ground.
Plus, the Visitor Center is worth seeing, and you can't see that from a chopper.
What To Know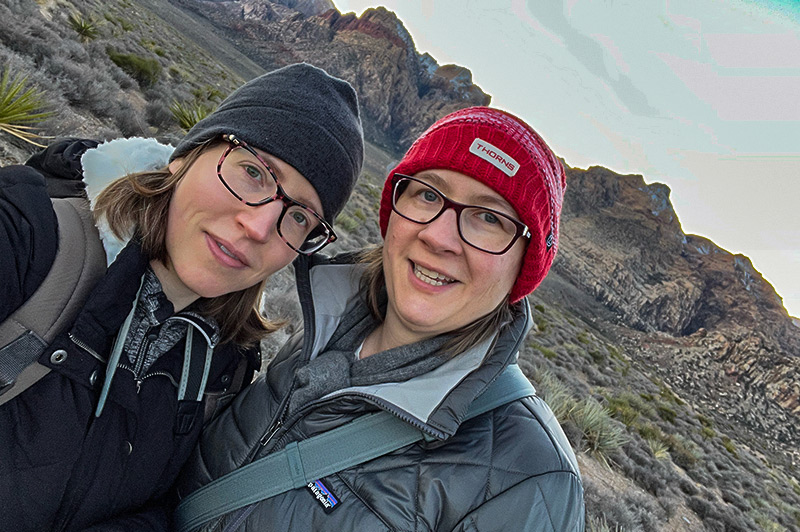 Red Rock Canyon is technically a National Conservation Area, which means you can use your National Park Pass to get in.
If you don't have a National Park Pass, the cost is $20/vehicle (as of January 2023).
You'll also need a timed-entry reservation to enter from October 1st through May 31st (thanks, Instagram influencers!).
When you enter Red Rock, be sure to stop by the Visitor Center, because it's the only place you'll find indoor plumbing, and (as mentioned above) it's really pretty great.
There's basically a mini outdoor museum, which is definitely worth checking out.
You also get a great view of the park from the back.
As for accessibility, don't worry if you're not really into hiking or are mobility-impaired, because you can see everything from the 13-mile scenic loop without needing to get out of the car.
Though, if you are able-bodied, it's worth stopping off in the parking lots to take in the views.
If you do want to do some hiking, there is also an easy (though, not particularly well-marked) loop trail from the visitor's center.
(It's the Moenkopi Trail. Also known as "the iPhone goes rogue with saturation, and I brought it down some, but… – Riley)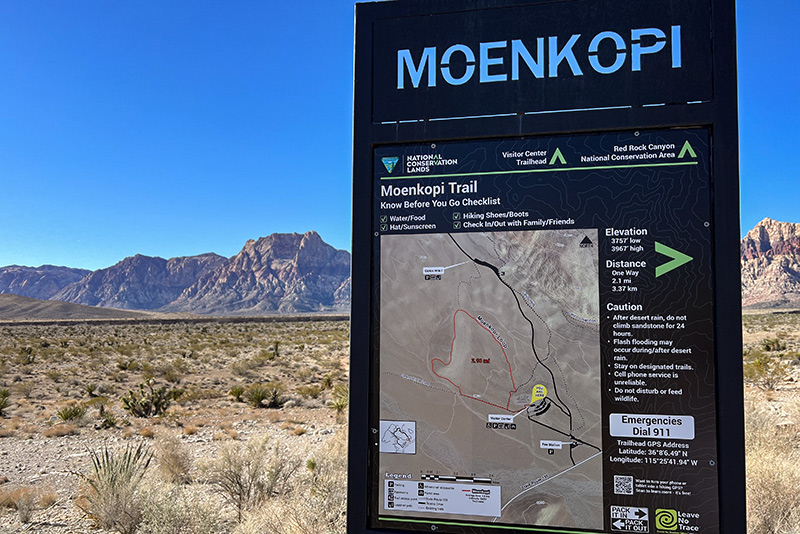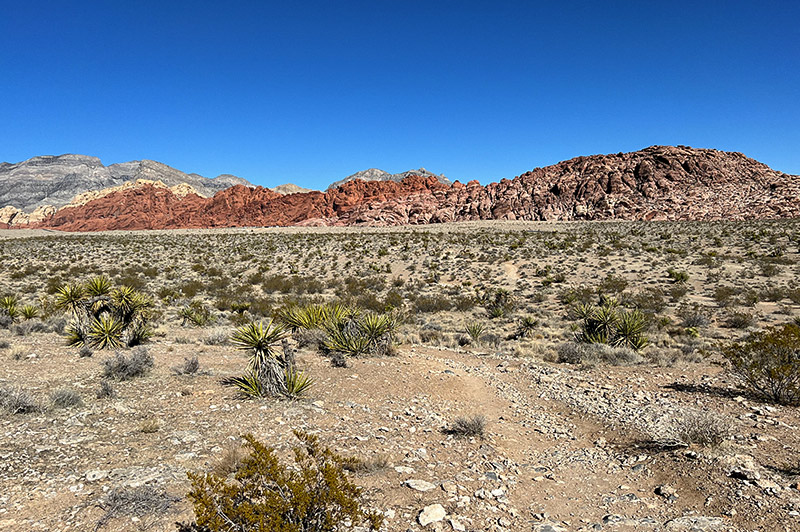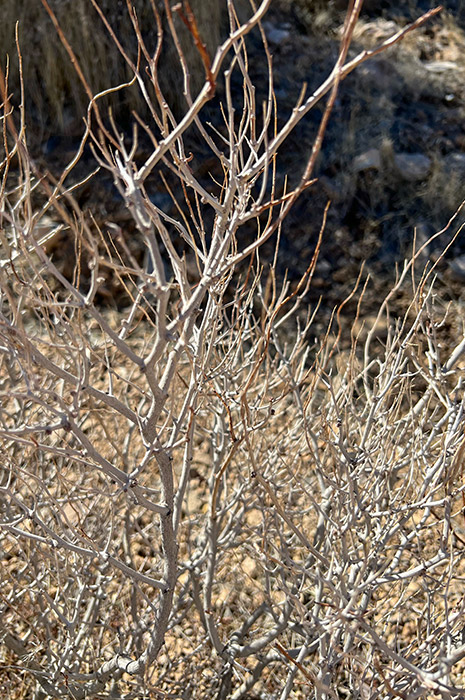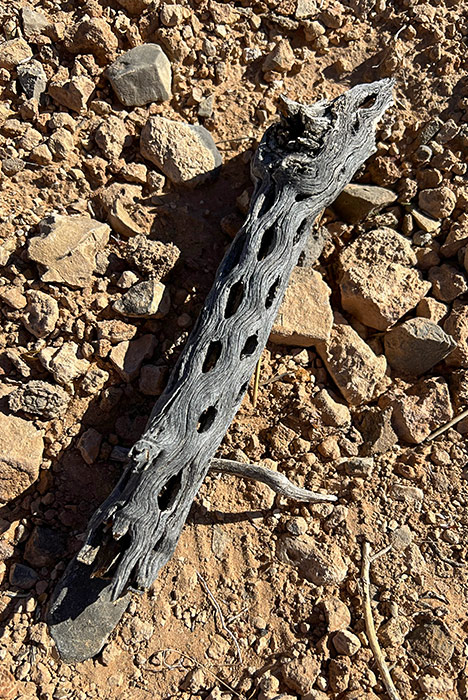 The Calico Hills I trail is also an easy(-ish) trail to go on, though there is a lot of gravel on the incline at the beginning. (For the record, our 80+ year old aunt and uncle and my 70-year-old mother managed it.)
You can take this trail all the way down to the parking lot for Calico Hills II.
So, if you've got some hikers in your group and some non-hikers, this is a great place to split along the drive and meet back up on down the road.
Red Rock Canyon Tips
Tip 1: Rock climbing is very popular at Red Rock Canyon and you'll likely see a lot of climbers at Calico Basin (visible from the Calico Hill I trailhead parking lot).
You'll need a climbing pass if you want to join in, and there are no on-site gear rentals. (Which feels like a bit of a fail, to be honest.)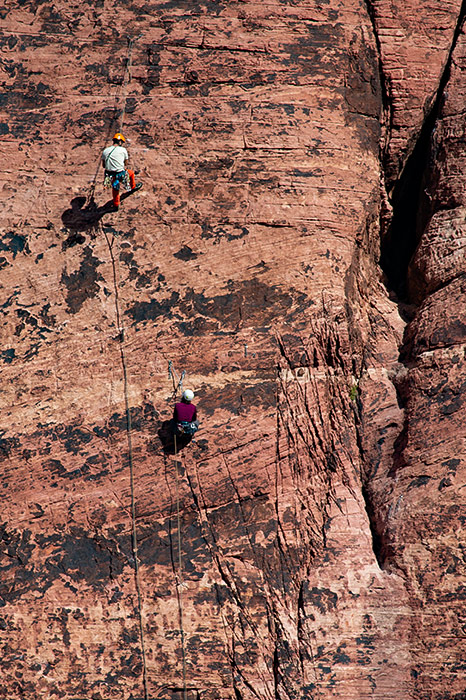 Tip 2: Keep an eye out.
There's wildlife in Red Rock, but it usually stays pretty hidden.
Except for the ground squirrels.
They are curious little nerds, and your most likely Red Rock wildlife sighting.
Which isn't a bad thing. They're ridiculously cute.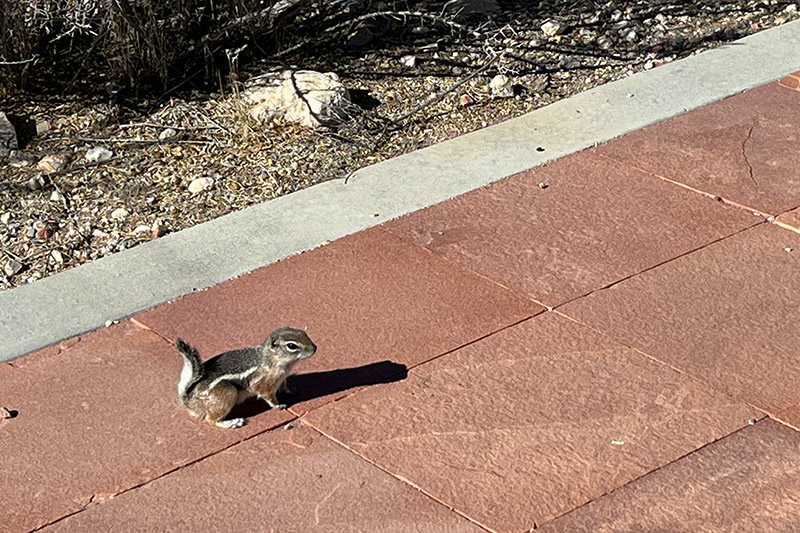 But, whether you're hiking or not, if you happen to visit during tarantula mating season, you just might see one of these creepy crawlies on the move.
We were able to spot one on the scenic loop in October 2022.
Just, keep in mind, these guys are pretty small against a wide-open desert backdrop, so if you stick to the speed limit on the road (which is a little too high for decent sight-seeing, to be honest), you'll probably fly right past one without noticing.
So, slow down from time to time and take it all in.
And if douchebags get on your bumper, just move to the right and let them go around.
In many spots, there is room to (carefully) pass.
Tip 3: On a clear day you can see a good swath of the Vegas Valley from the parking lot that's at the highest elevation – I think it's the one called High Point Overlook… but don't be mad if I'm wrong.
(It is called High Point Overlook, and the above photo of the Vegas Valley visible from Red Rock is taken from there.)
Tip 4: …what may be the most important thing to know about Red Rock.
While there are glorified port-a-potties at most of the trailhead parking lots, the only toilets with indoor plumbing are at the Visitor Center – and you can only access them upon entering.
This means you cannot use them when you leave after finishing the scenic loop. (It's pretty annoying.)
But there are public restrooms at the Albertson's on Charleston you'll pass fairly quickly if you turn left on the main road when you leave.
(There is also a Starbucks there, for those of you who need your caffeine-fix, and plenty of restaurants in that plaza and others right down the road if you hike off a bazillion calories like we always do.)
Fair Warning
Beware the Red Rocks' hike difficulty rating system. It can be a little misleading.
Calico Tanks is rated as moderate-strenuous, for example, but there is a spot at the end that is not even remotely moderate. (It's not even just hiking. It's really more bouldering.)
So, if you do plan to hike at Red Rock, we highly recommend doing some digging into any hike you want to do, so you know what's coming.
Also, driving the scenic loop at Red Rock should be a peaceful experience, but people can act like real turds on this road.
Super turds.
They also turd it up in its parking lots.
Since it's become Instagram-famous, the number of bumper-riders, stilletto-wearers, people screaming at overlooks, and people playing their own soundtracks has increased considerably.
If you want to avoid the worst of these tools, get there early.
Which, in Vegas, means anytime before 9 a.m.
Is It Worth It?
Do you like to see pretty things?
Hell yes, it's worth visiting Red Rock Canyon in Vegas!
The scenery is amazing, you may see a tarantula in the wild, and it looks even more amazing with a light dusting of snow in the winter.