Las Vegas. Ah, home sweet home.
As a couple, we have lived here longer than anyplace else.
Five and a half years and counting. In two separate spurts.
I'd like to say ending up here… twice… was intentional. But it wasn't.
The first time we decided to move to Vegas, we did it because we'd been traveling for almost a year and were tired of moving.
We looked at Portland, Oregon too.
But it was early spring and Vegas was warm.
The second time we ended up in Vegas, we were fleeing the Netherlands.
Our living situation there had become unbearable, it was the middle of the pandemic, and this is where we had left some of our stuff.
It also had restaurants we liked, a pretty nice airport, and we already knew how to get around.
Plus, the noise ordinance. That sweet, sweet Vegas noise ordinance.
We considered Sugar Land, TX too, but are glad that didn't work out. For a multitude of reasons.
Anyway, at this point, we have lived in Las Vegas for more than five years now, in two separate spurts, and have done a lot of stuff here.
Our Las Vegas guide is as locals.
And, be forewarned, we're gonna try really, really hard to tease you away from The Strip.
When We Were In Las Vegas
We lived in Las Vegas from Spring of 2015 to Spring of 2019, and moved back in January 2021.
But we had visited Vegas a number of times before.
Did we first come to see Cher? Or was it Better Midler?
Could it have been Hilary Duff? (It could have been, and we're not even embarrassed to say that.)
Whichever concert came first, we first started coming to Vegas when we lived in Southern California in 2004.
Planned or Not Planned
All of our visits to Vegas were planned and involved little more than finding our way to the venue (often through casinos), seeing our concert, spending one necessary night, and returning to California the very next day.
Moving here was definitely not in the plan.
We came to check Vegas out anyway, because we did like the idea of being someplace warm. (It wasn't the first time we had considered trying the city as a home base, though we never liked it as tourists.)
But we really didn't think we would end up here.
As it turns out, we like Vegas more than anywhere else we've lived… thus far.
I mean, we must or we wouldn't still be here. We've never been real shy about skipping town if we're not digging a place's vibe.
How We Ended Up In Vegas
Concerts, warm weather, and exhaustion.
(and let's not forget the low cost of living…at least for a West coast city. – Shawna)
First Impressions
Are we being honest? What a freaking eyesore!
When it comes to gaudiest city in the U.S., Vegas doesn't even have any close competition. It wins by a desert mile.
From a distance, it can sort of fool you. It's a valley city set against a truly dramatic landscape, after all, and breathtaking from many vantage points.
If you drive anywhere beyond downtown, you'll find many instances of going over an overpass and thinking, "Wow."
But, at ground level, there are parts of Las Vegas (the parts where most tourists go) that don't even look like a real city.
They look like a carnival escaped from the fairgrounds and took over a real city.
And that's fine. That's kind of the point of Vegas, right?
It's splashy and garish and completely over-the-top.
It's just not for us.
So, not gonna lie, when we first visited Vegas, we shared the joint thought, "Wow. This place is really not our scene. Everyone is drinking and gambling, it's too freaking loud, and all of these flashing lights are giving us migraines."
But, we're happy to admit, we were (somewhat) wrong about Vegas.
While The Strip still isn't any place we choose to go – we have literally been there one time since moving back here – the rest of the city has quite a lot to offer.
(scratch that….it's been like four times now…four miserable times 😭 – Shawna)
And we acknowledge a lot of the casinos are worth seeing. Once.
(I'm not sure I'd say "a lot" of them…maybe just a couple or so. – Shawna)
Where We've Stayed
When we first started coming to Vegas, we were broke-ass kids who stayed where broke-ass kids stay on road trips.
And when we did our scouting trip looking for a place to live in 2015, we stayed in a vacation rental.
So, we didn't really stay in any Las Vegas hotels of note until 2019.
The two Strip hotels of note we've stayed in since are –
The Venetian
Where the basic suites are semi-wild rooms that are exactly the sort of room you might think about when you think about what a Las Vegas hotel room might look like.
Resorts World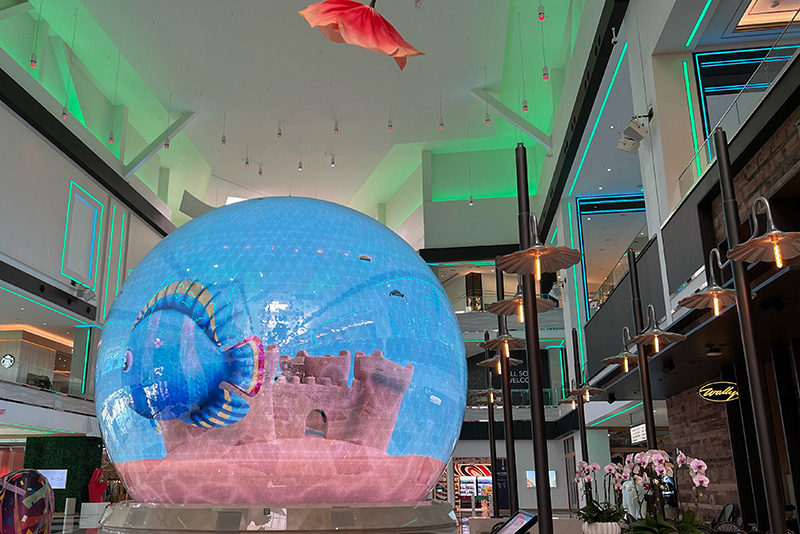 Where we had a surprisingly good night's sleep after hours of unconscionable rum-swilling.
(All right, I admit, our consciences handled it just fine. It was really our stomachs and senses of which way was up that suffered the effects.
Still, we'd do it again.
Well, I might lay off the sparkling rum just a little next time.)
Our Favorite Things
So now, with a handful of one-off road trips and years of Vegas living under our belts, we have a list of things we really do love about Vegas.
Only one is on The Strip (sorry), but some are Strip-adjacent, others can be seen from The Strip, and the rest are worth getting off-Strip to see (or to eat at).
These are our top recommendations:
Red Rock Canyon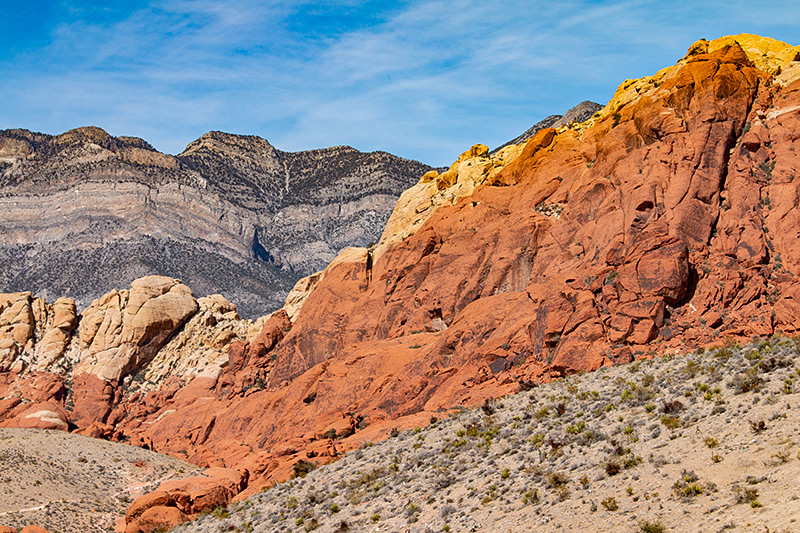 Coming to Vegas without finding your way into the surrounding mountains is like licking the icing off a perfect cake.
You still get plenty of sugar, but you're really missing out.
All of the impressive, made-to-be-gawked-at architecture on The Strip and none of it compares to the sheer beauty of the surrounding landscape.
Even if you're not an outdoorsy person, the mountains of Vegas are worth seeing closer up, and, as a tourist, there is no more convenient a place to do that than at Red Rock Canyon.
(We would love for you to get to Valley of Fire too, but it's quite a bit further from the city, so we get it.)
Lost Spirits Distillery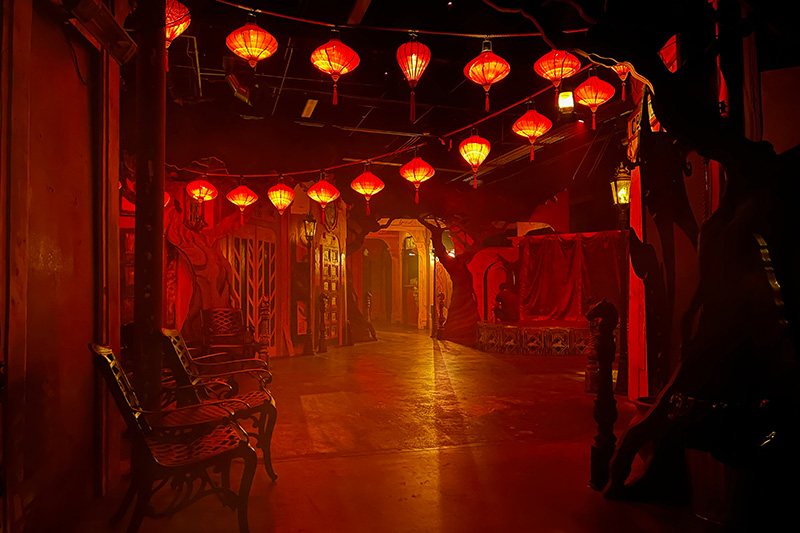 Remember that rum-swilling mentioned above? This is where we did it.
But Lost Spirits is more than just a place to taste the (quite delicious) rum it produces.
It's a highly-unique entertainment experience you won't soon forget.
Thunderbirds Flyovers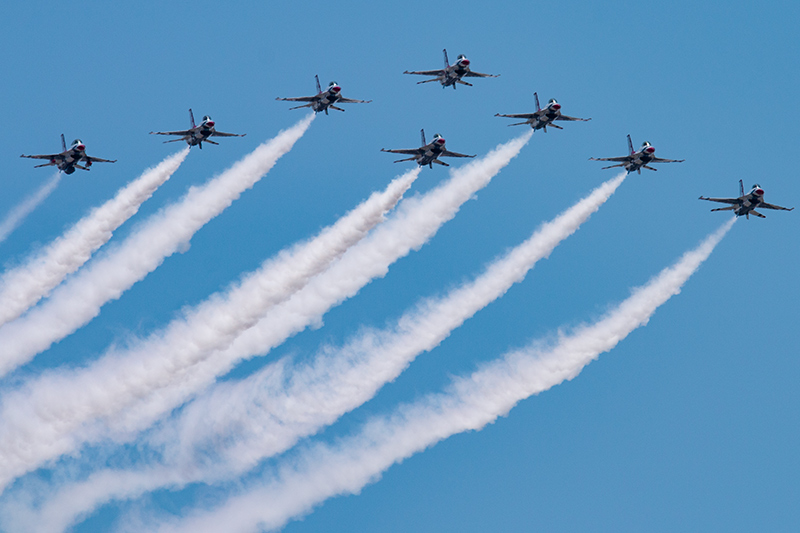 Las Vegas's Nellis Air Force Base is home to the Air Force's Thunderbirds.
And whenever the Thunderbirds come back home they do flyovers of the city that pass right over the Vegas Strip.
If you happen to be in Vegas when there's a Thunderbird flyover, it truly is an incredible sight to see (and to hear).
Ethel M Chocolates & Cactus Garden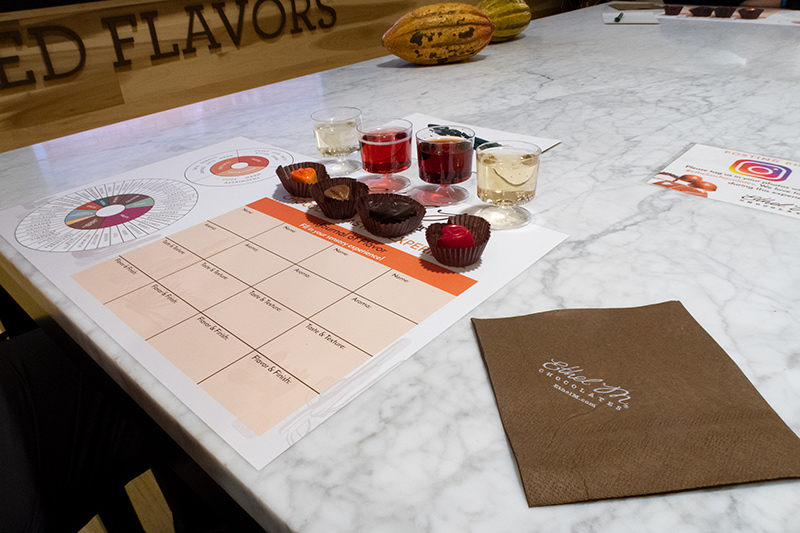 Like chocolate? You can certainly get your fill of it here.
But it's the tasting experiences and cactus garden that distinguish this local chocolate factory.
Springs Preserve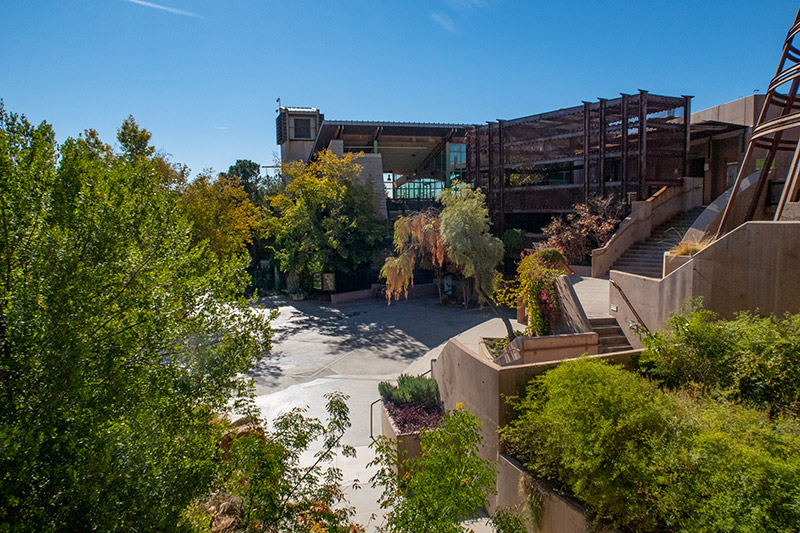 The Vegas desert isn't exactly a hotbed of plant life, but what it does have can be found in abundance at Springs Preserve.
Also located on the property are the Nevada State and Origen museums, and a top-notch cafe, featuring views of Downtown Vegas and the mountains east of the city.
It's just a really cool, relaxed place with ground squirrels (which may very well be Vegas's cutest wild inhabitants) aplenty.
The Bellagio Conservatory & Botanical Gardens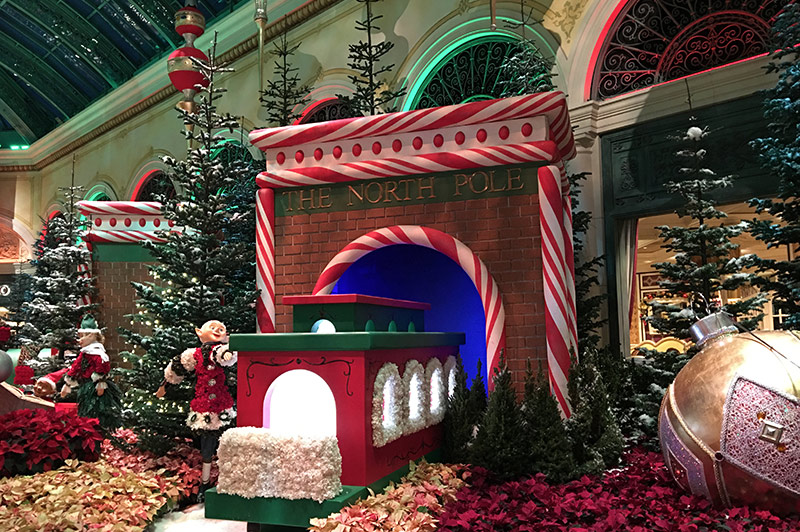 All right, we concede, if there is one thing worth returning to The Strip for on a regular basis, it's the seasonal decor.
Many of the casinos make big, impressive seasonal splashes, but no place does it better than the Bellagio Conservatory.
The Las Vegas Library System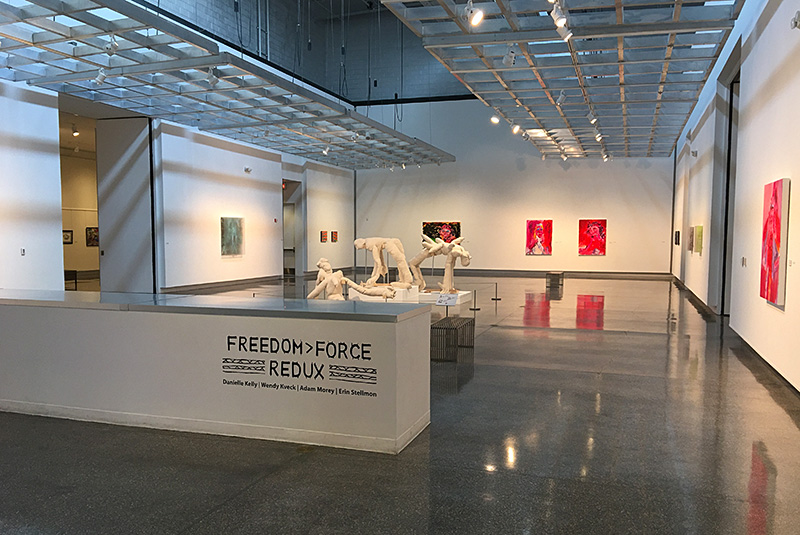 Of all the things on this list, we realize this is the weirdest, but the Las Vegas library system is actually kind of the bomb.
Most of the branches aren't just books, but are part venue and part art gallery.
Sahara West is our go-to location and it's a ways from Downtown.
But if you happen to be heading off to Red Rock, it's worth stopping in to see what they have have on display.
The Culinary Scene
Vegas may be most known for its flashy restaurants with celebrity chef-created menus.
But its culinary scene extends far beyond the narrow offerings of The Strip.
See our favorite dining spots in Our Favorite Eats below.
Our Favorite Eats
There are a lot of good restaurants in Vegas.
These are the ones worth going out of your way to try.
CRAFTkitchen
Hands down our favorite place to grub in the city.
The music is too loud, especially if you're there for breakfast (do we really need to feel like we're in the club at 8 a.m.? I mean, maybe some people do) and the seats aren't particularly comfortable.
(to say the seating is uncomfortable is an understatement. – Shawna)
But the food is legit, the quality consistent, and the monkey bread is sinfully – SINFULLY – good.
Lotus of Siam
We are currently at a crossroads with Lotus of Siam.
At one time, it was one of our favorite Thai restaurants anywhere in the world.
But, recently, our experiences there have been less than stellar.
Still, they are semi-famous for a reason and have some unusual offerings, so if you want to try it for the name alone, go for it.
Update: As of September 2022, we've crossed the road. In our opinion, the quality of the food doesn't justify the prices anymore.
Mint Bistro
Our favorite Indian restaurant in the city.
We haven't put anything in our faces there that hasn't been good.
They're using a robot food runner now, which is a little bit… Eh, desperate times I guess.
But, they've acknowledged they're having staffing issues, so we'll deal with it.
The food is worth it.
(since the service is always slow, you'll start to wonder if it really is worth it…until it finally arrives and you put it in your facehole. – Shawna)
Lost Spirits' 20,000 Leagues Under The Sea Dinner
More of an experience than a meal (seriously, eat a pastry or something before you go – we sure wished we had), this dinner is not for cowardly eaters.
(or, honestly, not for hungry peeps. It was so few calories in actual food 😭 – Shawna)
You are almost guaranteed to taste something you have never tasted before.
And, since most of the dishes contain alcohol along with paired cocktails and free-flowing sparkling rum, you'll at the very least get very, very drunk.
What Else To See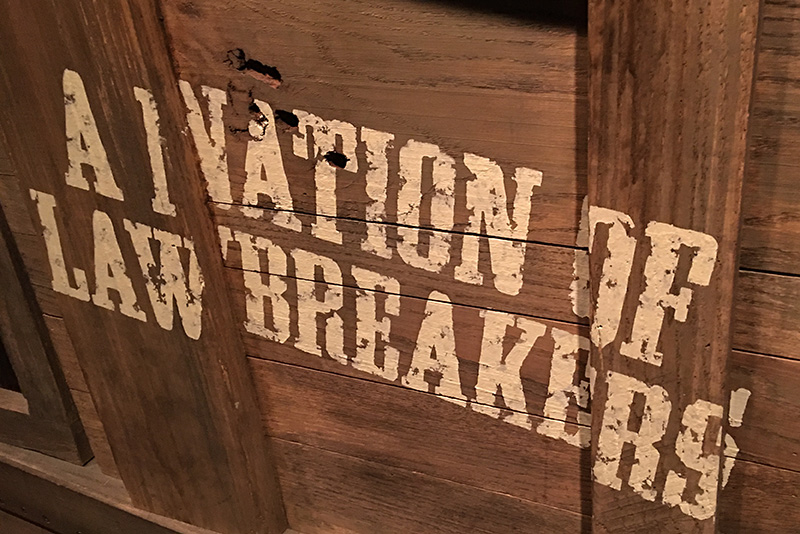 Along with our own personal favorites, here are the things we consider must-sees in Vegas for first-time visitors.
But we're going to assume many of these are already on your list.
The Strip & Its Casinos
The Las Vegas Strip and its casinos are overblown and phony, but they are overblown and phony in a way that is pretty damn impressive.
The Venetian is a feat and the Bellagio is beautiful.
So, yes, by all means, see the Vegas casinos.
Highlights:
Fountains of Bellagio Shows
Atlantis Aquarium (Forum Shop, Caesars Palace)
Fremont Street
Fremont Street is home to Vegas's past and worth seeing for that reason alone. (I mean, Patsy Cline played there, for God's sake!)
But unless you're interested in its entertainment or food offerings, you probably won't need very long.
A couple of hours is enough to see it.
But that doesn't mean you should get in your car and head back to the Strip just yet.
Downtown Container Park & Mantis
Just down the road from the Fremont Street Experience, literally still on Fremont Street, the Downtown Container Park is mostly dining and shopping, but it does have one massive, must-see attraction.
Mantis is a 40-foot praying mantis that comes to life with a special ceremony each night at sundown and whose antennae shoots flames six stories high.
Also on hand at the Container Park, an adults-welcome playground with a 33-foot slide.
The Cleveland Clinic Building
You're going to see plenty of wild architecture on the Strip, but none of it may be wilder or more mind-bending than the building that houses the Nevada Cleveland Clinic.
If you're heading up to Fremont Street and Downtown Container Park, it's not even out of the way.
So, make sure your taxi or Uber driver swings you by. Preferably at night.
Hoover Dam & Lake Mead
I'm gonna admit a thing. Hoover Dam was never of particular interest to me.
I mean, I got that it was a huge feat of engineering and all, but did I really need to see it?
I'm noting that so you'll know I'm telling you as a former skeptic – see Hoover Dam.
You cannot comprehend what a feat of engineering it truly was until you are staring down the side of it.
It. Is. HUGE.
On the way there out of Vegas, you will also get a stunning vista of Lake Mead.
Which is also worth seeing… while it's still there.
Museums of Interest
To finish off our "must-see" Vegas list are a multitude of museums the likes of which you won't find anywhere else.
To name a few:
The Neon Museum
The Mob Museum
The National Atomic Testing Museum
The Pinball Hall of Fame
Zac Bagans' The Haunted Museum
Liberace Garage
The Erotic Heritage Museum
The Punk Rock Museum
We won't call any Vegas museum a must-see unless you're into its subject matter, and we haven't been to all of these listed (though, more than half!), but, of these, we would argue the Neon Museum and Liberace Garage are the most purely Vegas.
And there are more like them if you haven't gotten enough Vegas history from the casinos and Fremont Street.
What You Should Know
Vegas is the desert.
That means it is freaking hot here.
Why people schedule vacations to this city in the middle of summer is truly beyond either of our comprehensions. We would tell you if we knew.
Oh, it's a dry heat, you say?
So is an oven.
That's right, in the summer (and through most of spring and fall) Las Vegas is an oven.
Drink plenty of water. Protect your skin. Stay inside during the hottest parts of the day.
Heat exhaustion is real, and Vegas is a hotbox.
The casinos are tourist traps.
Obviously. But to the extreme.
You think a bottle of water is overpriced at a regular Starbucks? Just wait until you pick one up at a Starbucks INSIDE a casino.
You'll faint from the sticker shock before you get a chance to drink it.
(and the price is so high you'll be left wondering if you can somehow re-use the bottle to really get your money's worth. – Shawna)
But there are ways to overcome The Strip's exorbitant prices, even if you're staying there and have no transportation.
On The Strip, you've got two best friends – ABC Stores and drug stores (CVS and Walgreens).
These are the places that sell necessities (i.e. those bottles of water you'll desperately need and snacks) at almost normal human prices.
Alternatively, many hotels have water bottle filling stations now, so if you pop in and buy that souvenir water bottle when you first arrive in Vegas, you can just keep on refilling.
(pro tip: Most hotel gyms also have free water filling stations, even if there are none in the rest of the hotel. – Shawna)
Vegas casinos still permit smoking.
Literally all of them except the Park MGM.
You probably already know this, but, if not, you should be aware of it.
How Long Do You Need in Vegas?
The Strip is extensive. You could easily spend a week just seeing the casinos.
Seriously, walking through one casino alone can be quite the trek.
(and they're designed so that you'll get lost…many times. – Shawna)
So, we'll say 5-7 days is the minimum time you need in Vegas, depending on how much time you want for randomness, eating, and getting off The Strip.
Want to tack on a trip to the Grand Canyon or Death Valley? 7-10 days is probably better.
What To Watch Out For
Pickpockets.
Vegas has a lot of drunk people carrying a lot of cash.
As such, it has lots of pickpockets who just love drunk people carrying cash.
If you're carrying loads of cash (or even chips), watch your booze, and if you're going out boozing, don't carry loads of cash.
The areas around The Strip and Fremont Street.
While the Las Vegas Strip and Fremont Street are fairly safe places (with plenty of police around), just one street over from either of them, things start to get real sketchy real quick.
When Downtown, stick to the well-worn paths and you'll have a lot less to worry about.
Vegas Driving
There is one word that concisely sums up Vegas driving, and that word is "Yikes!"
Yes, all big cities have poor drivers, but we have lived and driven in a lot of big cities and we have never seen the kind of unbelievably crazy driving that we've seen here.
Every time we leave the house, we prepare for an accident.
We've only had one (knock wood), a rear-ender less than a month after we first moved here, but we've had too many close calls and seen the aftermaths of many a crash.
(They really need to get rid of U-turns in this city. Drivers suck at them.)
The main thing to know about Vegas driving (aside from those pesky U-turns) is that about half of Vegas drivers treat red lights as suggestions – part of this is because the speed limits are too high on many Vegas roads – so it's always a good idea to wait a beat (or three) before taking off when your light turns green.
You'll see plenty of (better-driving) locals start off slowly at green lights.
Don't honk at them to hurry it along. They may be saving your life.
Vegas in Summation
As a tourist destination, Las Vegas is largely a spectacle. It was built (and continues to be built) with that end in mind and lives up to its purpose.
But it's a spectacle worth seeing.
Even the parts of the city we don't love ourselves, we still wholly recommend putting your eyes on at least once.
Our main piece of advice when visiting Vegas (as you've probably already surmised) is to take some time away from The Strip and Fremont Street.
There is so much to see beyond the debauchery and neon of Downtown.
Vegas is a big city and a desert. It's neon lights and petroglyphs.
It is two vastly different worlds in one small urban valley, surrounded by some of the most vibrant mountains you will ever see.
But that's a hard thing to tell from behind a slot machine.