Do you know what the "M" in Ethel M Chocolates stands for?
I didn't when our chocolatier asked us that at the beginning of our tasting there.
(Though I would have had I actually perused their website thoroughly. The answer is literally right in the footer of their homepage.)
The answer, it turns out, is "Mars."
As in THAT Mars, the Mars that makes Snickers and M&Ms and Skittles and a whole bunch of other stuff I had no idea they made before now.
(Whiskas AND Ben's Original AND candy? All in one company? Really? Let's hope they never mix the batches up, am I right?
I know I'm not. I know they're all separate factories…
Or are they?)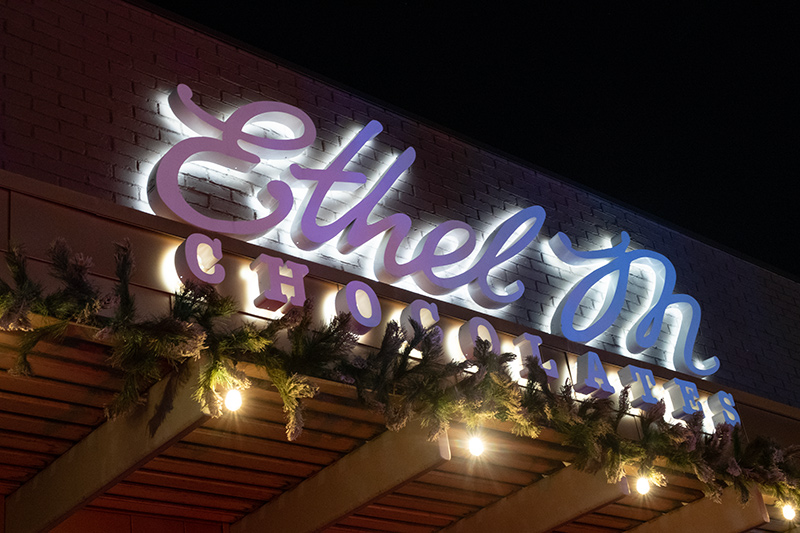 The point is, Ethel M isn't an entirely unknown chocolate company.
Though, somehow they remained entirely unknown to us until we were living in Vegas… the second time.
This is despite the fact we lived closer to the factory the first time around and visited places where we walked right past their stores.
It's a very confusing world.
Or maybe we just weren't paying close enough attention.
But it's okay. We've redeemed ourselves.
We finally went to a chocolate and wine tasting at the Ethel M chocolate factory in Henderson, and it was a lovely thing.
(Even if their chocolate sommelier's taste in tawny port and champagne is way, way off.)
The Experience
Our Ethel M tasting took place during the holiday season, when the factory and grounds are at their busiest.
And it was definitely busy.
There were a lot of people already in line for the lights in the Cactus Garden when we arrived, and more and more of those people filtered into the showroom/shop as the night went on.
Still, the process was smooth enough.
When we walked in the door, there was an employee stationed at a kiosk where we could check in for our tasting and get a free chocolate, and then we were left to roam about the place until our scheduled time.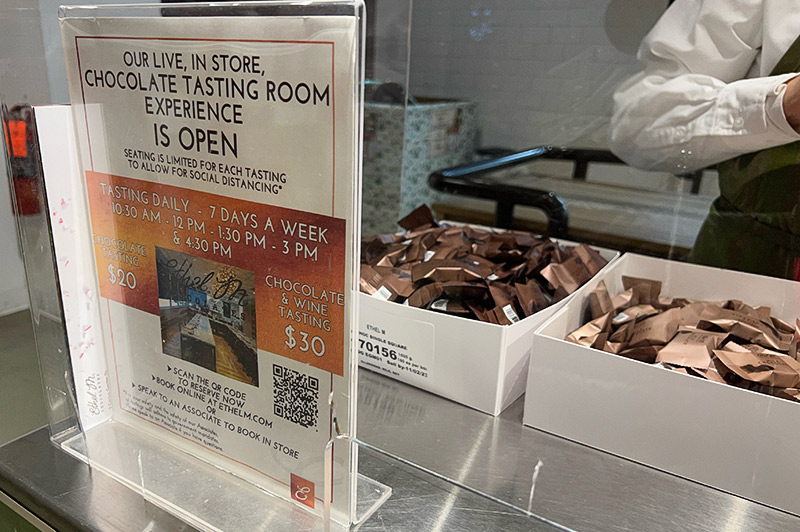 (We did get there quite a bit early – not just the 15 minutes recommended on the website – because we had read parking filled up fast when they had lights in the garden. And it did. Our forty-minute or so buffer was a very good call.)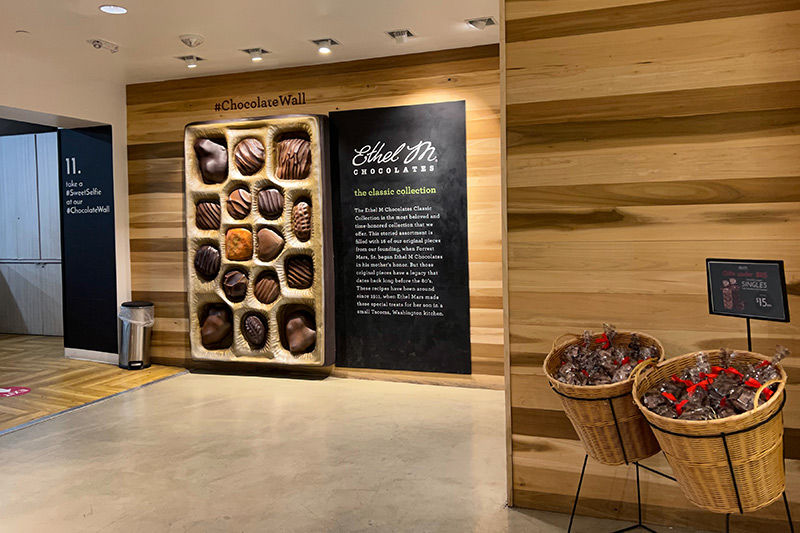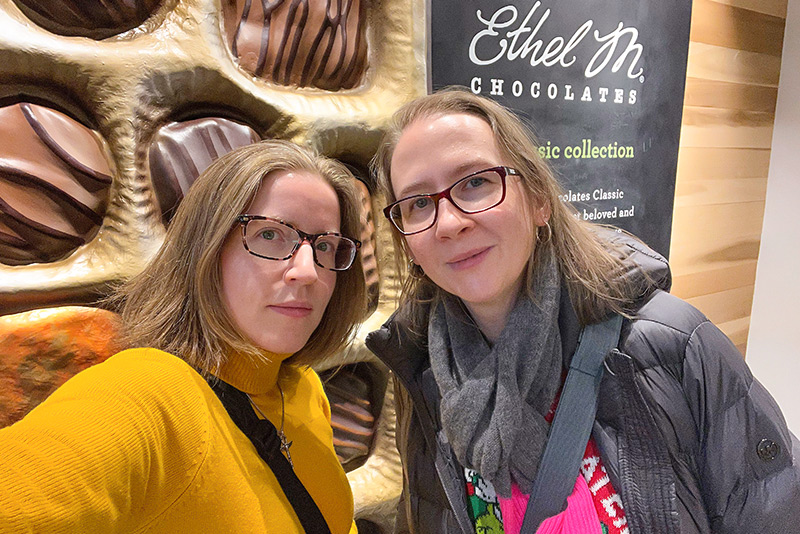 When our time came, we were invited into the tasting room, where everything was already nicely set up by our Tasting Guide.
Tasting Leader? Tasting Commander?
I don't remember getting a formal title, but I'm going with Tasting Commander.
There were only two other people in our tasting with us at 5 pm.
Though, since they were complaining about the price before they even got inside, they were plenty.
Thankfully, Covid protocol was still in effect, so we got a width of two tables between us and didn't have to make small talk.
Then, it all began.
The Ethel M Tasting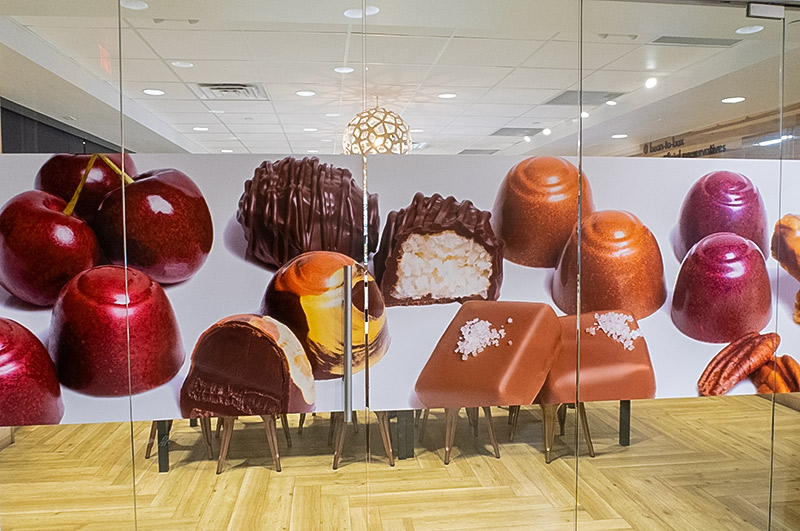 The tasting at Ethel M consists of either four chocolates or four chocolates paired with four wines.
(Everyone gets a bottle of water.)
The website says those wines are Trinchero wines, but we got a hodgepodge of brands, so I'm assuming things were mixed up a bit for the holiday tastings?
The chocolates were also seasonal.
The four chocolates at our tasting were Pumpkin Spice, Pecan Pie, Dark Chocolate Fudge and Peppermint Silk.
(I ended up with a White Chocolate Vanilla, because our Tasting Commander did ask about food allergies before she started and swapped out my Pumpkin Spice, which was unexpected, but nice.)
In order, these four chocolates were paired with Prosecco, Pinot Noir, Tawny Port & Champagne.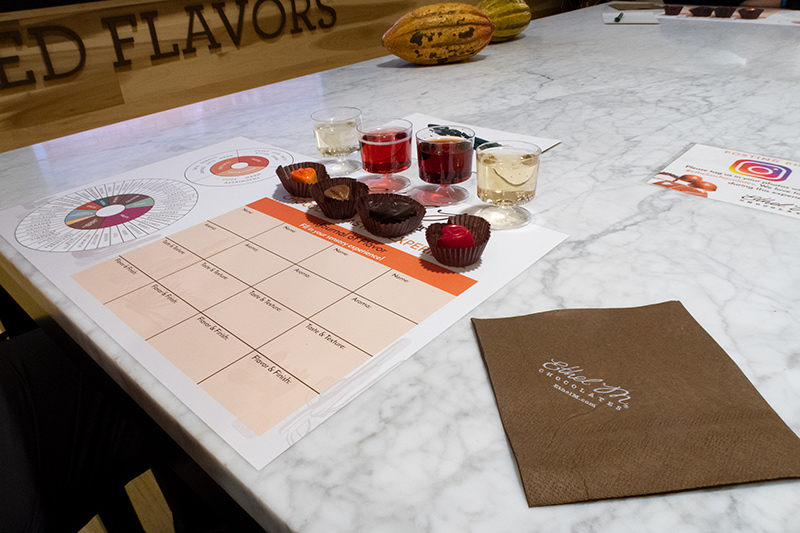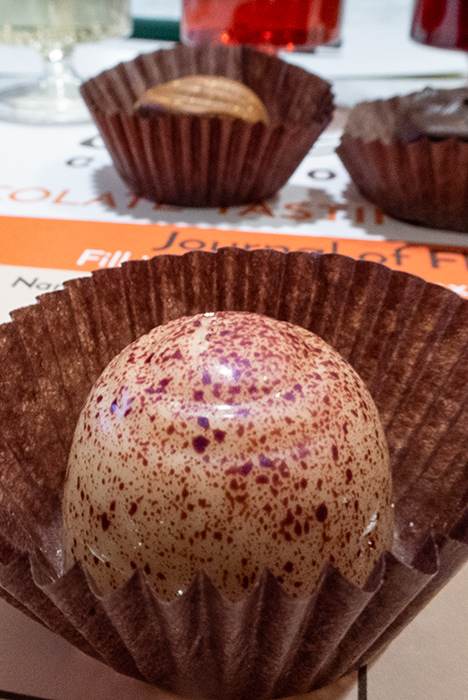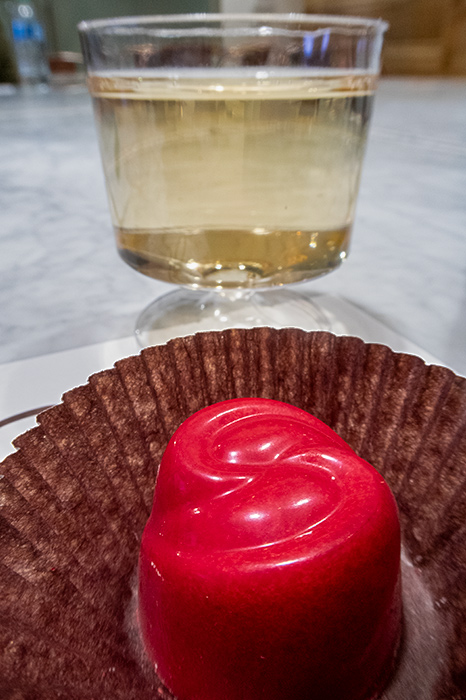 Now, with all of this laid out before us, on a handy-dandy "Journal of Flavor" placemat for recording our chocolate epiphanies (pen provided), the Tasting Commander began the educational part of the program.
Be warned those of you who are education-adverse, these tastings ARE billed as Tasting Classes and you do get a little learnin' along the way.
You also get a really cool experience for your money.
The whole tasting sesh is actually pretty entertaining and interesting… you know, if you're curious about things.
It's also not expensive, despite our tasting companion's grumblings.
We paid $35/person for our holiday chocolate and wine tasting ($5 of which was an advance-booking fee), and our tasting companions paid $25/person for their chocolate-only tasting.
So, there it is: $35 ($30 if you buy on-site) for four pieces of chocolate, four baby wines (Maybe an ounce each? I certainly couldn't toss one back in a single swallow), a small bottle of water, and a little bit of chocolate education/entertainment.
Pretty reasonable, I'd say.
Though, I do admit I think our tasting (the chocolate + wine) is the better deal of the two.
You also get 15% off in the gift shop with your tasting certificate – that's right, you get made official, baby! – and there is no limit as to how much you can buy with it.
So, if you've got some gifts to pick up, or just want to go crazy for your household, a tasting can conceivably pay for itself.
At the very least, you can offset the price.
Plus, it's really good chocolate, so you'll probably want some.
Ethel M Chocolates Chocolates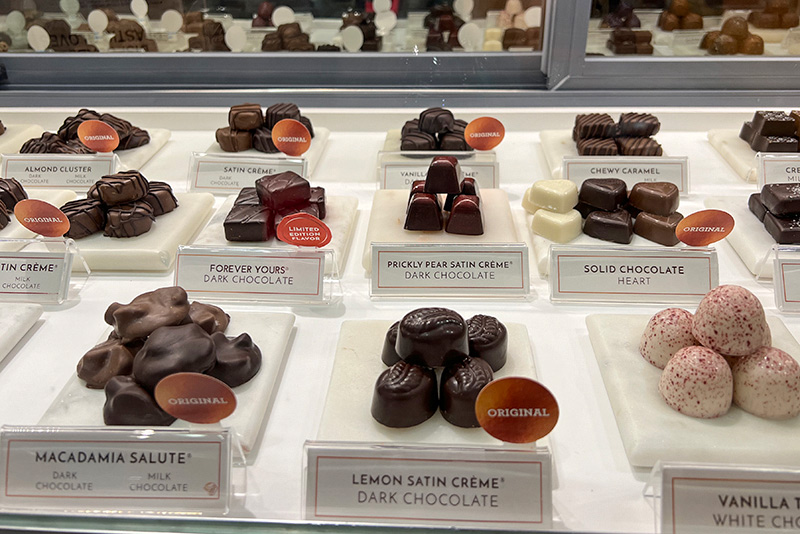 Ethel M is a division apart from its Mars family, and regional only, because it is made with fresh, high-quality ingredients and no artificial preservatives.
That's swell news for a food-sensitive person like me.
When we left, we bought a 12-piece assortment for ourselves, and were dubious about only one of them.
The cognac truffle was a bit much for us.
But, then, cognac is a bit much for us, so this one was probably on us.
Of them, the honey was the most surprising. It was definitely honey, but also… better?… than most honey chocolates?
(You know how honey chocolates tend to be a bit TOO honey-y? That didn't happen here. It had an AMAZING flavor.)
And, of the twelve chocolates we picked out, the Lemon Satin Crème was probably my favorite.
At least as I write this today. It changes.
Many of them were exceptional, and I would happily eat all but the cognac again.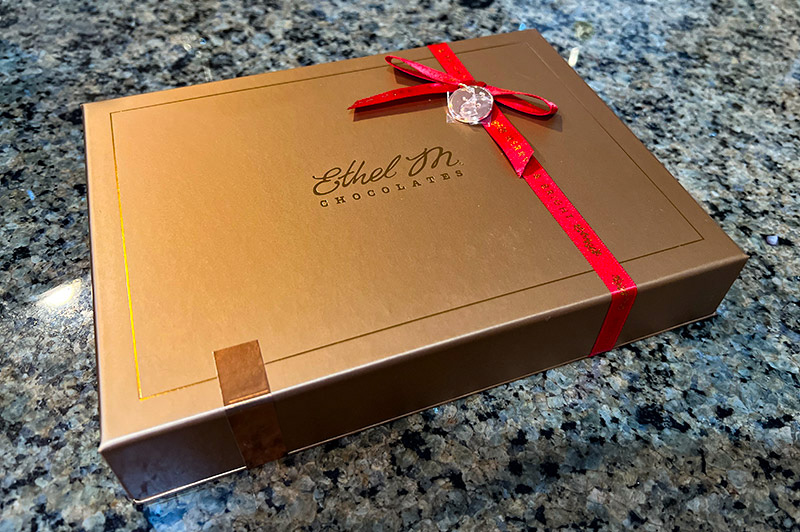 As for the chocolates we got at the tasting, let's just say we didn't NEED to eat four whole truffles apiece before dinner, but we DID eat four whole truffles apiece before dinner.
Fair Warning
Ethel M lights their Cactus Garden for the Christmas season and starting again in early February for Valentine's Day.
And it's (mostly) free.
(This year, for the holidays, they collected $1/visitor that went to charity. But, don't worry, your tasting certificate gets you out of this exorbitant fee.)
As such, it was as busy as we were told it would be and the parking filled up fast.
The website expressly states that late arrivals to tastings will not be allowed in (though, they will reschedule you).
So, if you're planning to visit during the holidays or Cupid season, also plan to get there early.
And leave plenty of time to wander through the lights.
The Cactus Garden is extensive (the largest in the Southwest) and, for a free lighting display, it don't play.
What Else You Should Know
I've talked a lot about holidays at Ethel M, because that's when we were there.
But the Ethel M Factory & Cactus Garden are open for free tours most days of the year from 10 am-6 pm. (They have later hours during holidays).
So, if you want a less harried experience (and cheaper tasting), you may prefer to pop in on a random Wednesday.
Would We Recommend It: Yep. The tasting AND the chocolate.