If you find yourself planning a trip to Las Vegas and need something really unique to do – and you have an adventurous palate – then put the 20,000 Leagues Under The Sea dinner at Lost Spirits on your itinerary.
This 16-course Jules Verne-inspired fine dining experience at Lost Spirits Las Vegas does require an appetite for a wide variety of sea creatures.
And rum.
Lots and lots of rum.
So much rum.
Imagine consuming a ton of rum, both in your food and your drinks, and that's still nowhere near the amount you'll ingest here.
But hey, as long as you enjoy rum, this is not a bad thing.
(Or even if you're not sure if you do. We weren't exactly rum aficionados going into this thing. – Riley)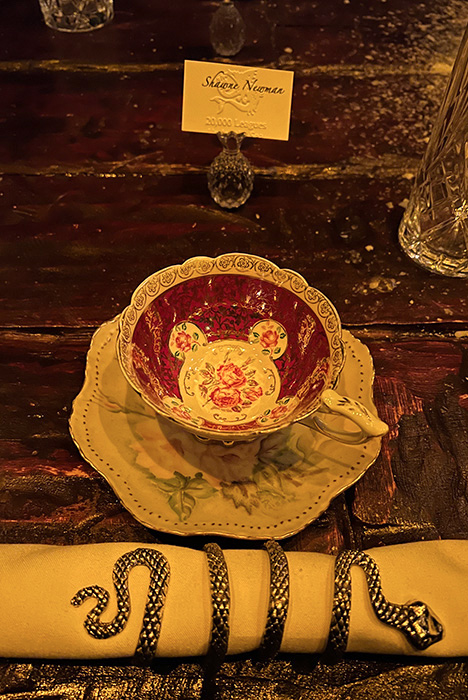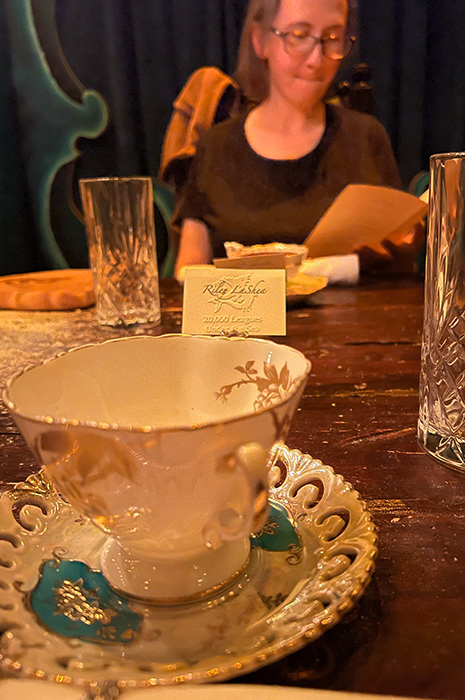 What Is It?
The 20,000 Leagues Under The Sea dinner is a fine dining experience that is essentially a tasting menu made up of 16 different courses.
You don't really need to dress up all fancy for it, but this is kind of a classy experience so maybe don't show up in flip flops. (One couple did, so, you know, whatever floats your feet. – Riley)
And it is a bit exclusive because only 16 people are seated at each dinner event.
I'll be honest with you – fancy dinner parties like this are 100% not our thing. Like ever….except that we did go to this one willingly.
And I'll be the first to admit that I enjoyed it, as did Riley. (Even if I was expected to interact with other humans… – Riley)
The food was good, the presentation and plating was interesting, and the performance of it all was really entertaining.
Overall, it was a fun experience that lasted a little over two hours.
And, your ticket to this dinner also gets you into the Lost Spirits distillery for the rum tastings and performances that are put on throughout the venue. (Because just what you need after this is more rum! – Riley)
When we went, in July 2022, the cost was a little under $300 each for our all-in tickets, but as of 2023 the prices have increased.
The Experience
We chose the early dinner, which starts before the distillery actually opens, because we wanted to be able to do the tastings and exploring of the distillery after dinner.
When you arrive at Lost Spirits for this dinner experience, you're given this nifty little ticket that you get to take home as a keepsake.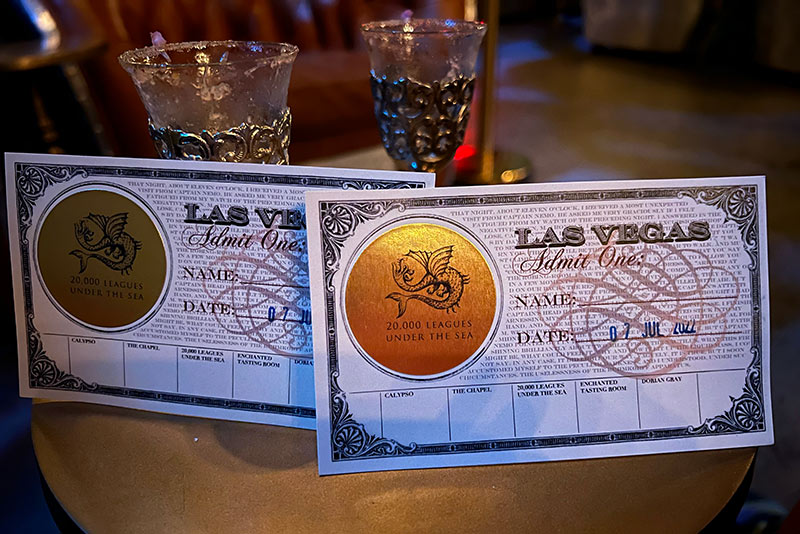 Then they take you in and you get seated in this room that is designed to look a bit like a submarine that is rocking in the ocean. This area has this old school elegance vibe that was really cool.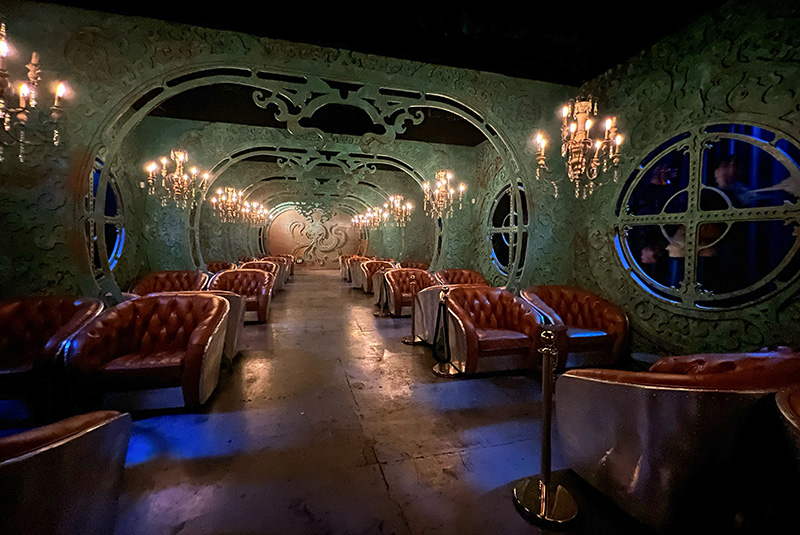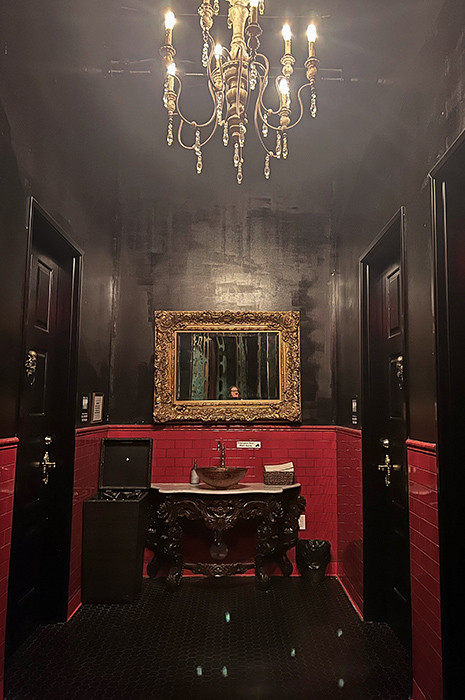 And the "windows" of this submarine have all manner of weird sea life moving by.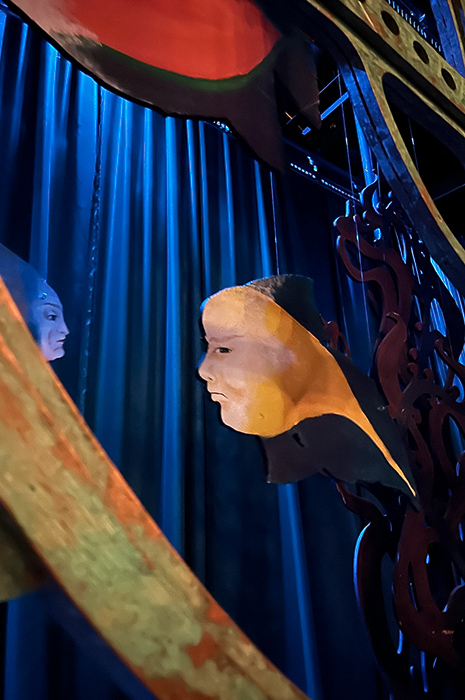 While you wait in this area, you get a welcome cocktail before the dinner begins.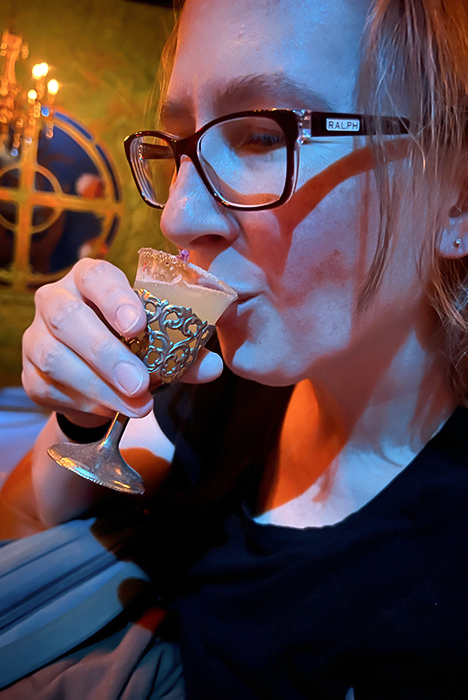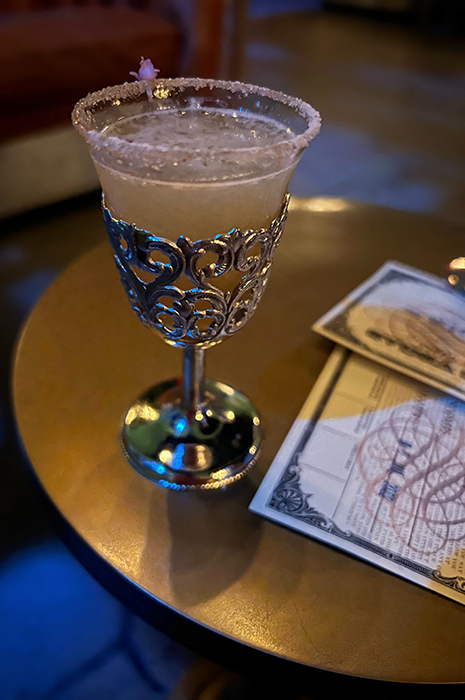 When it's time for the dinner, you're brought in by your group (with formal introductions, which was weird – Riley) and seated at a long table where there are place cards for each diner and these really wicked looking candelabras on the table.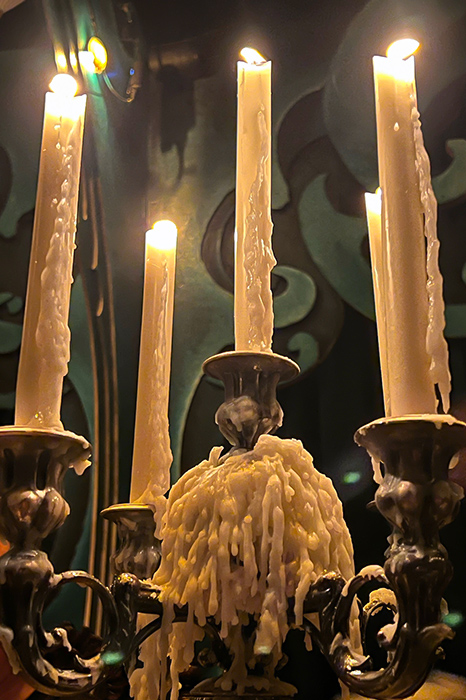 The entire dinner is basically a nicely choreographed performance that starts with waiters bringing in house-made cherry rum champagne. (Holy hangover, this stuff. Here's wishing you greater willpower than I had. – Riley)
There's music. There's monologues. There's a manic pig carving scene.
And there's a bunch of food unlike anything you've ever tasted. (Bold assumption. A lot of people eat a LOT of weird stuff. But, yeah, the food is unusual on these here shores. – Riley)
And yeah, some of the plates will come out and you will be like WTF?!
(One of the things they do ask at the 20,000 Leagues dinner is that you don't spoil too much online. And we really, really don't want to spoil this for you.
We're trying to walk a fine line between showing you how freaking cool this dinner is and not giving everything away.
So, if you do think we're spoiling the plot, so to speak, just trust, there is a lot more to it than what you see here.
Also, the team is very good with food allergies/sensitivities.
They ask about them when you buy your tickets and are on top of them during the dinner, so if too much nutmeg makes your heart race and gives you a rager of a headache, like me, you should be okay. – Riley)
Is It Worth It?
Despite the high cost of the ticket to attend this dinner, it's definitely worth the money.
It's pretty much all seafood of some sort, which isn't cheap to begin with. (Plus, there's plenty of "rarely-served-in-this-country" seafood in the mix, so it's not like they could just pop into a Whole Foods. – Riley)
Then there is the rum…lots and lots of rum.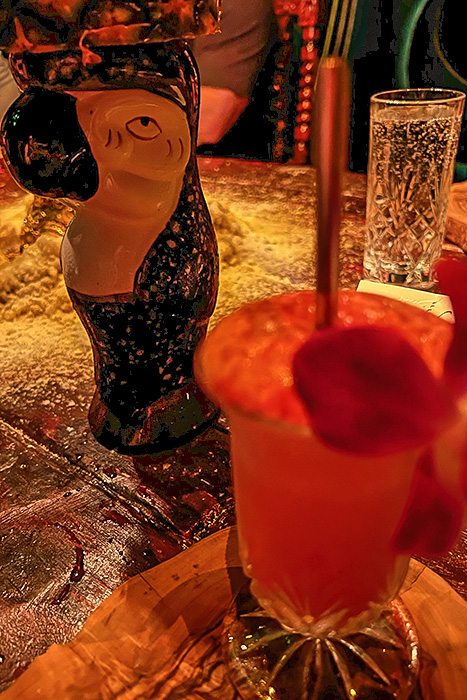 (Is that one cocktail sitting in front of another cocktail? you might ask. Yes. Yes, it is. Because while the cocktails are technically paired with different parts of the meal, they don't take them away if you don't want them to. And why would you? – Riley)
You also get the performance put on by the staff and the distillery tasting and tour (also with performances).
Honestly, it's a pretty good value for the money, all things considered. (A full night of rum-soaked frivolity. – Riley)
While it may be cost prohibitive for some people, if it fits into your Vegas travel budget then definitely check it out.
It really is an experience like no other.
When we bought our tickets, they were sold out three months in advance, so do try to plan ahead for your visit.
And when the chef tells you that you will end up more inebriated than you expect, just take her at her word. (Heh! Yeah. – Riley)
Our Insider Tips
While you are served 16 courses of food at this dinner, it is mostly seafood and that tends not to have a ton of calories.
Sure, you're getting empty calories from all that rum, but we do wish that we'd eaten a small snack before the dinner 'cause it's just not enough food.
They don't give you bread or anything before the meal – just that welcome cocktail.
(And this meal really needs bread. Or pasta. Or something. You've got like two gallons of rum sloshing around in your stomach with pretty much the equivalent of one large fish to soak it all up. But what the hell do I know? Considering the theme, maybe sea sick is what they were going for. – Riley)
Not only would eating a snack before the dinner have given us something in our bellies to soak up all that rum, but it would have prevented us from being super hungry by the time we left Lost Spirits.
Lost Spirits is part of Area 15, which has several restaurants, so we headed over there afterwards to get some food.
Guess what? Those wankers don't leave the restaurants open late! (At least on a weekday. – Riley)
The bar parts of the restaurants in Area 15 stay open, but the kitchens close at like 8pm or something crazy like that.
Even the bar/restaurant that sells giant cookies at the entrance was no longer selling food when we got back inside.
So, that really sucked.
What didn't suck was the free bottled water readily available inside Lost Spirits, so you won't have to worry about dehydration…but I still ended up so drunk that I almost got sick. (Sea-sick. – Riley)