I have a bit of a love-hate relationship with Spain because it's energy really speaks to me and I love parts of it (like the cheap wine), yet I hate other parts of it.
Valencia is the perfect Spanish city to demonstrate this strained relationship that I have with Spain.
There are things about Valencia that I love and things about it that make me wonder why I ever booked a trip there in the first place.
And poor Riley, I think she's more on the 'not me for' side of the scale with Valencia and I keep dragging her back there. 😂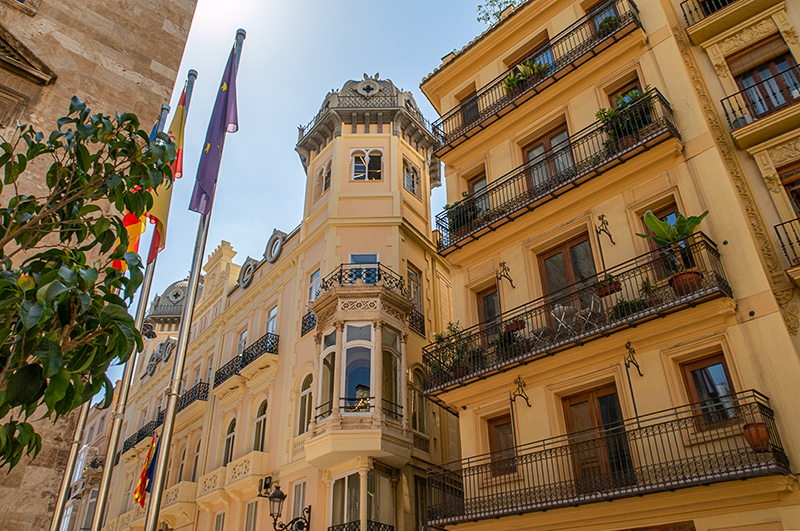 When We Were In Valencia
The first time we were in Valencia was the summer of 2019 when we, or more specifically I, was trying to decide if I wanted to try living in Spain or the Netherlands.
You see, we'd sold almost everything we owned and had taken a one-way flight to Amsterdam at the end of April 2019 with the intent of moving there.
(One of us while miserably sick. – Riley)
Then I decided that maybe the Netherlands wasn't for me.
(Deep down, she already knew this. We had visited Amsterdam before… – Riley)
So, we flew to Barcelona thinking it might be the answer. It was not. (Sadly. – Riley)
Then, a week into June 2019, we took the train to Valencia, with me convinced it might be the answer.
It was not.
(Nope. – Riley)
Fast forward to 2022, we're back living in the USA and itching to get back to living in Europe.
I wanted to give Valencia another shot, so we booked a week there in July 2022.
The perfect time for a heatwave and the hottest summer ever on record for Spain.
(In a place that hates air conditioning, so, basically, still nope. – Riley)
Planned or Not Planned
Much to Riley's dismay, both of our trips to Valencia were planned.
(Only partially true. I wasn't dismayed the first time. The second time I did wonder why we were going back. But I actually liked it better the second time. And I'd go again. – Riley)
Let's face it, Valencia is a really nice looking city.
It's on the coast, it's got lots of green space, cool architecture, and orange trees.
I know why I planned two trips there.
(I still don't know why we went the second time… but I'm glad we did. – Riley)
How We Ended Up In Valencia
It was me.
It's always me that makes us end up in places that we don't really love, yet I keep wanting to give them a chance… and another chance.
(I can only think of two off the top of my head. – Riley)
And both times we've been to Valencia it was for the sole purpose of assessing whether it's a place we could live for the long haul.
Well, that and eating our weight in llaollao frozen yogurt.
First Impressions
Our initial impression of Valencia was actually a good one.
We arrived from Barcelona into València Nord station, which is in a really cool art nouveau building.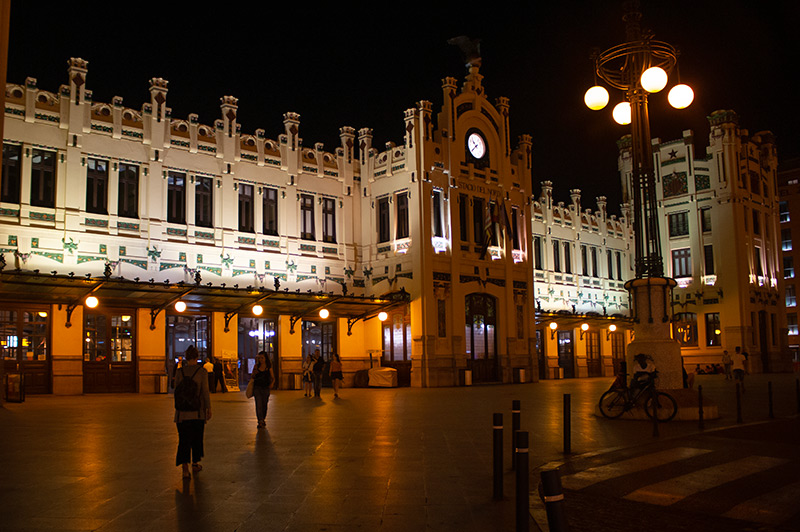 Then, you walk outside and immediately see Plaça de Bous de València, which is a really awesome looking bullring.
And regardless how you feel about bullfighting, the building itself is impressive to look at. (It's a beaut! – Riley)
Then it was only a short walk to our hotel where we passed a llaollao on the way, so we were feeling pretty good about Valencia at that point.
(It wouldn't last… – Narrator)
Where We've Stayed
Vincci Lys Hotel
For our first trip to Valencia, we stayed at the Vincci Lys Hotel because it seemed to be the nicest hotel that was close to the train station.
If I recall correctly, we only stayed there for four or five nights.
And it was good enough for the money.
(But apparently not good enough for us to take literally any pictures of it. – Riley)
Palacio de Rojas
For our second trip to Valencia, I fell prey to nice photos and good reviews and booked a regretful week at the Palacio de Rojas aparthotel.
Spoiler alert: It had terrible soundproofing, smelled like a stale ashtray + mold/mildew, and was just not worth the money. But at least the air con worked well! (Blessed! – Riley)
Our Favorite Things
Does El Corte Inglés count? Okay, but seriously, I love these in every city.
So, here are the things that I recall really liking that are unique to the city (in addition to the food, mentioned below) –
Jardín de la Generalitat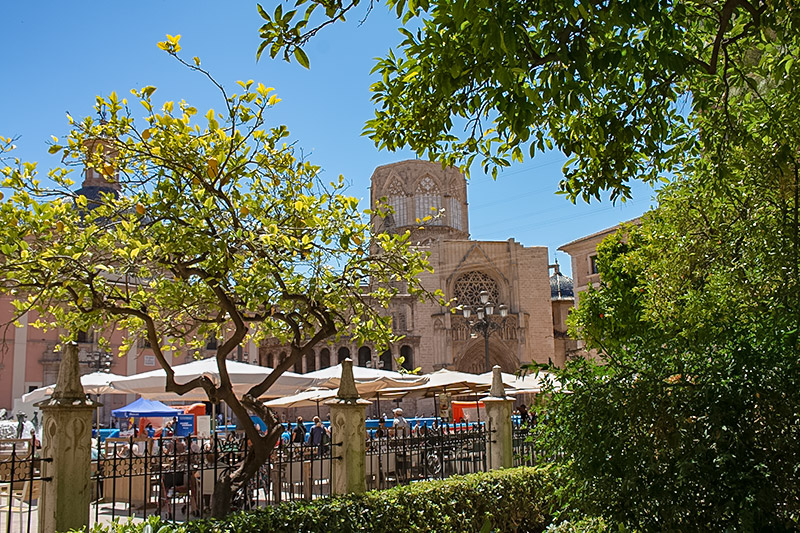 This is a nice little park off to the side of the heavily tourist-trafficked Plaça de la Mare de Déu, or Virgin Square.
I've enjoyed this little park on both of our trips because it's never very busy and it offers some much-needed shade from the intense sun.
(It's pretty wild actually. People will be crawling all over just outside the fence, but only a handful of them ever seem to wander inside here. Maybe they think it's a graveyard? – Riley)
And there's plenty of benches if you want to rest before heading back out into the crowds.
The first time we were here, the trees in this park were just overloaded with oranges, which was pretty cool.
(And tasty… I would assume. We didn't take one. I don't know why. We should have. I have regrets. – Riley)
Mercat Central
If you're looking for some fresh fruit, veg, or meats, then this is THE place to go. Plus, it just looks cool on the outside. (Pretty cool on the inside too, even with all of the fish heads. – Riley)
But you should still check this place out if you're not staying in a place with a kitchen.
You can buy fresh juices, pastries, sandwiches, and snacks from the vendors.
It's also a good place to pick up gifts and other local stuff.
We got a bottle of local olive oil from one of the vendors and I swear it was the best olive oil I've ever tasted.
Just beware that this building is not air conditioned, so show up early in the summer. (Like real early, and even that won't be enough. – Riley)
It also closes up really early for the day, so don't think you can wait until the evening to check it out.
Plaça de l'Ajuntament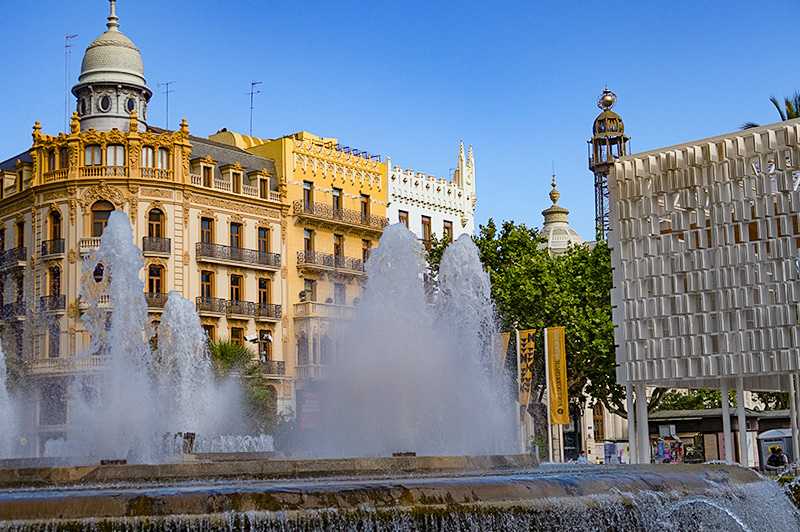 I grew to really enjoy walking past this plaza because it's a pretty nice area with a fountain and lots of benches.
I'm also partial to the giant tortoise up near the fountain that advertises the aquarium.
What's great about this plaza is that all of the surrounding architecture is really a sight to behold.
When you think of Spain and Spanish buildings, this is it right here.
Plus, when the breeze blows just right, the water from the fountain will hit you and cool you off on a hot summer's day.
(Can you tell it was hot while we were there yet? – Riley)
Also note that the tourism office is across the street (on the west side of the plaza), if you need to pop in there.
La Catedral del Santo Cáliz, or Catedral de València (Valencia Cathedral)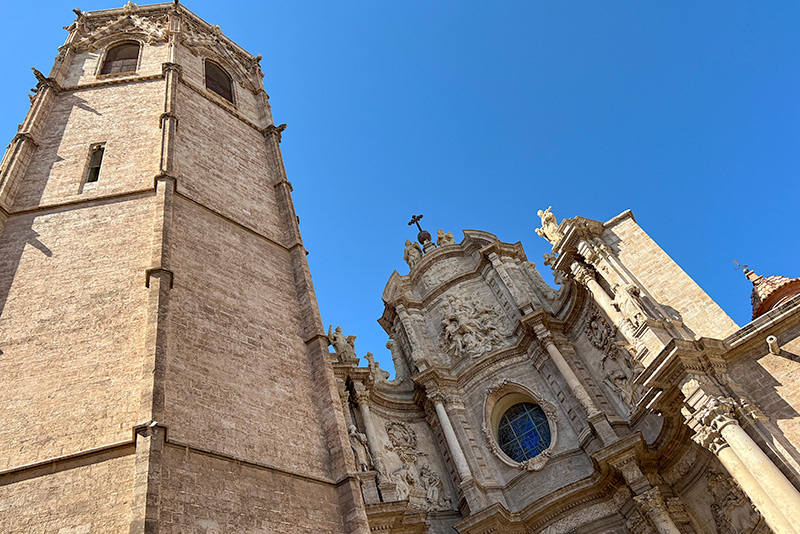 On our first visit to Valencia, we were on a budget and did not venture into the Catedral de València, but instead admired this impressive Gothic-style building from the outside.
We did pay to go inside on our second visit, and it was so worth it.
(We should have been on a budget that time around too, but what even is responsibility? And it really was worth it. You get a lot for the price of admission. – Riley)
So, the big attraction at this cathedral is that they claim to have the Holy Grail. Personally, I think that Indiana Jones movie had it right and the real Holy Grail would not be a gaudy monstrosity.
(She says "gaudy monstrosity," and I say… she's right, it is pretty hideous. – Riley)
For me, the big attraction at this cathedral was the museum and the archeological stuff.
While there were a lot of cool things in the cathedral museum, for me the books were the highlight.
These ancient books were massive in size, almost as if they were made for giants.
I mean, the cathedral itself was cool too, but go for the museum.
(And the bones in the bottom. Muah ha ha. – Riley)
The Street Art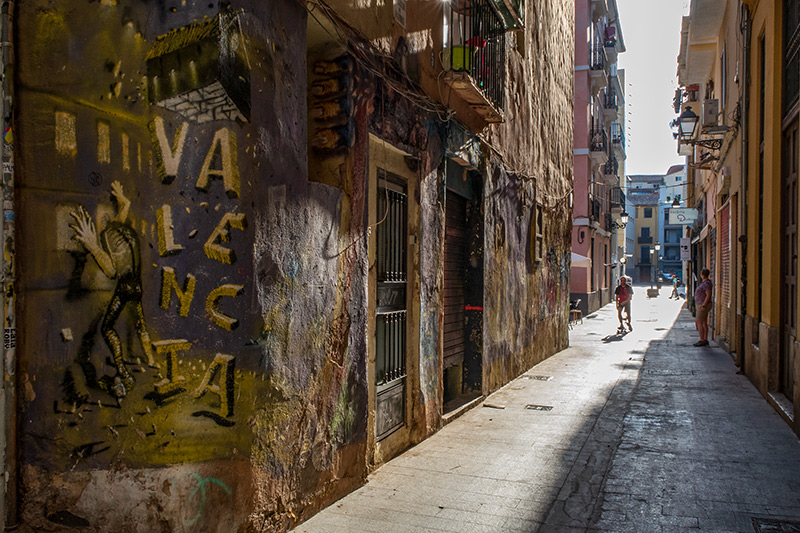 We love street art, and I have to say that I think Valencia not only has the best street art of any city, but the most of it.
And we've seen some impressive street art in our time – I'm talking to you, Aberdeen! (Yes, f'in Aberdeen! The hell? – Riley)
The worst thing is that I know we didn't get to see all of the street art in Valencia because on our departure ride to the airport we passed so much that we'd missed.
Honestly, I think the street art alone makes a trip to Valencia worth it. (Agreed! So, here's an extra picture. – Riley)
House of Cats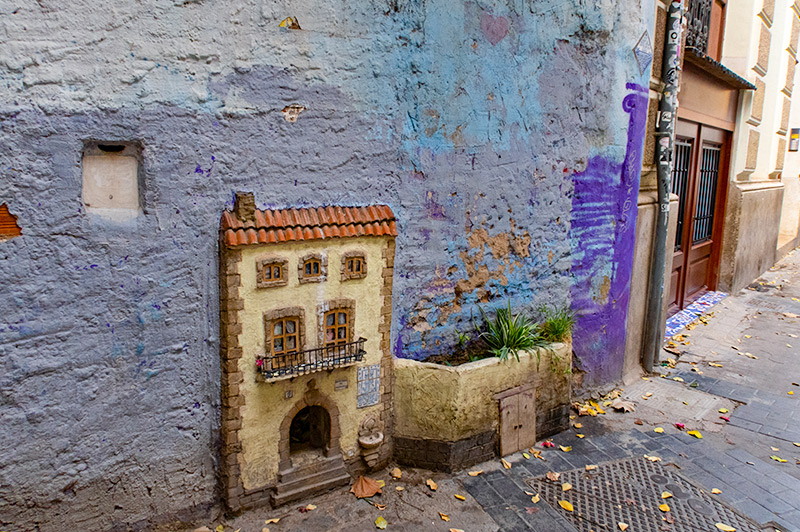 If you enjoy things that are ridiculous, then you've got to take a walk by House of Cats.
You'll find it Carrer del Museu, 11 in the El Carme neighborhood.
Admittedly, there's not a lot to see here – just a small house on a park wall.
But, like I said, if you enjoy ridiculous things, then you owe it to yourself to walk past it and have some lols.
The Culinary Scene
(Featuring the Potato Dish that ruined us for all other potato dishes.)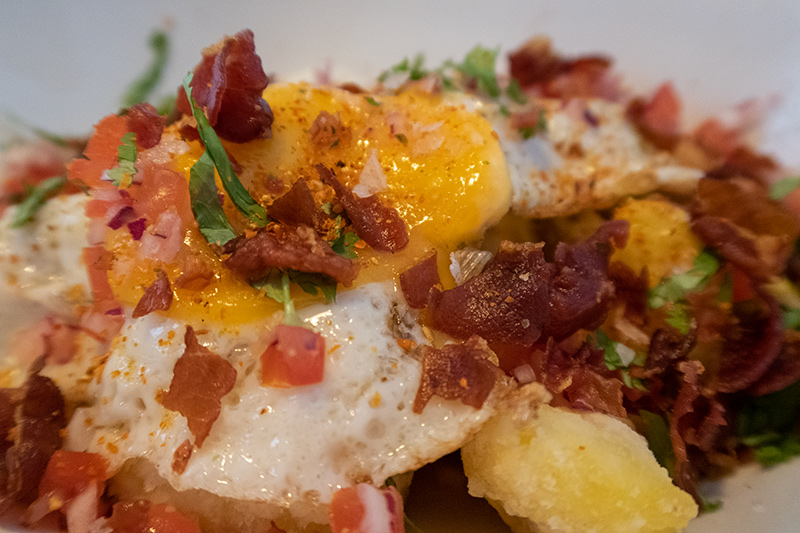 I love eating in Spain.
Granted, they are known for a lot of greasy (and tasty) shit like croquetas de jamón and paella, but things like olives and patatas bravas are pretty great. (Yay olives! Keep 'em comin'. – Riley)
And don't get me started on cheap Spanish wine. (Or do.)
Our Favorite Eats
After our most recent trip to Spain in July 2022, I have to say that Valencia is my favorite Spain city for getting some good eats.
By the end of this section, I think you'll see why.
Just be warned that paella is not featured here anywhere simply because we've not had amazing paella anywhere in the city yet.
(But we didn't really seek it out, let's be honest. – Riley)
La Tagliatella
On our first trip to Valencia, we found a great Italian restaurant near the Vincci Lys Hotel called La Tagliatella. We ate there more than once on that trip.
On our second trip here, I realized that this is actually a local chain – though we did not eat there again (but I would have!).
I remember the portions being a good size and the food just being really good here.
(I also remember taking a picture inside, but where is it… where is it? – Riley)
Llaollao
While I admit that almost every Spanish city has a Llaollao, or so it seems, I have to mention it because you will do yourself a disservice if you don't try it.
It's just a frozen yogurt place. But it's the best damn frozen yogurt I've ever had. (Suuuuch tart perfection. – Riley)
They have loads of toppings.
Riley is partial to frutas de bosque (forest fruits) and chocolate negro (dark chocolate). (True! – Riley)
Me? My go-to is always dulce de leche. (<—this one often likes the sweetest thing on the menu – anonymous)
However, I did try some new toppings this time around and I highly recommend maracuyá (passion fruit).
La Tía Juana Valencia
So, I debated even including this restaurant, but I would eat there again.
It is a "Mexican" restaurant that isn't really what Americans expect from Mexican food, but still a pretty good substitute. (For Europe. – Riley)
The food here is not terrible and the portions are decently sized.
Prices are a bit higher than a typical Spanish restaurant, but it's clear that they're targeting tourists.
We ended up here because it was just a few steps down from where we stayed.
But the highlight of this place is a tie between the Mexican wrestling decor and the outlandish food descriptions on the menu.
Nah, it's definitely the names of the dishes and their descriptions.
DDL Boutique
Speaking of dulce de leche, DDL Boutique is possibly the best dessert shop that I have ever been to – and I've eaten a lot of desserts. (what did I tell you? – anon)
This place specialize in dulce de leche and they put it on everything imaginable.
Honestly, I'm surprised they didn't serve up some jamón with dulce de leche.
But you know what? If they did, it would likely be amazing.
The coffee here is pretty good, too.
Manaw Wine Bar
While I am all about DDL Boutique and their awesomeness, I can speak for us both when I say that Manaw Wine Bar is our best restaurant find in Valencia.
(See the Potato Dish above. Caps intentional. It's a proper noun now. – Riley)
The only bad thing about this place is that it doesn't have Spanish prices, so you can't really eat here for cheap – but the wine is cheap.
Do yourself a favor and order the potatoes (patatas miraflores) and you can thank me later. (Once the afterglow passes. – Riley)
Also be sure to check out their wine list as it is both extensive and cheap.
What Else To See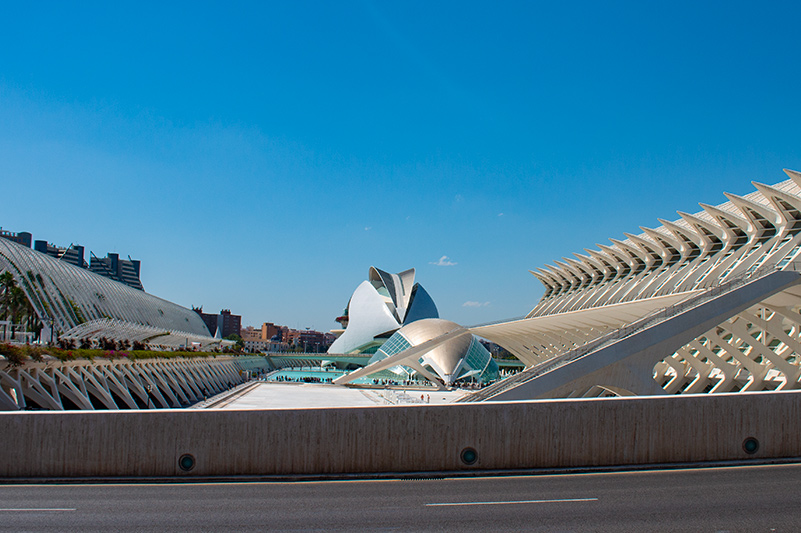 Valencia is a really big city, so there are lots of things to see and do.
Honestly, our list really only touches the surface.
Here are a few things you might want to get into, starting with the two we most recommend.
Parc del Museu de les Ciències
We walked all over the city the first time we visited Valencia and I recall this park as being one of the most impressive areas of the city.
You've got this massive green space, which is just nice in and of itself.
And adjacent to the park is the Ciudad de las Artes y las Ciencias and the Museu de les Ciències Príncipe Felipe, which are really impressive buildings to check out.
We didn't go into any of the museums, but just seeing them in-person from the outside is worth the walk.
Palacio de las Comunicaciones
At the southeast end of the Plaça de l'Ajuntament, you'll find this big, impressive-looking building from 1923.
It's the old post office.
Technically, they do still process mail here, but it's mostly an event space – and you can go inside it!
Definitely do not miss the chance to pop in and see how awesome this building looks on the inside.
Plus, it's air-conditioned, so a welcome respite from the heat on a hot day.
(Can you tell it's always been aggressively hot when we've been in Valencia yet? – Riley)
The Beach
I think for most people, you can't go to Valencia without going to the beach.
We did the first time, but not the second time.
It's not that we don't like the beach, but it was just too damn hot to make the trek on our second trip (remember, heatwave).
The beach in Valencia is really wide, so there's tons of space.
You'll find a paved walking path lined with restaurants and shops.
That's actually where we had paella the first time we visited Valencia.
As far as beaches go, it's fine. If you enjoy beaches, then I'm sure you'll love it – we're just not beach people.
(But also, as far as beaches go, this one's really not that great. – Riley)
Museums and Aquarium
There are loads of museums in the city, but we've never gone in them. (Except for the churches, which are kind of museums.)
Did we consider it? Yes.
We were going to hit up the aquarium and dine at their restaurant on our recent trip.
Then I read the reviews for it on TripAdvisor and we promptly decided against that.
Walking Through The Neighborhoods
Honestly, Valencia is a pretty nice city for just strolling through the neighborhoods.
The really nice neighborhoods have a median that is basically a park-like area with trees and benches.
And even if you end up in a neighborhood without that nice park-like median, you'll still probably see some interesting architecture and street art.
(Though the existence of any type of shade at all disappears a little too frequently, even around the parks, so pack that sunscreen and billed hat. – Riley)
What You Should Know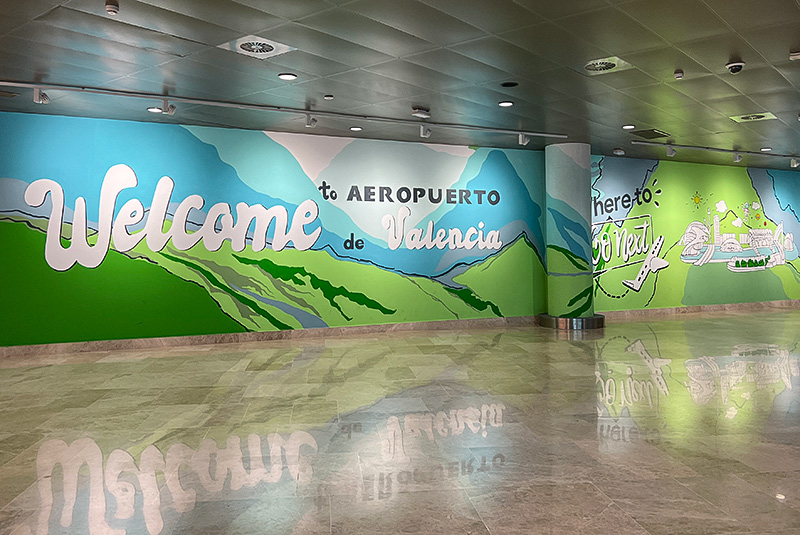 Valencia is not a compact city.
Unlike many European cities, Valencia is a sprawling city.
The first time we visited, we explored areas that were on a different side of the city than the second time.
And we STILL haven't seen all of Valencia.
Bring your walking shoes.
The heat is for real.
It gets stupid hot in Valencia in the summer.
Yes, our most recent trip there was during a heatwave in the hottest summer Spain has ever seen, but even under normal circumstances it is REALLY hot there in the summer.
Sure, it's not Madrid level hot, but still insanely hot.
(See also "the sun." – Riley)
The airport is kinda dumpy.
If you've flown in or out of the airport in Madrid or Barcelona, then you should lower your expectations for the Valencia airport.
It seems really old and run-down.
I think it's kind of dumpy, to be honest.
I know that I will never fly in or out of it on purpose.
(Lies. She would do it for the potatoes. – Riley)
It lacks truly luxury hotels.
If you are the kind of person who prefers to stay in really nice luxury hotels then you won't have much luck in Valencia.
After our experience with Palacio de Rojas, we looked it up to determine if there were any five-star hotels in the city and were shocked to see just how lacking they are here.
You won't even find something like a proper Hilton or Marriott.
English is widely spoken.
You'll find that English is spoken and understood in most of the city.
I even had a few instances where I tried speaking Spanish, and thought I was doing well, only to be told to speak English next time.
In Valencia, they also speak a dialect of Catalan called Valencian. That's in addition to Spanish.
How Long Do You Need in Valencia?
On average, I'd say to give yourself a good four to five days to properly explore the city.
If you want to take it more leisurely, then give yourself a week.
I feel like staying longer is a decent option because, if you see everything on your list, this city makes a great base for exploring other nearby areas by train.
What To Watch Out For
I can't really think of anything in Valencia to warn you about.
It seems to be a relatively safe city that lacks the pickpocket problem of nearby Barcelona.
Of course, I'm sure there are pickpockets in Valencia, but it's just not quite as much of a problem as it is in some other Spanish cities.
(There was one park I stepped into for only three seconds on our last day to get a picture because every time we walked by it there were half-clothed men with open bottles in their hands sleeping on the benches. So, you could watch out for naked drunks, I guess. – Riley)
Valencia in Summation
I can't deny that Valencia is a Spanish city with some cool stuff to see.
But no matter how hard I try, I just cannot put it on the list of my favorite Spanish cities.
Is it worth visiting? Yes, for sure – just don't fly into the Valencia airport. (And DO get the potatoes. – Riley)