Have you ever gone into a restaurant that was basically empty and had the best damn meal of your entire life?
For us, that was Manaw Wine Bar in Valencia.
The food here is Nikkei cuisine, which is a mix of Peruvian and Japanese cuisines.
So, if you're a foodie and you like fusion restaurants, then you will love this place.
(Or, even if you aren't and don't, this food will convert you. It's baptismal, yo. – Riley)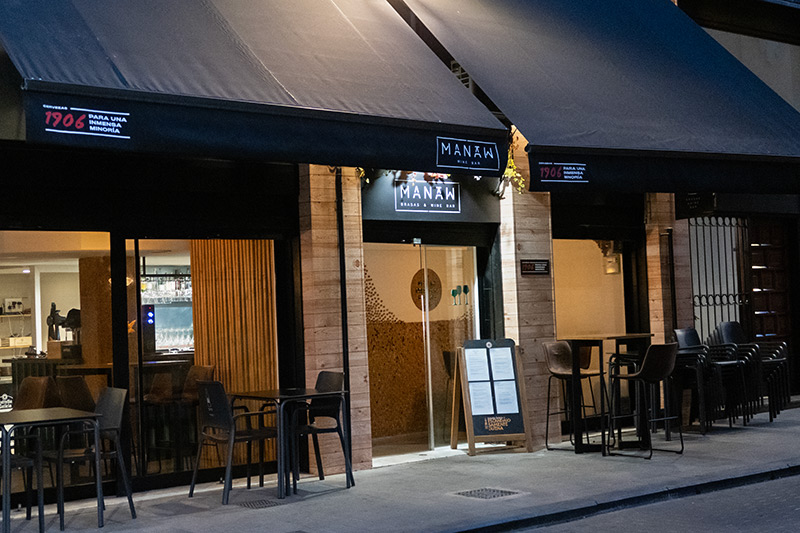 What We Ate
Okay, so Manaw Wine Bar was newly opened when we visited (July 2022), but they do have another restaurant in the city with a similar name – though different food.
I have to say that Manaw Wine Bar makes some of the best food that I have ever eaten in my life.
If Anthony Bourdain was still alive, he'd be crying over how good this food is, for reals.
(I don't know that he would. He cried over some foods that were highly questionable for me. But maybe he would. – Riley)
Anyone who knows me well knows that potatoes are basically the one food that I will eat all day, everyday, served any style – and this place makes the best potatoes that I have ever put in my mouth.
We ordered those amazing potatoes every single time we ate here.
(The server [possibly the owner? she seemed invested and was working every day] even gave a good laugh the last time we ordered them. Because she could tell we had a problem. – Riley)
Now, about those patatas miraflores that they have on the menu –
Those heaven-sent potatoes are soft yet super crispy on the outside.
The closest thing we've had to that sort of soft yet crispiness is Belgian frites, which leads me to believe they are frying these tasty nibbles in lard (Have to be. No potato tastes like this without a good lard-dipping – Riley)… but we won't think about those calories or the saturated fat content.
Nothing counts on vacation, right?
(Since we ate these four days in a row, I really, really hope not. – Riley)
Anyways, those potatoes would be good on their own, but these amazing people go on and top them with egg, crispy ham, green onions, spices, and huancaína sauce.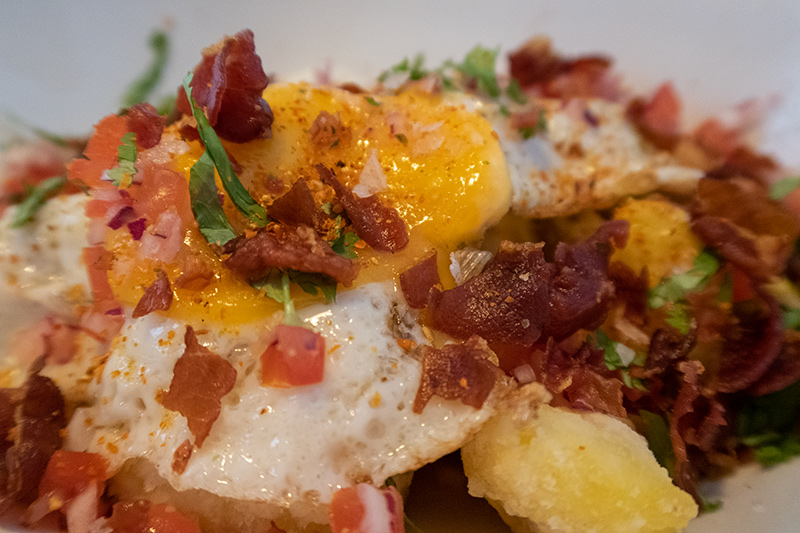 OMG…the literal best potatoes in the world. And yes, I will fight you if you try to disagree. (I will not… but it's still true. – Riley)
Now, what's great about Manaw Wine Bar is that almost everything they make is amazing.
In addition to the potatoes, over our many visits we ordered:
Sourdough Bread with miso & kimuchi butter
Thai shrimp croquettes
Shiitake mushroom and pumpkin croquettes (as of Sept. 2022, this seems to no longer be on the menu)
Trujillan leeks (with yellow chili sauce, mascarpone and crispy onion)
Tataki salmon koh (briefly cooked (out side only) marinated in smoked teriyaki and served with Tom kha sauce)
Niku Tataki (Thin cuts of beef tenderloin with sukiyaki sauce, egg, mushrooms, pak choi and criolla sauce)
Grilled octopus (as of Sept. 2022, this seems to no longer be on the menu)
Okay, so of all the food that we tried here, the standouts were the potatoes, the salmon, the beef, the octopus, and the shiitake & pumpkin croquettes.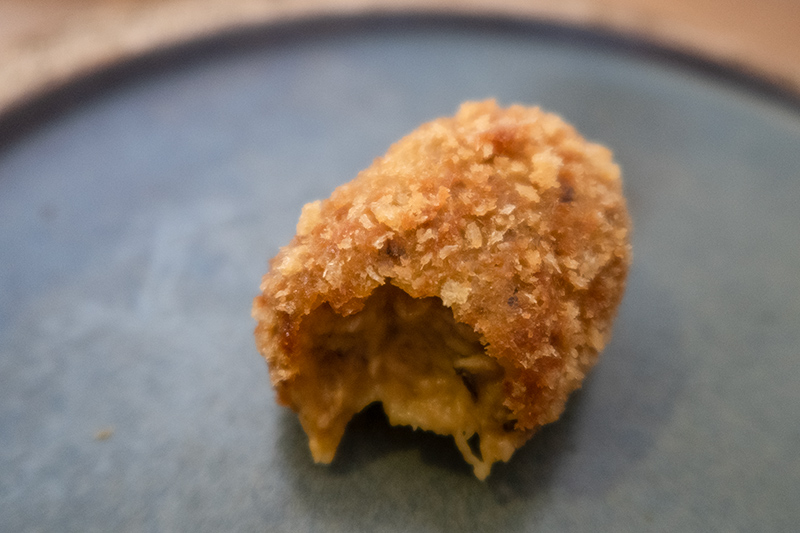 We liked the octopus the best of the meats, with the salmon next, and then the beef.
Do note that the beef dish is spicy.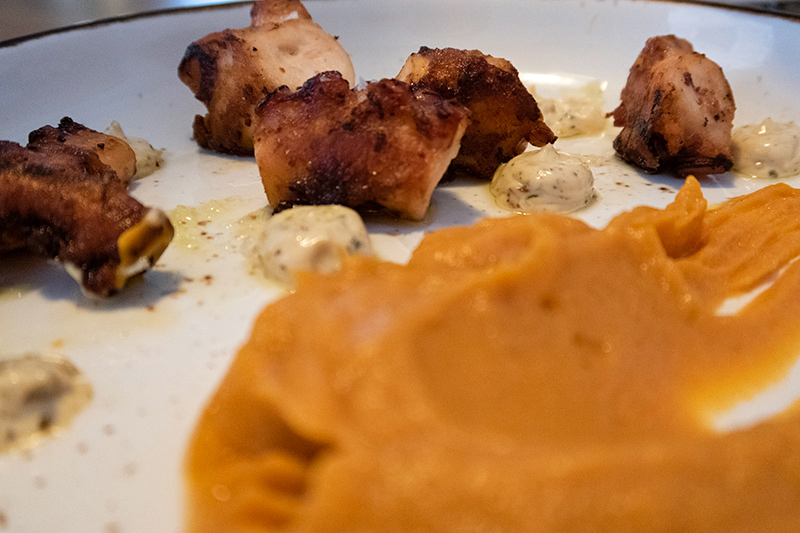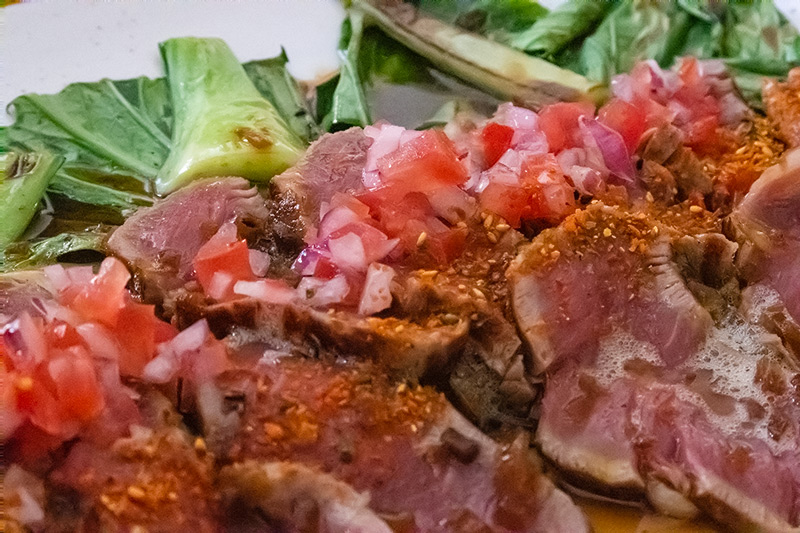 The leeks have the same yellow sauce as the potatoes, but they were just okay.
Some of the leeks were cooked better than others, which means some were easier to chew.
The Thai shrimp croquettes were good, but not as good as the pumpkin and mushroom croquettes.
The bread with kimchi butter was also good, but not a standout since it was just bread and butter. It was really good sourdough though.
Now, in addition to the impressive food here, this place is a wine bar and they have a massive selection.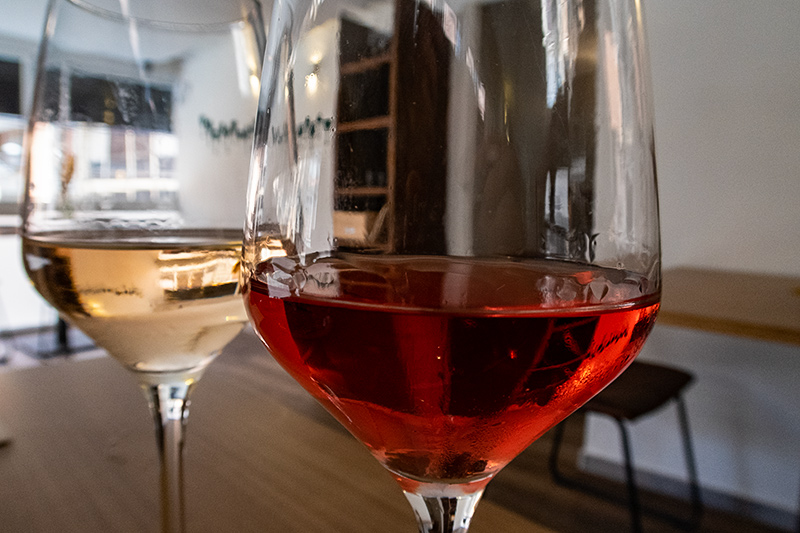 What I really like about their wine offerings is that you can order half glasses, which gives you the ability to try more wines without getting totally hammered.
(Or you could order half glasses and get hammered anyway… – Riley)
Honestly, I would fly to Valencia right now just to eat here.
Other Thoughts
When we ate here, only the upstairs seating area was air-conditioned.
So, if you're in Valencia during those hot summer months, keep that in mind.
They also have outside seating and downstairs seating in the restaurant.
And if you're the sort of person who cares about comfort, this place had the most comfortable seats of anywhere we ate in Valencia. (It didn't take much. – Riley
...also, here's the potatoes again, because why wouldn't we?)