Any American who has been in Europe with a craving for Mexican food already knows just how dire the restaurant situation is when it comes to things like tacos.
(You would be stricken with horror if you saw what the Dutch think nachos are… it's bad, it's really bad.)
In most of Europe, if you're lucky, then you might find a Taco Bell.
So, it was with much hesitation that we ate at La Tía Juana Valencia while visiting Valencia in July 2022.
What We Ate
The menu here is quite large, and honestly, worth talking about on its own.
Not because of how many items are on offer, but because of the names and descriptions you'll find for each dish.
Hysterical, outlandish, NSFW, offensive? Whatever you wanna call it, we loved it.
(Presented without comment. – Riley)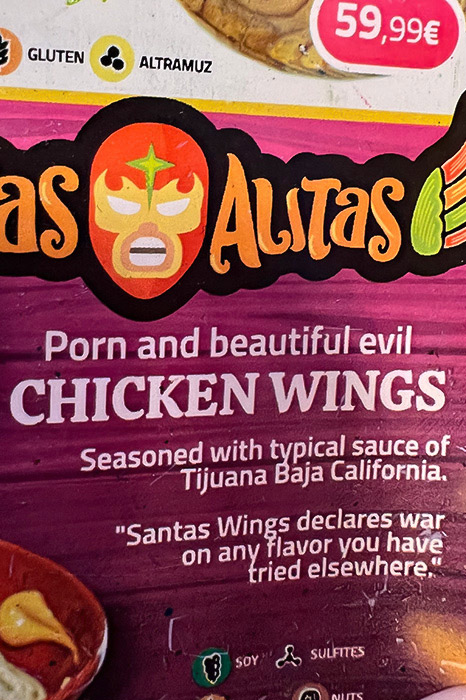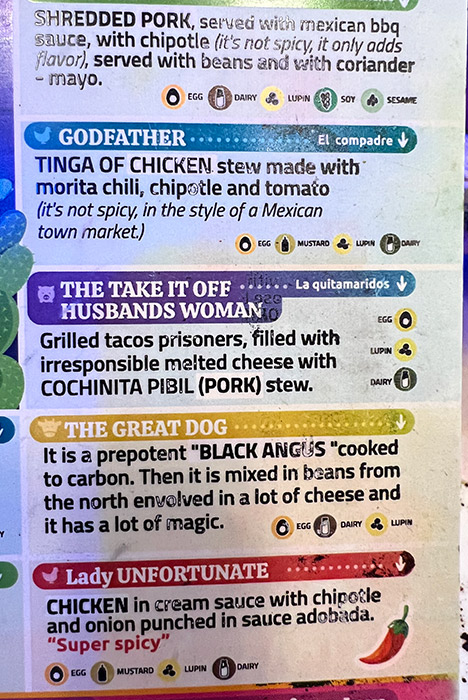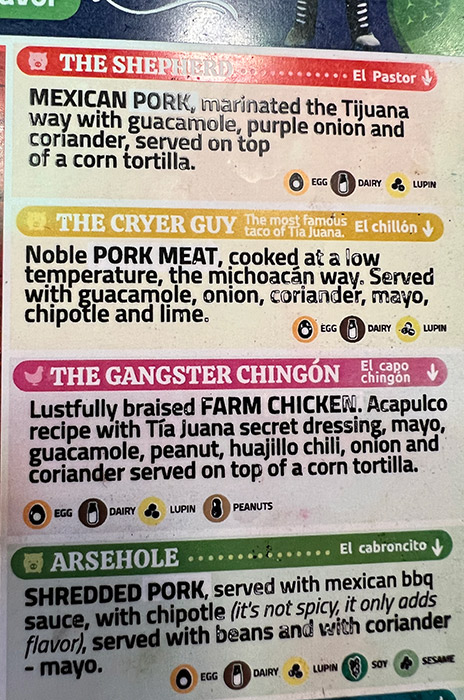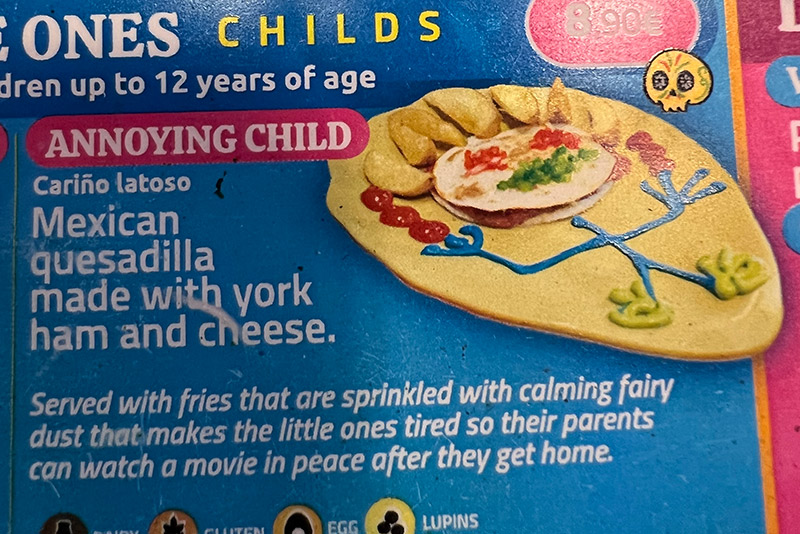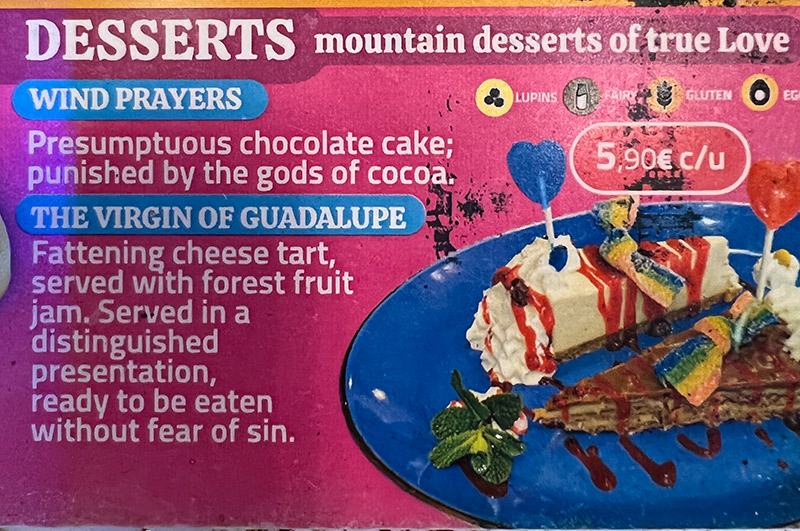 We were hungry, so we started off with the nachos appetizer, which was named "The Liar."
One of my pet peeves about Europe is that they think corn nibblets are an appropriate topping for pretty much everything.
And wouldn't you know it, these nachos were served with fucking corn nibblets sprinkled on top.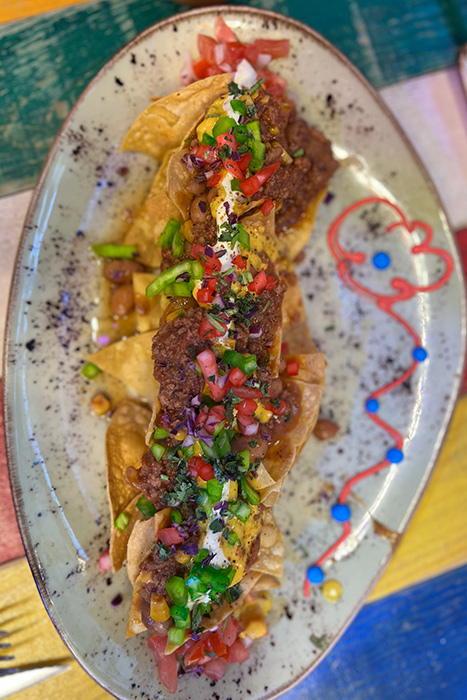 Other than the corn bits, I thought the nachos were perfectly acceptable for Europe's vision of Mexican food.
(Heh, vision. I like how this makes Europe sound like an auteur film director, like "No, no. What I'm seeing is nachos that aren't nachos at all." – Riley)
But make no mistake, you wouldn't get nachos like this in America.
To be honest, the meat on these nachos reminded me of Skyline chili in terms of flavor, which is definitely not Mexican food. (Though tasty! – Riley)
Riley ordered the fajitas, named "The Traitor," and they were pretty close to what you get in the USA.
Though they did come out with a sparkler lit up on the plate.
(Why wouldn't they? I wish all my fajitas came like this. – Riley)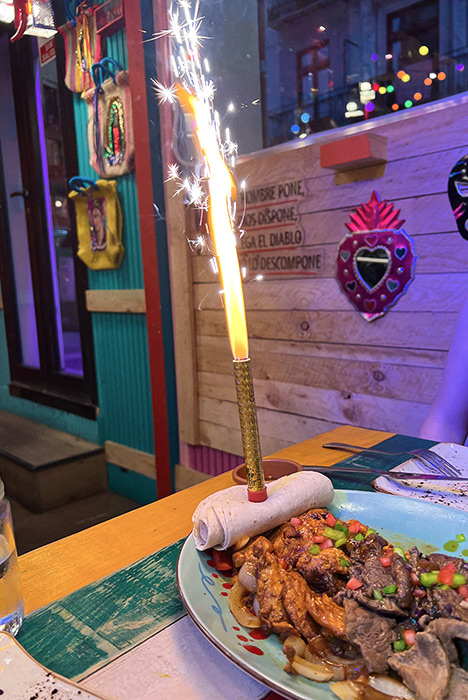 I ordered the chicken burrito, named "Tijuana burrito," and I cannot begin to tell you why they put mayonnaise on it.
(Somehow, we have no visual evidence of this. – Riley)
Fortunately it was chipotle mayonnaise, which made it taste a bit less like mayo than I'd expected.
But I really feel like mayo on a chicken burrito really sums up the whole eating Mexican food in Europe experience. (For reals. – Riley)
That being said, this was actually some of the best Mexican food that we'd had in Europe…which is both nice and also kinda sad.
And I'm sort of ashamed to say that I would eat here again if I was in Valencia and craving the European take on Mexican food.
Other Thoughts
In addition to how much I loved the menu creativity, I was also a fan of the decor in this restaurant.
Near our table was a mini-wrestling ring complete with a fake Mexican wrestler.
And there were Mexican wrestling masks on the walls.
Other notable decor included a considerable amount of Dia de los Muertos items.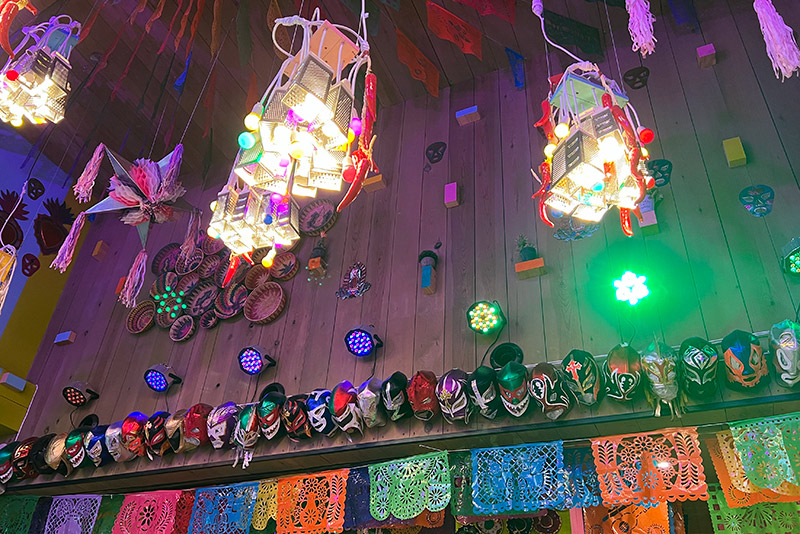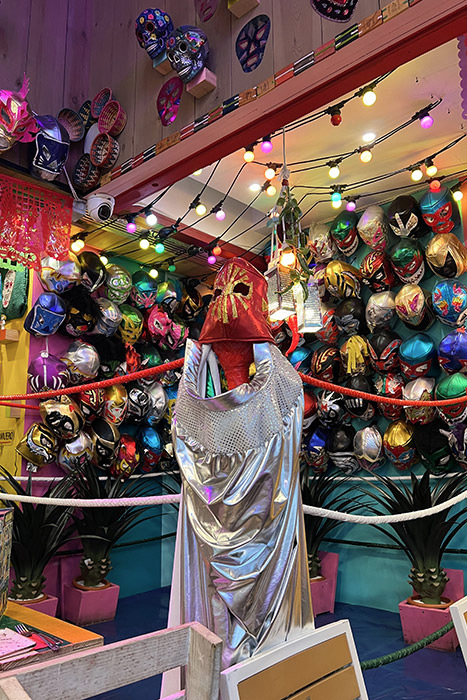 Do we recommend this place?
Well, the portion sizes are good and the food is good for what it is… just know what you're getting into.
The drinks menu, which is also large, seems to come out in generous portions as well, and there were definitely some unique drinks being served to the people around us.
(Final verdict: For the decor and experience, yes. For the food… hesitantly. Just know there will be corn. – Riley)