Staying on The Strip is one of those things we never really intend to do as locals, but we recently ended up there anyway.
You see, we'd booked the 20,000 Leagues dinner at Lost Spirits and assumed that we'd be far too intoxicated to make the 25-minute drive home afterwards. (That was a correct assumption!)
And the closest hotel to Lost Spirits just happens to be the big Resorts World complex, which is three different Hilton-owned hotels in one mega building.
Fortunately, it was relatively cheap and offered a surprisingly quiet night's sleep.
When We Stayed
July 2022
Our Experience With Resorts World Las Vegas
We've only been in Resorts World this one time, and it wasn't even a long visit.
We got in really late, where we had to wait in the longest hotel check-in line that I can ever recall.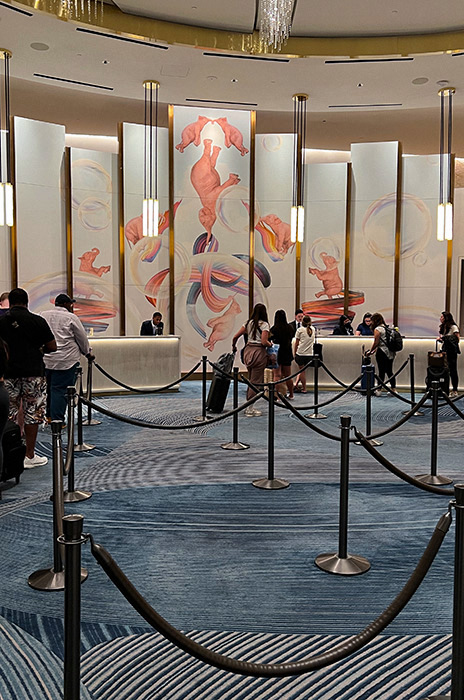 And that was after the world's longest trek from the parking garage…or at least that was how it felt in my inebriated state.
While they did have several employees checking people in that late in the evening, the line was incredibly slow moving.
In a nutshell, the check-in experience was terrible.
But at least there was no charge for the parking garage!
The Resorts World Space
We didn't actually see much of Resorts World until the next morning, but I have to say that it wasn't all that impressive.
Like all of the casino hotels on the Strip, there are a variety of places to eat and shop.
The decor is fancy and pretentious here. (And yet kind of like a generic shopping mall at the same time! – Riley)
But there was this really cool giant globe in one area that showed some advertisements as well as some cool 3D video of things like a shark jumping out of the water to get ya.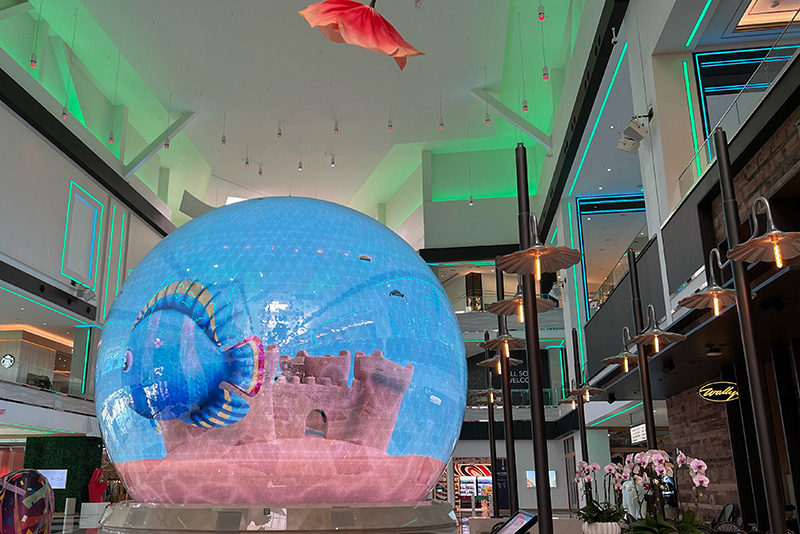 I imagine if I'd seen that 3D shark when I'd arrived full of rum, it likely would have startled me… and wouldn't that have been embarrassing?
Overall though, I didn't find this space as nice as the Venetian and some of the other casino-hotel/resorts on The Strip. (Agreed. – Riley)
Our Resorts World Conrad Las Vegas Room
(Bigs up to Shawna for somehow holding her phone steady enough to get these pictures.)
The room at Resorts World-Conrad was nice, but not as nice as I remember our room being at the Venetian.
We booked the King Premium room because it was the cheapest and we would really just be using it to sleep off all that booze we consumed at Lost Spirits.
The room was a low $95.20 base rate. (Why the weird amount? I don't know. I think it was a sale.)
But there was a massive resort charge of $45.00! Yes, $45.00. (That's high even for The Strip!) Guess that free parking wasn't so free after all.
All in, the final bill was $158.96 after taxes.
But back to how the room actually was –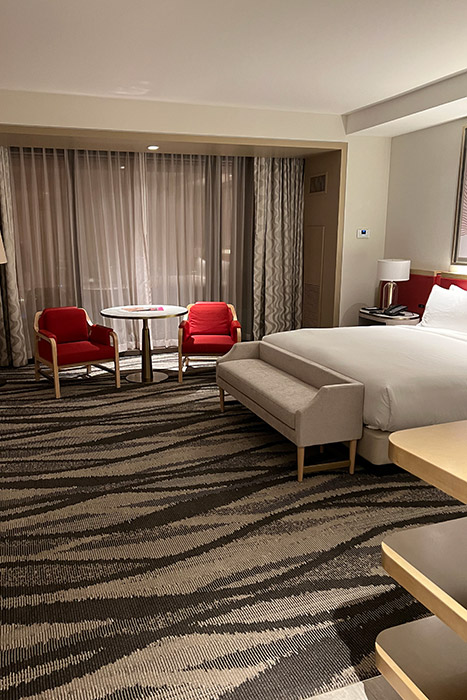 In this new world where hotels aren't as clean as they used to be, I went into this experience expecting the room to not be up to our cleanliness standards.
Upon entering, despite being drunk, I immediately noticed something on the floor under the table by the window.
It was a fucking potato chip.
How the hell did housekeeping miss this when my drunk ass saw it immediately?
So, yeah, the cleanliness was in line with my low expectations.
Otherwise, it was a fine room. Not amazing, just fine.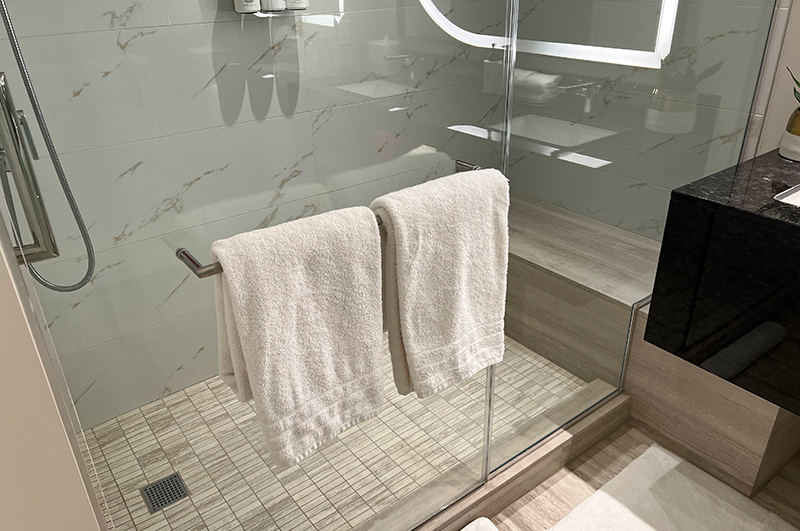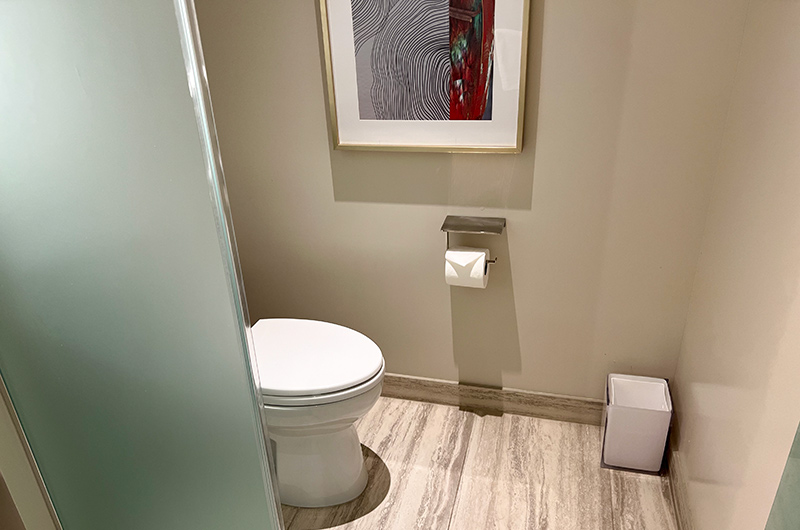 But it was relatively quiet for sleeping with only the occasional sound of doors slamming from other rooms. (Pretty good these days! – Riley)
While You're There
While we didn't spend much time at Resorts World, I do think the giant globe thing is worth checking out.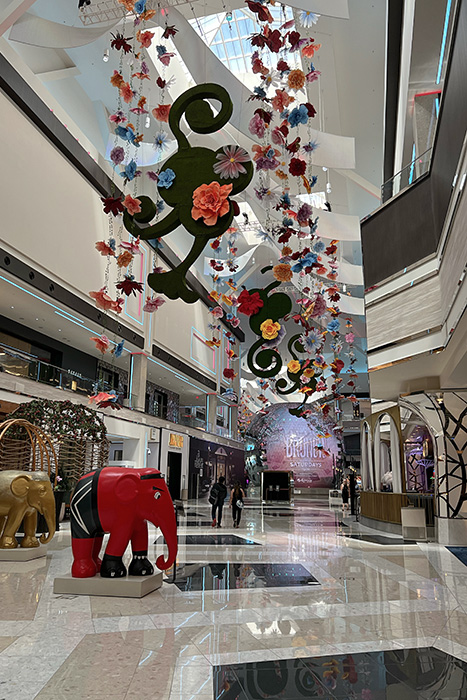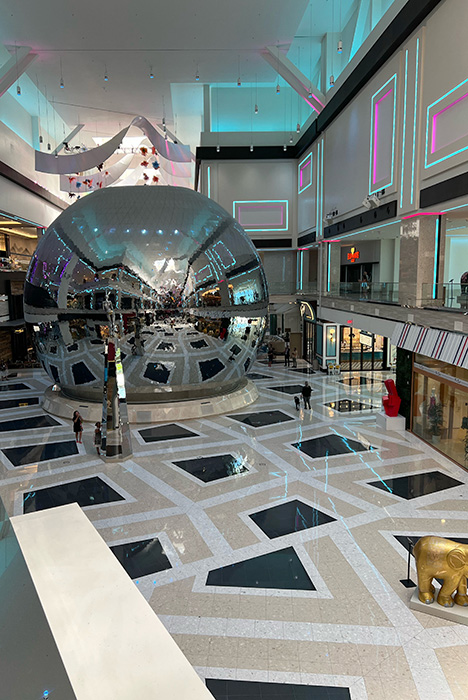 But you may have to let it cycle through a few times because sometimes they only showed ads and left out the cool 3D shark and 3D aquarium fish.
Otherwise, I don't really recall seeing anything else worth hanging around for here.
(I mean, the street food court was pretty cool. At least in the early a.m. when no one else was there. – Riley)
(And if you really dig Liberace… though I'm not sure this was permanent. – Riley)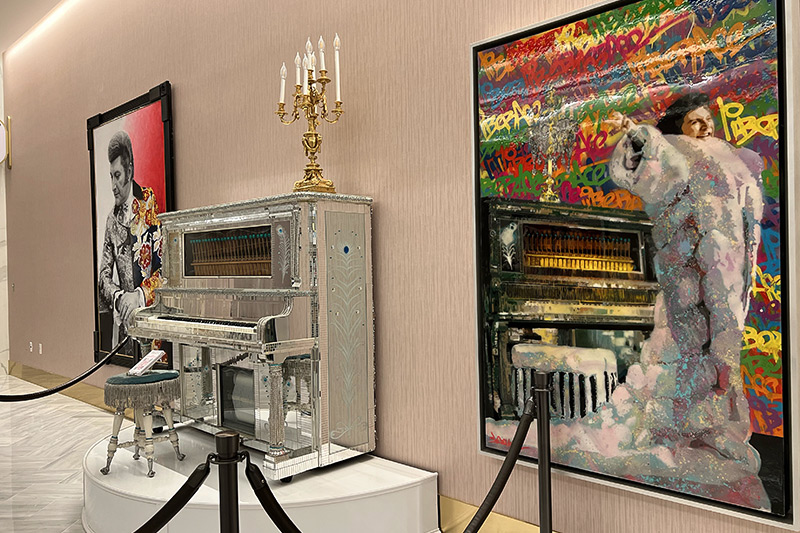 (Also, Resorts World is the Strip home for Enchant now, so maybe if you're in Vegas around the holidays… – Riley)
What You Should Know
With three different Hilton-owned hotels in Resorts World, you need to know which of the three you've booked a room in as the check-in areas are all different.
And if you're a Hilton Honors member who gets free breakfast, each of the hotels uses a different restaurant in Resorts World for its freebie.
For the Conrad Las Vegas, that breakfast is a million miles away at the Dawg House Saloon.
That's right, a fucking sports bar.
But wait, it gets worse!
The only breakfast type of foods that they have on offer at the Dawg House are greasy breakfast sandwiches served up with tater tots.
Of course that's all they have! Because they're a sports bar!
(I mean, a minor nod to the avocado toast, which at least attempted to be healthy. Though it also came with tots. – Riley)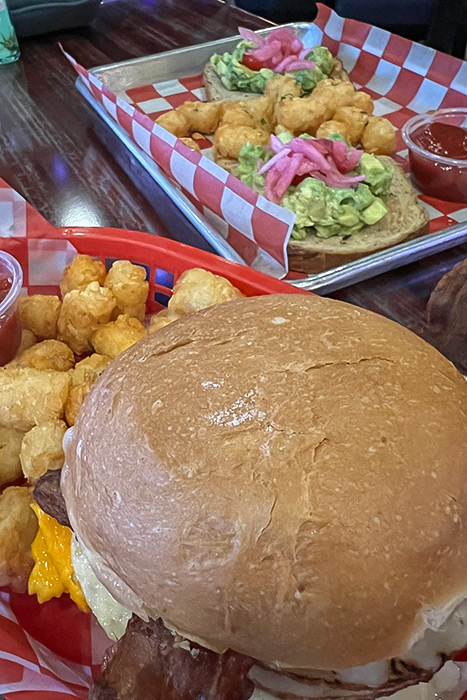 Even better? They had zero coffee available.
That's right, the Conrad Las Vegas sent us to breakfast at a place that did not have any coffee available.
WTF?
Sure, the Dawg House Saloon staff told us the coffee machine was broken and had been for a while due to supply chain issues, but the reason there was no coffee is irrelevant.
The point is that the hotel surely knew there was zero coffee at this sports bar since it appears to have been an ongoing problem.
What is really disappointing about this whole breakfast experience is that there is actually a really nice breakfast restaurant by the Conrad Las Vegas check-in area….that was for the guests at Crockfords Las Vegas.
Hell, I would have been happier at the Sun's Out Buns Out egg dish restaurant, which was also close to the Conrad Las Vegas check-in area.
(I definitely would have preferred the really nice place, which appeared to have oatmeal, but anywhere with coffee would have sufficed. – Riley)
What We Loved
We liked that the Resorts World Conrad offered a decent night's sleep without a lot of noise.
And that there was no additional charge for the parking garage.
That's really all of the nice things I can think of to say about it.
What We Didn't Love
Oh, don't get me started, right?
the lack of cleanliness in the room
the long, slow line to check-in
how far the walk to any of the hotel check-ins are from the parking garage
the breakfast, where they had zero coffee (the gravest sin of all – Riley)
Would We Recommend It?
That's a no for me dawg. (I'm indifferent. – Riley)
I can't imagine ever staying in the Conrad Las Vegas at Resorts World on purpose.
If we do ever have the need to book a stay at Resorts World, we will book one of the Crockfords Las Vegas rooms just so we get the better breakfast option. (Yay! Oatmeal! – Riley)
And I suggest the same strategy for you.