One of the first restaurants that we discovered after moving to Las Vegas in 2015 was CRAFTkitchen.
Now, technically, this place is located in Henderson and not in Vegas proper – but I guarantee you that it is 100% worth the trip from the Strip.
The only bad thing that I need to warn you about is that it's not open for dinner.
But seriously, this place has got to be our favorite restaurant ever since we discovered it back in 2015.
What's really amazing about CRAFTkitchen is that their food is always consistent – it's been the same deliciousness every freaking time we've gone there.
(And apparently consistency is something we have to worry about a lot now with restaurants? Different chefs, I guess? – Riley)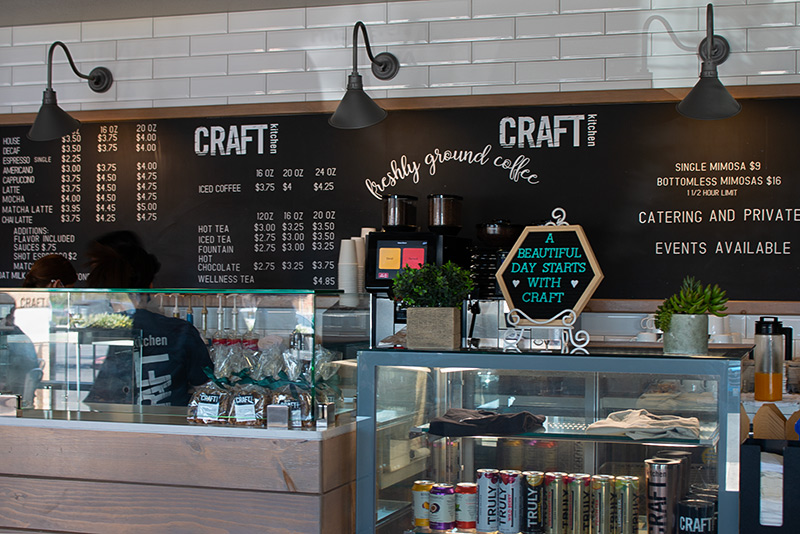 Why You Should Eat Here
As just mentioned, CRAFTkitchen is consistently the best place to eat at in the Valley.
The food is made with high quality ingredients, including some organic food stuffs. (Isn't this one word? I think I would have written this as one word. – Riley)
They even have plenty of vegan options on the menu.
Each month they have different specials, so you can stick with a favorite (like the Cuban, which is to die for) or go with a monthly special like the Cherry Pie Pancakes.
(Don't worry. Either way, the answer is 'Yes.')
The truth is that we have never had a bad dish there, and we've tried most of the menu.
If burgers are your thing, then you are going to love the burger here because it comes with this amazing tomato jam unlike anything I've ever had (though I don't think Riley feels the same love for it that I do). (It's true. I like it, but I'm not like IN LOVE with it. – Riley)
For sandwiches, I highly recommend the Cuban (ME TOO! – Riley) – we even think it's better than Portillo's (for you SoCal folks).
I'm also a big fan of their Croissant Sammy, but Riley finds it a bit greasy. (That's because it is. Just look at it. – Riley)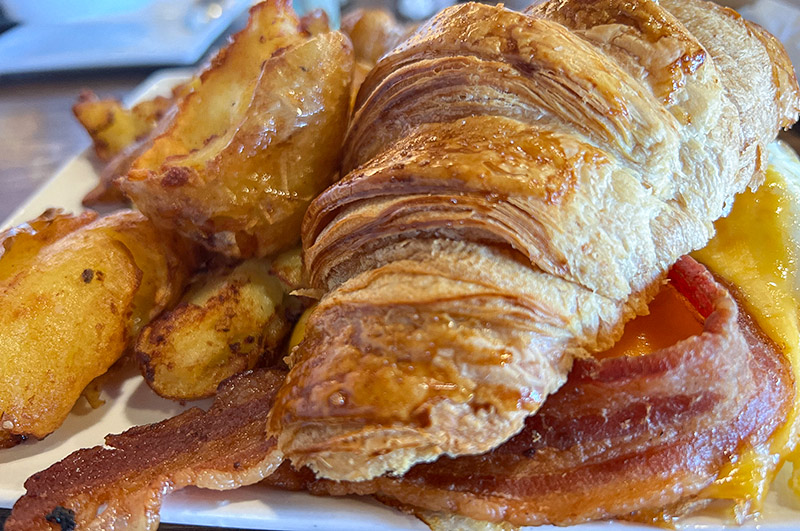 For breakfast, or really any meal, Riley has been a long-time fan of their Chicken and Waffles – just be sure the get the jalapeño syrup version of it!
If spice isn't your thing, this isn't all that spicy – and I say that as someone who can't handle a lot of heat.
(Don't let her fool you. She's gettin' better. Also, is that not beautiful? Notice the gentle glow over the jalapeños? That is literally Heaven's light shining down upon it because it tastes like Jesus made it. – Riley)
CRAFTkitchen also has some pretty great pastries and sweet stuff that you can check out, but we highly recommend visiting on a weekend when they have their Monkey Bread.
It's like a little serving of everything good in the universe. (With the same infinite number of calories! But worth it! – Riley)
So, they have different flavors of this Monkey Bread, depending on the month, but I must say that the chocolate version is really something.
Just know that the word is freaking out about how tasty this stuff is, so you have GOT to get there early on weekends if you wanna snag some of this yum-yum.
(You may also have to stick around for a while. We were once told they didn't have it that day only to have them start serving it up to tables around us about a half-hour after we asked. Don't worry. We got ours. You gotta stay on top of these things. – Riley)
What Else To Know
Okay, so I know I said them not being open for dinner was the only bad thing, but that's not exactly true.
No joke, they have the world's most uncomfortable seating.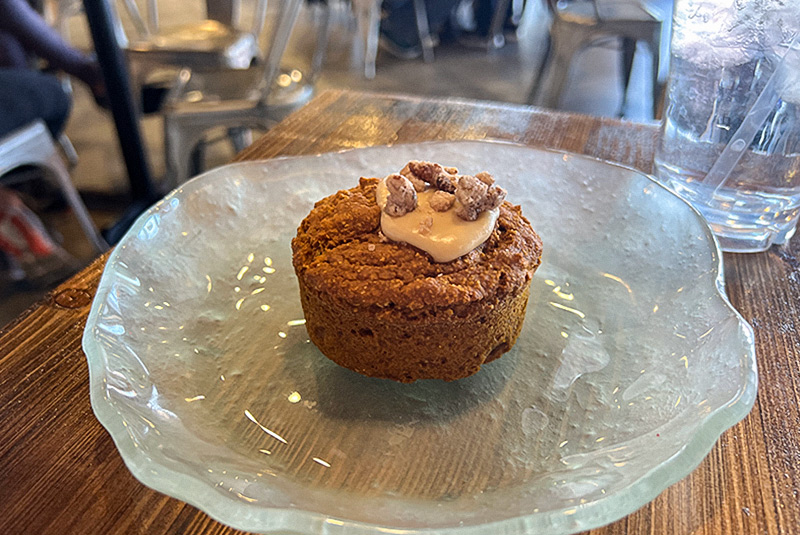 It's the same type of terrible industrial-style metal seating that all hipster restaurants and cafes seem to have these days.
(Hey! Don't put this on the hipsters. They wouldn't choose this. Have you seen how nicely they keep their mustaches? – Riley)
And speaking of hipsters, this place is super trendy and Instagram-famous, which means that it gets more and more difficult to show up and not be waiting for tables to come available.
(Okay. Apparently, we're anti-hipster now. – Riley)
One of the reasons it's gotten so trendy is that all the professional athletes in the area keep going there and getting their picture taken in the restaurant!
I think more and more people are going in hopes they can run into someone from the Raiders or the Aces. (I know I am. – Riley)
Recently there was even someone who is TikTok-famous photographed there. (ugh, I hate that this place is getting so busy!)
The restaurant also has a fairly large outdoor seating area, in case you wanna bring your pup or just wanna enjoy the desert air. (Rarely is there anything to enjoy about the desert air, so pretty sure this is meant to be a joke. – Riley)
Anyways, CRAFTkitchen doesn't take reservations, but you can use Yelp to put yourself on their wait list.
And, if you're going to be driving yourself all the way out to Henderson (it's really not THAT far; about 20 minutes – Riley), then you should know that CRAFTkitchen is on pretty much the worst road in Henderson when it comes to terrible traffic.
Doesn't matter what time of day either.
Though they did recently open up a location in the new food hall in the Fremont Hotel & Casino, if that's more your style.
And maybe the most important thing for you to know in advance – while the portion sizes are good, the prices are maybe a bit high for a lot of people.
You can see the prices on their website, but I have no idea if the Fremont Street location has different prices. (We also can't vouch for the food at that location. – Riley)
Final Word
I think I can speak for both of us when I say that this is the best restaurant, and our favorite, in all of Vegas. (You can! – Riley)
We love it, and if you don't, then I'm sorry to tell you that your taste buds must be broken. (Rude. – Riley)