When it comes to Vegas, we love to tease people away from The Strip.
Yes, we have freely admitted The Strip is cool and worth seeing, but as far as the best things to do in Vegas, The Strip just ain't where it's at.
(Disclaimer: We do realize "cool stuff" is super subjective, and if gambling and spectacle and drinking is your bag, The Strip – along with Fremont Street – may, in fact, BE where it's at for you. Do bear with us.)
This is true even when it comes to Las Vegas architecture.
Hard to believe, I know.
I mean, The Strip is known for its dramatic architecture. All those wild buildings and replicas.
Look, it's the Statue of Liberty!
Look, it's the Eiffel Tower!
Look, it's the Rialto Bridge!
And that's just on the outside of the buildings.
Visiting The Strip is a lot like going to Epcot really, if Epcot was a (very slow-moving) public thoroughfare.
But, despite all The Strip's architectural delights (and there are many), there may be one building in Vegas that is more "must-see" than the buildings on The Strip.
And even those that are Strip-adjacent. (I'm talking to you MSG Sphere.)
That building is the Nevada Cleveland Clinic.
Yep, THE Cleveland Clinic.
Why is it a medical building? Why is it still called the Cleveland Clinic in Nevada?
These are questions.
Visiting the Cleveland Clinic Nevada Building
The Nevada Cleveland Clinic is located at 888 W. Bonneville Avenue in Las Vegas.
This puts it just over a mile from the Fremont Street Experience and just under 3/4 of a mile from the Plaza Hotel & Casino (you can see the Fremont Street Experience and its surrounding hotels in the top right corner).
Basically, if your Las Vegas itinerary includes a trip to (or stay around) Fremont Street, it is a super convenient side trip.
(It's even more convenient if you're visiting The Smith Center, so if you happen to be popping Off-Strip for the Broadway series or to see someone at Myron's while you're in town, you really can't miss it. You can literally walk right over.)
It's also a side trip worth making.
Is it just a really cool building? Yes, that's all that it is.
But it's a really cool building we think is worth seeking out.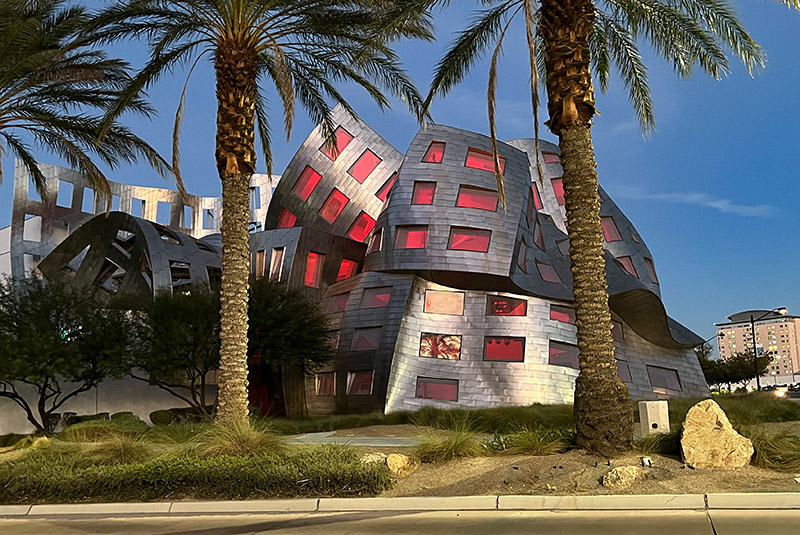 Don't worry. Seeing pictures can't spoil it.
This thing is a true optical indulgence that it's hard to do justice to in a picture. (Especially when one of those pictures is taken with an iPhone from the car.)
It really is worth seeing with your own eyes.
(I mean, maybe not if you've hit one of the dispensaries a bit too hard. Seeing this shit might make you think the world is melting. – Shawna)
Don't have a car in Vegas?
Remember, Uber and Lyft allow you to add stops along the way to a destination.
Or, if you're grabbing a taxi, just ask the the driver to drive you past the cool Cleveland Clinic building.
They'll know what you mean.