Sometimes you're walking around a city and you get to a place you're not quite ready for yet, but it's where you are, and you're already there, and it offers some relief from the heat – some, let's not get too enthusiastic here – and you think Welp, may as well do it now.
And then you do it and it's done and you're not doing it again. At least not this trip.
Though, you would totally pay to go in again the next time, preferably in cooler weather.
Translation: I was not carrying a real camera when we went into Valencia Cathedral. We were armed only with our iPhones, so oversaturation abounds.
Still, a beautiful church makes for good pictures, and the Catedral de València is a beautiful freakin' church.
Valencia Catedral in Pictures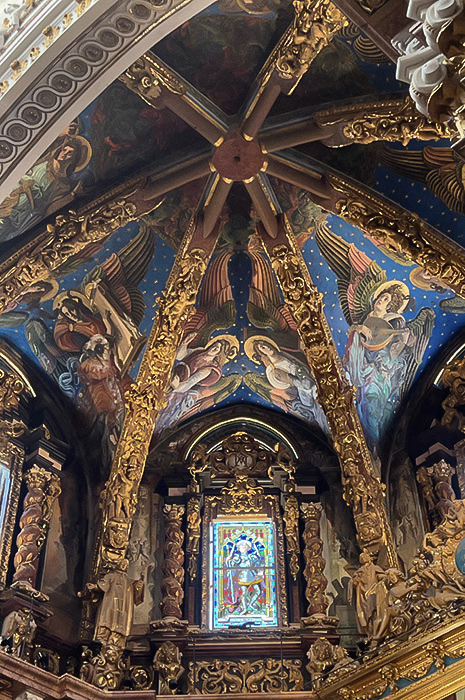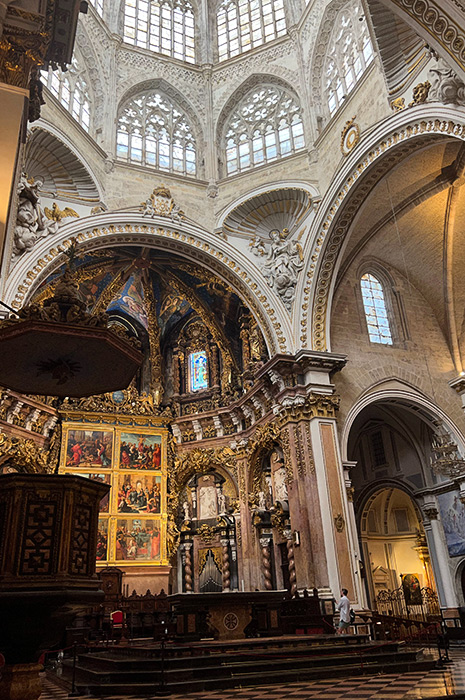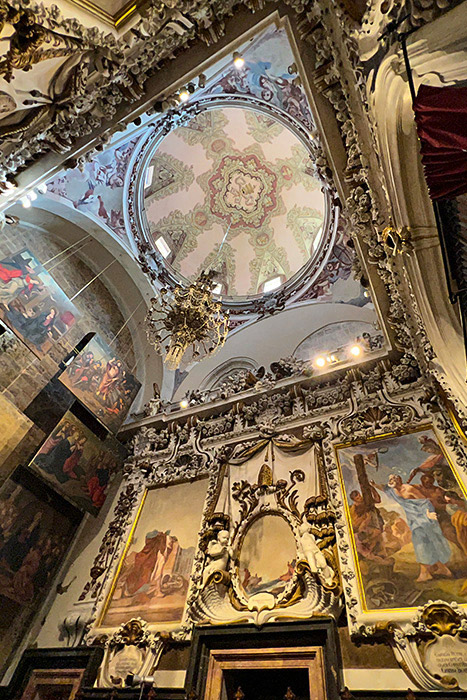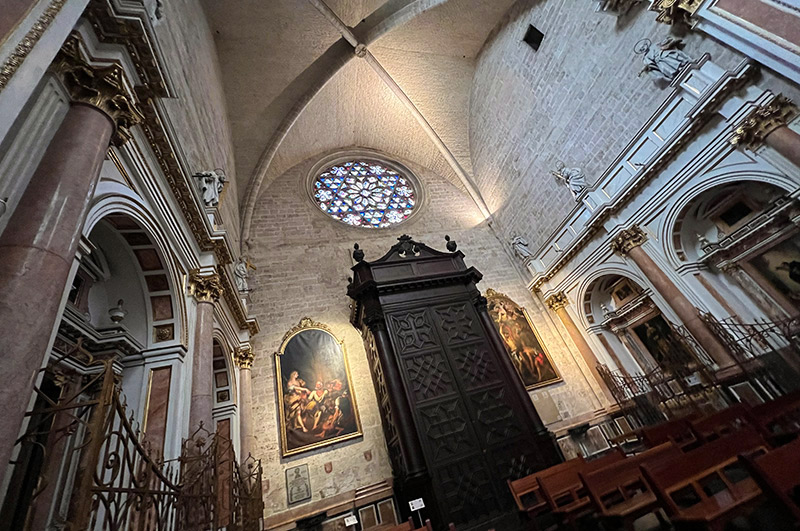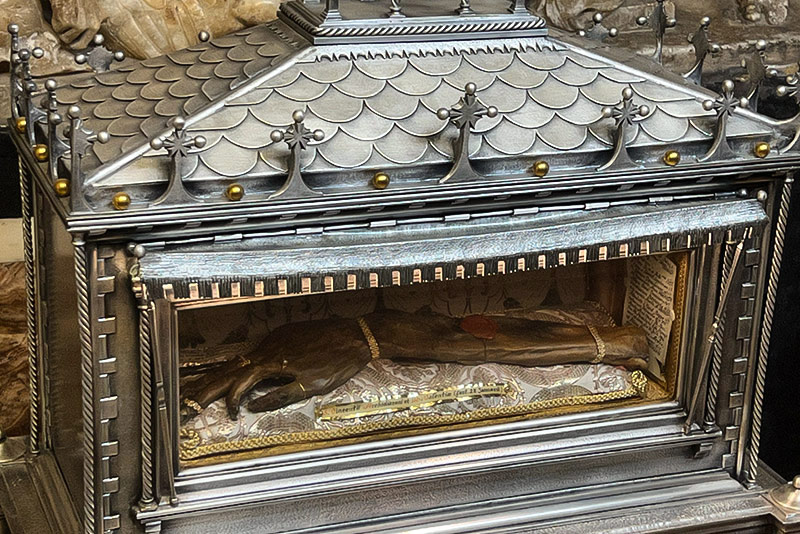 Not to be outdone by that silly grail, there's also a mummified arm.
And this thing is right there in the church before you even get to the museum part. Just like, "Hey, what's up? I'm Saint Vincent, the martyr, and I like bling."
Coming up: TEETH. (They're what's in the walls.)
(So unexpected, so close to my damn face, and so gross. – Shawna)
Looking for the Grail? Pop over to our companion post.
Museo Catedral de Valencia
The entrance to the catacombs, looking ancient and creepy.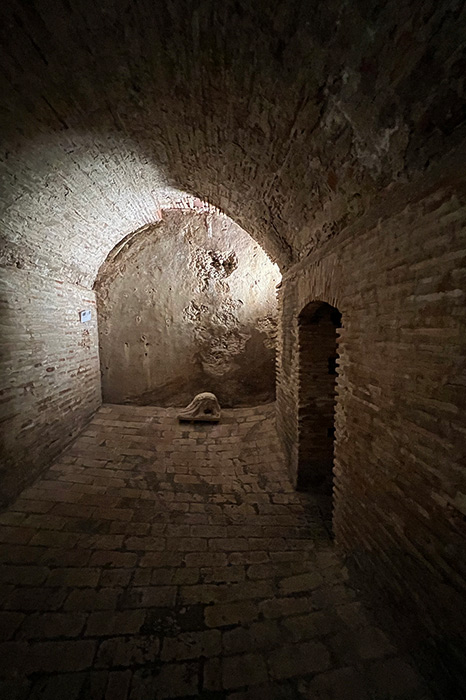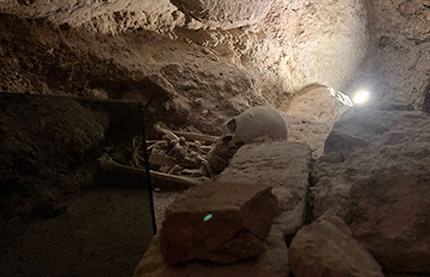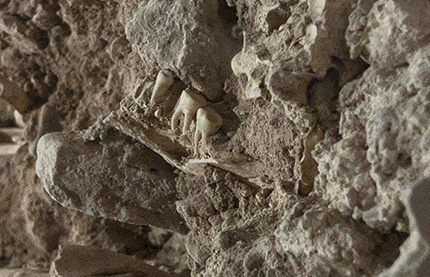 Upstairs, things are brighter and a bit less toothy.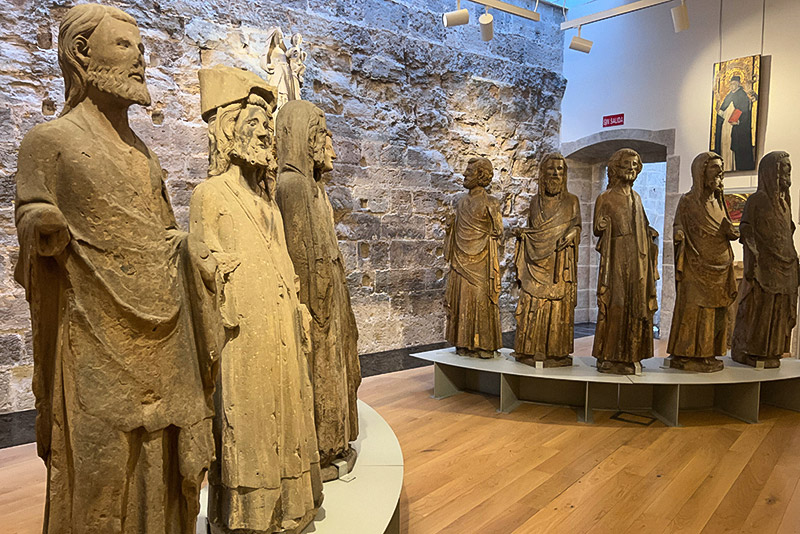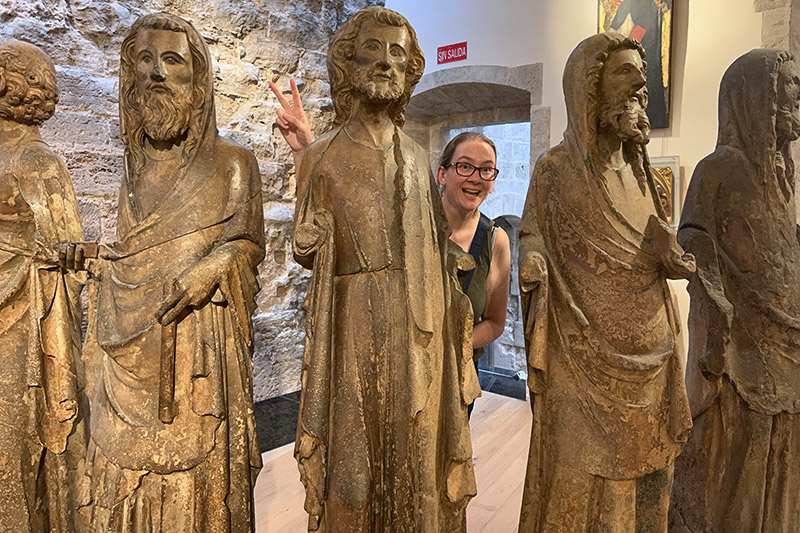 (why this photo of me? 😂 – Shawna)
Visiting the Valencia Cathedral
It costs money to get into the Valencia Cathedral, and I always take issue with that.
Call me an agnostic – and you should, it would be true! – but I just don't think God should be kept behind a paywall.
Or behind a literal wall.
Are you a holy organization or a commercial one? I mean, pick a profit-model already.
Still, plenty of big churches do charge admission (some don't, bless them), and it's hard for me to pass up a good church.
So, on the occasion there's a ticket sign on the door, we often just cough up the donation (it's easier to think of it that way) and go inside.
As of 2023, it costs €9 to get into Valencia Catedral and its museum (a little more if you want to climb the bell tower). Which sounds steep for a church, I know, but is actually a pretty good deal as far as for-profit churches go.
The museum and Grail chapel make it worth the price of admission.
At least for me.
(I have no complaints either! – Shawna)
And while the museum is small, and a lot of people say it took them only 15 minutes to get through the museum part of the cathedral (catacombs included), if you're a person who likes to linger over paintings and old things, don't be taken in.
(Those people are chumps. Did they even see the freaking giant books?!? – Shawna)
Fifteen minutes is NOT enough time for the museum part of the cathedral.
We had more than that when we got there, and I wish we'd had longer. (We were the last ones inside and they kicked us out.)
If I had it to do over, I would give the museum at least 30 minutes (35 if you'd like to use the facilities before you set back out into the city).
As for the church, it's harder to say.
It's a huge church with many alcoves and many artworks, so it really depends on how long you can linger at an alcove or artwork.
To be on the safe side, I would plan at least 1 1/2 hours to get through the cathedral in all.
Longer if you need to pray.
Do we recommend it?
Yep. Both its beautiful and creepy things.